The EU health agency ECDC has said the risk that the rare disease monkeypox would spread widely among the general population was "very low", though high for certain groups.
"Most of the current cases have presented with mild disease symptoms, and for the broader population, the likelihood of spread is very low," Andrea Ammon, director of the European Centre for Disease Prevention and Control (ECDC) said in a statement.
"However, the likelihood of further spread of the virus through close contact, for example during sexual activities among persons with multiple sexual partners, is considered to be high," she added.
As of 21 May, the World Health Organization has received reports of 92 laboratory-confirmed monkeypox cases and 28 suspected cases from 12 countries where the disease is not endemic, including several European nations, the United States, Australia and Canada.
Denmark's infectious disease agency SSI today reported that a first case had been confirmed in the Scandinavian country.
"I am concerned about the increased number of reported monkeypox cases in the EU and globally. We are closely monitoring the situation," Stella Kyriakides, European Commissioner for Health and Food Safety said.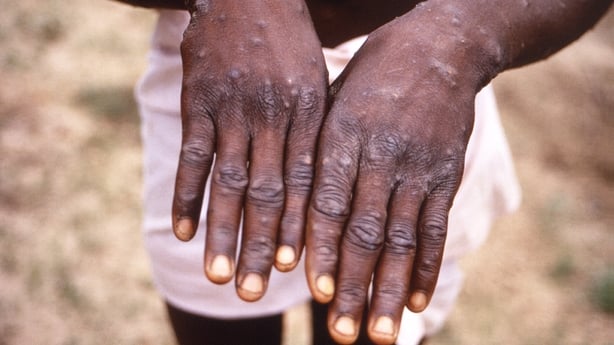 Kyriakides noted that the while the likelihood of spread in "the broader population is low", it was important to "remain vigilant", ensuring contact tracing and adequate diagnostics capacity.
Monkeypox symptoms include fever, muscle aches, swollen lymph nodes, chills, exhaustion and a chickenpox-like rash on the hands and face.
No treatment exists, but the symptoms usually clear up after two to four weeks. The disease is considered endemic in 11 African nations.
According to the ECDC, the virus can cause severe disease among certain groups such as "young children, pregnant women and immunosuppressed persons".
The agency also pointed to the risk of "human-to-animal transmission", and said that if the virus is spread to animals "there is a risk that the disease could become endemic in Europe".
Team set up to prepare Ireland for monkeypox - HSE
Cases of monkeypox will possibly be seen in Ireland, the HSE has said, and an incident management team has been established to ensure that the country is fully prepared for that eventuality.
Dr Derval Igoe, Interim Director of the Health Protection Surveillance Centre, said cases that are currently being seen in Europe are arising without a link to Africa, where cases ordinarily occur.
Speaking on RTÉ's Morning Ireland, she said that people are also presenting without the classic symptoms.
"There are no links to previous cases. It's not necessarily the classical symptoms of monkeypox," she said.
"And so that's what has been looked at in real detail now and surveillance is under way in all countries in the world."
Dr Igoe said cases, which are detected using PCR tests, are spread through close skin-to-skin contact or through droplets when someone is symptomatic.
She said it is important for anyone with symptoms to isolate and for their contacts to be identified, adding that anyone with concerns should contact their GP or sexual health clinic.
She said the understanding of the disease is that it is spread by people who are symptomatic and that it is generally mild.
"Within the current increase that we have seen, there have been no deaths and there have only been two hospitalisations worldwide due to an illness," she said.
Dr Igoe said many expert groups were working on the best ways to monitor the disease and spread awareness of it.
"We do have a lot of different professional groups working on this," she said.
"We have our sexual health and infectious disease experts in the hospitals, also our national isolation unit, the virus reference lab, national immunisation office and the Department of Health.
"We are also working with Gay Heath Network to make sure the messages are delivered in a suitable way to the populations we know are seeing cases of this virus."
---
Read more:
How concerned should we be about monkeypox?
RTÉ Brainstorm: All you need to know about monkeypox
---