Like many ten-year-olds, Matthew Kennedy loves nothing more than having a kick about.
In his back garden at his home in Tallaght he has been doing just that.
It can at times be struggle, as his energy drains because of Cystic Fibrosis.
"You can get a lot of mucus coming up and get tired," he said.
"It can be bad," his father Luke added.
"He can be bedridden. He can be so tired because his lungs can't breathe. He'll be just sitting in bed. He gets more tired than other kids.
"They say kids with CF burn something like 3,000 calories per day just because of their breathing."
Matthew's family now wants to get him on a drug called Kaftrio.
CF Ireland estimates that around 140 children aged six-years-old to 11-years-old already are on the drug, but that 35, including Matthew, are not, because of their particular genotype.
This despite the fact that the European Medicines Agency gave it the green light for the cohort of 35 earlier this year. The drug is said to life-changing.
"It would massively improve Matthew's life," says Mr Kennedy, who explains that his son will have access to it once he turns 12-years-old, but the Kennedys say the difference is he was on it now would be massive.
"He'd be able to do a lot more. For us, it'd be such an ease on the mind to know Matthew is going to live a good quality of life," Mr Kennedy said.
"His hospital visits would be reduced. We wouldn't have to worry as much as parents. Physically, he would be a lot stronger."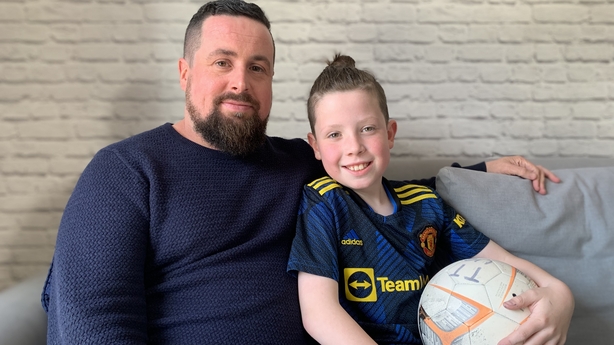 CF Ireland says the hold-up seems to be wrangling over price between the HSE and the makers of the drug, Vertex. Drugs like Kaftrio can typically cost €100,000 per patient per year.
"It's completely unfair because these 35 children would have benefitted to the same degree as the other children who've got it," says Philip Watt, CF Ireland's CEO.
"We would urge the Government and the Vertex to get around the table again and renegotiate the price for this drug to make sure these 35 children will get access as soon as possible."
Mr Watt added that these are very expensive drugs and "we are cognisant of that".
"We've put on our green jersey, and we fight with the Government for the best price possible. They are life changing drugs and will add years, decades on to people's lives. They are expensive, but think of all the savings that can be made, the better quality of life for those children concerned."
In a statement, the HSE said it is committed to providing access to as many medicines as possible, in as timely a fashion as possible, from the resources available provided to it.
It said decisions on which medicines are reimbursed by the taxpayer are made on objective, scientific and economic grounds.
The HSE added that making Kaftrio more widely available remains under consideration and that it has had five meetings this year with the makers of the drug.
It said it cannot make any additional comment on possible outcomes at this time.