The sunflower is the national flower of Ukraine and, if a plan currently being worked on by a small team of volunteers in Co Carlow comes to fruition, fields and gardens nationwide will be teeming with sunflowers later this year in solidarity with Ukraine.
The 'Sow Now' project was developed in Tullow following the arrival last month of Tetiana Pankiv and her daughters Sophia, Marta and Yama, who are staying locally with Jacqui McNabb and her family.
Ms Pankiv fled the city of Lviv shortly after the war started.
"It was very scary to be there because near us was bombing from the airport, so my friend told me and said you must go to Ireland, take the children, and go," she said.
When they arrived at Dublin Airport, she met a man who lives in Tullow and he introduced her to Ms McNabb.
"Here is very nice people and being here is very good," she said of Tullow.
"I'm very happy to meet very nice people who support me and my children in everything. My children now go to school, all my three girls, and I know that they are safe and all the people help us."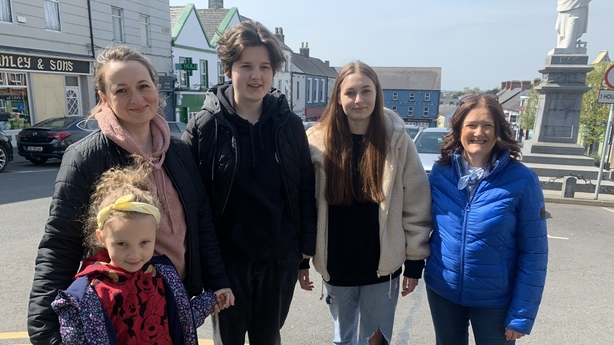 Ms Pankiv's eldest daughter Sophia, who is 16-years-old, said it is very different.
"It's really far away. For me it was really difficult, really strange, but I understand if we want to [stay in Lviv] it was a really dangerous situation," she said.
She hopes to be able to get home sooner rather than later "to help people" in Ukraine.
Ms McNabb said it has been her privilege to host Ms Pankiv and her girls for the last month, but noticed that they, and others in similar situations, were keen to do something constructive.
"They all suffered from the same anguish. They'd helped their children to safety and yet they'd left so many loved ones at home and feeling helpless and a lack of a true purpose," she said.
"They wanted to engage in something meaningful that would actually be seen to send support back home."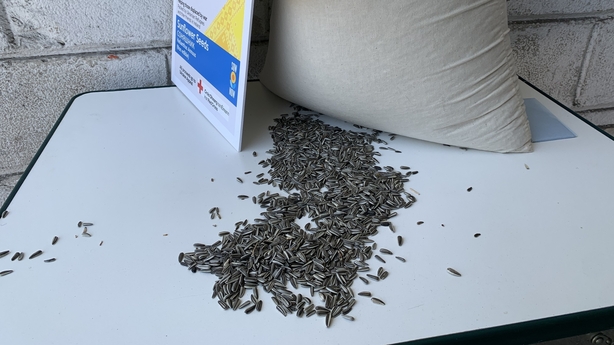 They came up with the idea of using sunflowers to do this and aligned themselves with the Irish Red Cross.
"The sunflower is the national flower of Ukraine, it's a significant signal of solidarity and peace and our ambition is that every town, village, community, would sow sunflowers, that have been packed so lovingly by Ukrainian women, in the Sow Now project," Ms McNabb said.
"Ireland is a very unique place for its warm welcome and, indeed, a signal to young and old from Ukraine that this is a safe place to be."
As Ms Pankiv put it, it has given her and others a sense of meaning.
"It's very hard to be here and to feel not good because we're worried about all the people who stay in Ukraine, and Jacqui's project has helped [us] to feel useful," she said.
"It's a very beautiful project."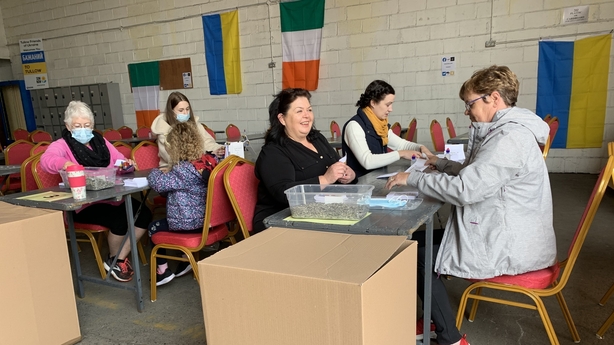 Local volunteer Sharon Ward said the response from businesses, who have lent practical and material support, as well as from the community, has been huge. She said that many people have turned up at their industrial unit in Tullow last Saturday to help with the seed-packing.
"It's been phenomenal," she said.
"Every single penny from the packet goes to the Irish Red Cross's Ukraine appeal. We're producing these free of charge through the good services of the people of Tullow, and all over really," Ms Ward added.
"We started this off as a collection, like so many community groups, with medical supplies and food, but the difference for us this time was that Tetiana and her family were working with us, so it became very personal.
"It became far more urgent, more real and I suppose we knew we couldn't just stop and we've all seen that the people of Ukraine are strong. They're very strong and determined, and Tetiana and her family were determined to do something to help the people that have remained behind."
The seed packets will be available to purchase in SuperValu and Centra shops across Ireland from next week.