The Minister for Housing has said that 89 buildings have been identified for accommodating Ukrainian refugees following a trawl of local authorities' vacant properties.
Darragh O'Brien said that if utilised, these could create more than 5,000 bed spaces.
He told RTÉ's Drivetime programme that the first 89 buildings could be made functional "within a matter of weeks".
The minister said that these buildings are of different sizes and include vacant larger properties such as former hospitals and schools.
He described them as "congregated type settings where families can live safely".
Mr O'Brien also said that the cost of modular homes is "not significantly cheaper," but they can be built faster.
He refused to outline a figure because he said that the cost of raw materials would not be a true reflection of the full price. He said the full price must include the costs related to connection to services, such as water and electricity.
Latest figures show that 25,173 Ukrainian refugees have arrived in Ireland.
Of that number, 16,788 have been provided with accommodation by the State. However, it is expected around 33,000 Ukrainian refugees will have arrived by the end of next month.
A team within the Department of Housing, a new vacant housing delivery unit headed up by a senior retired chief executive, will be responsible for the delivery of other properties that require more extensive works to be repurposed.
This will involve fast tracking the necessary works, procuring this work and ultimately bringing further properties on stream across the country in good locations, Mr O'Brien said.
Completion of these buildings will typically take between three and nine months and will lead to the creation of a further 3,000 to 4,000 bed spaces.
New Cabinet sub-committee to oversee refugee assistance
Meanwhile, the Cabinet has decided to create a new sub-committee to oversee assistance being given to people fleeing Ukraine.
It is believed that Minister for Public Expenditure Michael McGrath is to tell colleagues that the projected cost of helping Ukrainians next year is €3 billion, up from a €2.5 billion estimate in March.
Speaking on his way into Cabinet this morning, Mr McGrath said we are now at a point where we can no longer rely on traditional emergency accommodation like hotels and B&Bs to house Ukrainian people.
"That system is now under real pressure and that is why we've had to use facilities such as Millstreet, and I think its likely we'll see more examples like that depending on the number of refugees that continue to come to Ireland but we will do the very best that we can," he said.
---
Read more:
Latest Ukraine news
---
Minister McGrath said the main focus of Cabinet discussions today would be the accommodation needs of Ukrainian people and looking at all the available options to Government to find accommodation quickly.
"The system is now under real strain and we are at a point where we are offering accommodation that is not of a standard we would like."
He said the Housing Minister would have a memo outlining the options.
Mr McGrath will also provide the latest statistical analysis from his department on the costs arising from measures to deal both with Covid-19 and the Ukrainian refugee crisis.
Provision has been made for costs of up to €3bn to house people arriving from Ukraine as Minister for Public Expenditure Michael McGrath has said 'the system is now under real strain' | Read more: https://t.co/FW6jYYmtdJ pic.twitter.com/MJ8xEjpZNd

— RTÉ News (@rtenews) April 26, 2022
Also speaking before the Cabinet meeting, Taoiseach Micheál Martin said that he met a number of Ukrainian refugees in Millstreet Arena, where many have been living since last week.
"Their gratitude to the kindness of the people of Ireland was heartfelt. They spoke very movingly of the sense warmth and friendliness that they have experienced here since they arrived," Mr Martin said.
"This is a horrific war that's having a terrible toll on families and on shared humanity. We must do everything we possibly can within our energies and with our resources to do what we can.
"We want this war to end. It should end, because too much life was lost."
Taoiseach Micheál Martin has said 'we must do everything we possibly can, within our energies and resources' to help those arriving in Ireland after fleeing from the war in Ukraine | Read more: https://t.co/FW6jYYmtdJ pic.twitter.com/YXKAzrHUYV

— RTÉ News (@rtenews) April 26, 2022
At the end of March, the Government estimated that it would cost €2.5 billion to look after 100,000 Ukrainian refugees next year, with Mr McGrath saying: "The cost will be high but these are costs that we have to meet. It is the right thing to do."
The Government is keen to ensure that the work to assist Ukrainian refugees does not come at the expense of people who are on housing waiting lists or in emergency accommodation.
Mr O'Brien has previously said that he expects Ireland will have to build an additional 33,000-35,000 homes, over a five-year period, to deal with the demand for housing posed by the need to help people from Ukraine.
Last week, Minister for Justice Helen McEntee said that Ireland will not cap the number of refugees it accepts, insisting that they will continue to be welcomed.
Accommodation pledges to receive call this week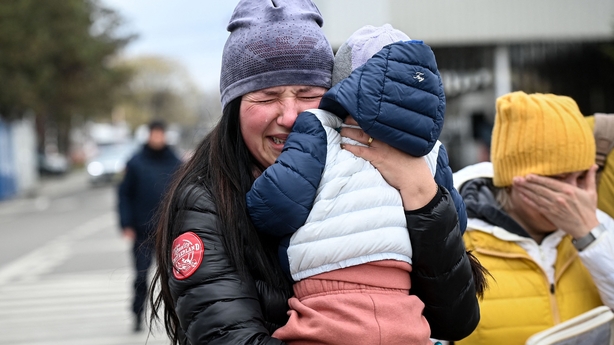 Anyone who has pledged accommodation to Ukrainian refugees will have received a call back by Thursday of this week, according to Secretary General of the Irish Red Cross Liam O'Dwyer.
Mr O'Dwyer said that the Red Cross is conscious that people have made very generous offers and emails were sent to those 9,000 people who had proven uncontactable.
He added that there was a reasonable response to the emails, with around 8,000 people responding.
Of those, around 2,000 said they were unable to continue with the accommodation pledge.
However, Mr O'Dwyer said that a sizeable number of those people who said they were unable to continue had already taken people in.
Mr O'Dwyer said people are being asked to host refugees for six months to a year, but said that the Ukrainian crisis is "going beyond what most of us thought would be a short-term situation".
The CEO of the McVerry Trust said there will be pressure to deliver more housing to both Ukrainian refugees and the homeless in Ireland, but believes that both schemes can operate and deliver as necessary.
Pat Doyle said the Trust is going ahead with major building and refurbishment programmes and providing emergency accommodation.
At the same time, he said the Trust is also working with around 2,000 Ukrainians and said the charity has been working with hotels for years in order to accommodate people coming into the country.
Additional reporting: Paul Cunningham, Laura Hogan