Celebrations are taking place to mark the 50th anniversary of RTÉ Raidió na Gaeltachta.
The station went on air for the first time on this day in 1972.
It was established following a campaign by Gluaiseacht Chearta Sibhialta na Gaeltachta - the Gaeltacht Civil Rights Movement.
Frustrated by State inaction to protect and safeguard the rights of Irish speakers, a number of activists sought improved facilities and services for those living in the Gaeltacht.
The first transmission on RnaG was on Easter Sunday, 2 April 1972.
Tomás Mac Con Iomaire, a former Ceannaire of the station, said it created a template that was followed by local commercial radio in the years that followed.
He pointed out that the nature of the station gave people a chance to tell their stories in their own language, and to ask questions of those in power.
It also provided a counter balance to the Dublin based Raidió Éireann, giving a western perspective to listeners.
In the five decades since its foundation, the station has hugely extended its reach.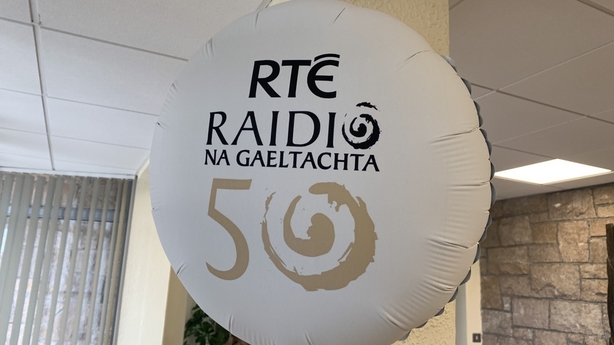 It initially broadcast solely to Gaeltacht areas in Donegal, Conamara (Connemara) and Kerry. But a couple of years after going on air, it started to transmit nationally.
In the mid 1980s, the hours of operation were expanded to meet growing demand from audiences and in the late 1990s it began broadcasting around the clock and around the world online.
But throughout, that sense of place has been central to the station's ethos. Local news from different Gaeltacht areas is a cornerstone of daily programming and the service provides a vital link to home, to Irish speakers in all parts of the world.
Station Ceannaire Gearóid Mac Donncha said the anniversary offers a chance to recognise the vibrancy, courage, pride and confidence of the Gaeltacht and the Irish-language community.
It is being marked with a number of special programmes throughout the day on Raidió na Gaeltachta.
A gala concert, featuring the RTÉ Concert Orchestra, will be broadcast live from Conemara, at 7pm.
Altan, Iarla Ó Lionáird, Steve Cooney, Muireann Nic Amhlaoibh and Cór Chúil Aodha are among the musicians and groups taking part.
The concert will be live streamed on rte.ie/gaeilge and will be transmitted on RTÉ One later this month.