Volunteers were out in force across the country in the sunshine today to raise money for the Irish Cancer Society, three years after the last face-to-face Daffodil Day.
Covid-19 has taken its toll; the number of people who would normally be out selling daffodils is down, but CEO of the charity Averil Power said there are other ways to donate including online or in store at Centra shops.
She hoped people would continue to support the Irish Cancer Society, which relies on donations to pay for research and the many services it provides.
"Daffodil Day is the day we come together, giving people hope and raising vital funds for life saving cancer research and our free services like counselling," Ms Power said.
Ambassador for the charity, former Republic of Ireland manager Mick McCarthy, said it was a cause that was close to his heart as both his parents died of cancer.
"Everybody knows somebody affected by it," he said.
Marie Duncan, wearing a hat loaded down with daffodils, began shaking her bucket and asking people to buy a daffodil early in the morning on Grafton Street in Dublin.
"I have a very flashy machine and you can tap on it and it's only €3 so come on lads, get the money out there now, we need it today not tomorrow!"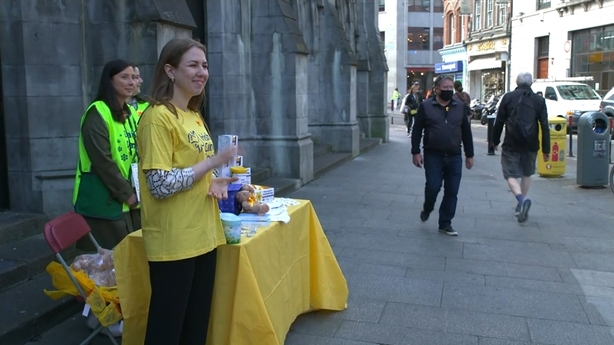 Another volunteer was Ukrainian cancer specialist Dr Tetiana Petreman.
She fled her home country when war broke out and is now working here for the Irish Cancer Society helping with cancer patients who are Ukrainian refugees.
"When you can help other people in a way you can help yourself, because in my country it was my work to ask 'how can I help you?' So I need to do this to be okay."
There was a festival atmosphere on College Green, with the Walkeleles ukelele band from Walkinstown providing music as they asked passers-by for donations - although many also stayed for a dance or two.
Sellers Lillian, Daphne and Barbara have been at the gates of Trinity college for years on Daffodil Day and are delighted to be back for the first time since 2019.
Lots of people, tourists and students alike were stopping to buy pins, badges, mugs, bags, teddy bears, tea clothes the ladies had on their table.
"I've been here since 1997 and I love doing it, it's great craic," Barbara said.