Families who lost loved ones in Dealgan House nursing home in Dundalk, Co Louth say they are still looking for answers, almost two years on from a devastating Covid-19 outbreak.
Ahead of a National Ceremony of Remembrance and Reflection this weekend, the families are again calling on the Government to support a public inquiry into nursing homes deaths during the pandemic.
Vivienne McNally's father Dominic died on 17 April 2020, after contracting Covid-19 at the Dealgan House nursing home.
He was one of 23 residents who died at the home during the first wave of the pandemic, one of the worst hit nursing homes in the State.
"My father was a great character. I always refer back to something that was written under his obituary where he was described as one of life's good guys and he was," she explained.
"He was a great family man. He loved his home, he was so proud it. He loved his grandchildren. Neighbours loved him and when you would see him there would always be a laugh and a joke," she said.
Dominic McNally had dementia and was being cared for at Dealgan House nursing home. He had been there for two years before he died, three days after his 80th birthday.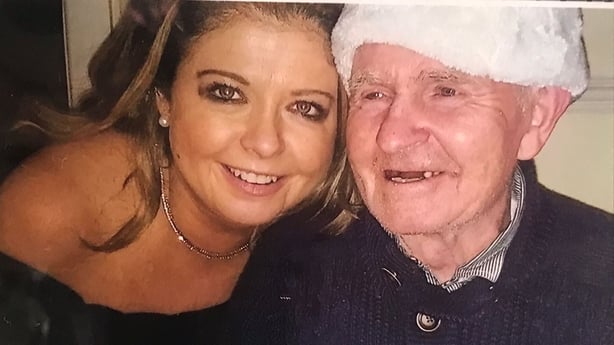 "I called up on his 80th birthday with balloons, presents and cards. I thought they might bring my dad out to the reception area but unfortunately that didn't happen," she said.
At this stage the McNally family had not seen their father in weeks. Visitor restrictions had been imposed on 6 March as part of national efforts to contain the virus.
On 15 April Vivienne McNally found out two residents of Dealgan House who had contracted Covid-19 had passed away.
The following day the home contacted the family to tell them their father had taken a turn for the worst. A family visit was granted on compassionate grounds.
"I was so excited to see my father. Covid was the last thing on my mind. It had been six weeks and we got to hug him. But two days after he died we found out he had tested positive for Covid-19," she said.
"It has to be the most horrific thing I've ever gone through. We all had to isolate. We couldn't have a proper funeral. It was straight to a burial and minutes after that we all had to go and get tested," she said.
"You want your family at this time, you want someone to give you a hug. You want to share stories about your father. We had to all stay on our own. Nobody should have to go through that," she added.
After 17 days in isolation, the first thing Vivienne McNally did was visit her father's grave.
A national ceremony of remembrance and reflection takes place on Sunday in memory of all those who died during the pandemic and in tribute to all those involved in safeguarding Ireland from Covid-19. There will be live coverage of the ceremony in a special programme, IRELAND REMEMBERS, starting at 2.25pm on Sunday on RTÉ One television and on the RTÉ News Channel.
For Oliver Crewe's family, it has also been a difficult two years.
The 72-year-old was only a resident of Dealgan House for six weeks before Covid hit. He passed away on 2 May after contracting the virus.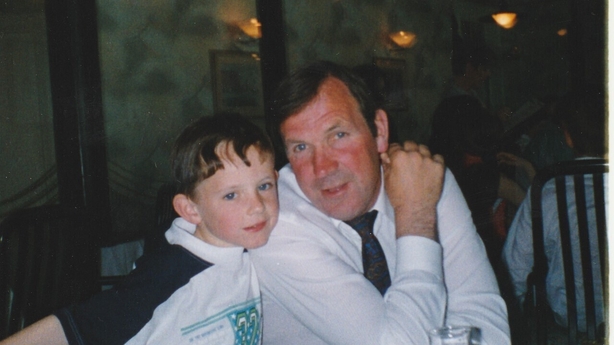 They, like many other families of residents who died, have lots of questions about his care.
His daughter Emma Duffy said her father had been suffering from Parkinson's and Alzheimer's and doctors told the family he needed nursing home care.
The family waited three months to secure a place in Dealgan House.
By March 2020, the country was gone into lockdown and Emma and her family could no longer see her father.
Before Covid-19 hit, Oliver Crewe had at least two visitors every day but his family say communication became very sporadic as the crisis deepened. Emails from the home later informed the families of a Covid-19 outbreak.
"There was a level of communication through email but no calls. But as the days wore on we were having no contact with Dad," explained Emma Duffy.
On 17 April 2020 the family were informed their father Oliver had a temperature. The same day the RCSI hospital group took over the management of the nursing home to ensure safe staffing levels.
We need your consent to load this rte-player contentWe use rte-player to manage extra content that can set cookies on your device and collect data about your activity. Please review their details and accept them to load the content.Manage Preferences
On 2 May Oliver Crewe passed away without his family by his side. His daughter Elaine was at the window of her father's room.
"You could see his breathing changing. It was slowing down and then he took one last breath and he was gone. Seconds later I was in the room with him but it was too late then," she said.
For the Crewe family, like many other families at the time, the funeral mass had to be restricted.
Oliver Crewe was well known. A former Armagh footballer he was a central figure in the three-in-a-row Ulster winning Clan na Gael team of the early 1970s. For the family, saying goodbye was hard.
"There was a coffin in the corner of the room but it was closed. There was ten people in the church," said Elaine.
"We never got to see him dressed up one last time. My last memories of him are of him lying there, helpless, alone. Coming from such a big family, that was hard," she added.
The families of the Dealgan House residents who died have called for a commission of inquiry into what happened at the home.
Taoiseach 'not convinced' about commission of inquiry
In January, Taoiseach Micheál Martin said he is "not convinced" that a commission of inquiry is the best way to investigate the circumstances leading to the deaths of 23 residents in Dealgan House.
He said the Department is examining a variety of options as to how best to respect and meet the needs and concerns of families of those affected.
The Dealgan House families want to know what exactly these options are and why they are still waiting.
"We haven't been provided with any mechanism to get an investigation underway. The Health Minister Stephen Donnelly knows how much information we have from freedom of information," said Vivienne McNally.
"I know Micheál Martin said a commission would be long winded but we've done this for two years and we just want the truth to come out," she said.
Today, ahead of this weekend's National Ceremony of Remembrance and Reflection, the families from Dealgan House will gather in Dundalk for their own remembrance ceremony.
"I think it's lovely to remember all who have passed away in the pandemic. Not everyone was in a nursing home or hospital setting.
"Lots of people couldn't have a wake, they couldn't say goodbye properly, the way should have been remembered," she said.
Emma Duffy feels the same but she also hopes the day will bring about reflection too.
"For me, I hope it compels people to look at what happened and not forget about it. There's huge lessons to be learned and it's still with us and we need to protect older people," she said.
Dealgan House is now under new management. The families of residents have formed a group and have submitted hundreds of FOIs as they try to get answers.
"It's a reluctant fight. I don't understand why we're not being helped to bring this forward but we can't stop now, we have to keep going," she added.