A 16-year-old Ukrainian student living in Dublin has been reunited with her mother and brother after they fled their home in Ukraine to come to Ireland.
Sofiia Katasonova's mother and brother spent the last the last six days trying to get here after war broke out in their country.
The fifth year student has been studying in Ireland after she came here to learn English last August.
Before they landed, Sofiia described how she was feeling.
"I'm excited to see my mom," she said. "I miss her so much."
Sofiia's host family from Dalkey in Dublin helped organise it for her mother and brother to travel here.
"She left Ukraine on Saturday morning," Sofiia said.
"She went to the train, without my dad, with my brother. They went to Poland and in Poland they lived with a Polish family."
While she is relieved that her mother has arrived in Ireland, today there are mixed feelings because other members of Sofiia's family have remained behind in Ukraine.
"We are all worried about my dad and my grandparents and my friends also," she said. "I'm worried about my dad because he is now in Ukraine, but I know he wants to stay."
Visibly tired and emotional the family hugged and kissed each other as they reunited.
Sofiia's mother Yana spoke to us - with the help of Sofiia translating - and she described how they were doing: "Now we are fine. It was a long way over six days. So now we are fine."
"Sometimes it was very hard ... and it feels like you can't do it anymore. But it's very good when you know that here in Dublin you have support and family."
And Yana and son Max have arrived safely in Ireland. https://t.co/JjDGXLVZ9k pic.twitter.com/j4lghtW1tE

— Helen Donohue (@Donohuereports) March 3, 2022
Sofiia's host family - the Fitzgeralds from Dalkey in Dublin - helped to organise it for Sofiia's mother and brother to travel to Ireland.
"It was just very close to home for me - that I couldn't do nothing," Sharon Fitzgerald explained.
"I have a lovely community network of people who have been working for the past five days to get Yana and Max over here.
"There's been lots of problems. Lots of hours that we haven't been able to contact Yana: very worrying situation. Poor Sofiia was in bits crying with me."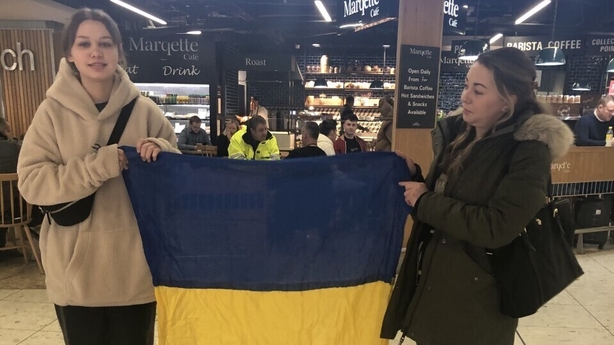 The Fitzgeralds say they are now planning to set up a gofundme page to help Sofiia's family, as well as helping to accommodate other Ukrainian families who arrive in Ireland. But today they are grateful and relieved.
"We don't know what is going to happen long term obviously but right now," said Ms Fitzgerald.
"But it's thanks to the Dalkey/Killiney area and people who have helped Sofiia's family. I'm so relieved."