Ireland is to "constructively abstain" from contributing to an EU package which is to provide a total of €450m of funding for lethal equipment in Ukraine.
The Irish Government will contribute €9m to the non-lethal EU fund aiding Ukrainian forces. This will include helmets, medical equipment, blood and fuel.
Irish authorities understand that a number of member states including Austria and Malta are likely to take the same approach.
The package of assistance to Ukrainian armed forced consists of both lethal and non-lethal military equipment including personal protective equipment, medical kits and fuel.
The Government decided to abstain from contributing to the lethal equipment in line with its commitments in Programme for Government.
"In line with the commitment in the Programme for Government, Ireland will constructively abstain from the lethal equipment elements and will not contribute financially to this aspect," a Department spokesperson said.
They added: "Instead, we will provide a corresponding contribution to the provision of non-lethal support. Our understanding is that a number of Member States, including Austria and Malta, are likely to take the same approach."
Meanwhile, the Government is to move to shut Irish airspace to Russian aircraft and carriers.
The development would affect Russian airplanes flying over Ireland and any direct flights.
It is understood there will be a short notice period before the move takes effect.
Aeroflot had a weekly flight from Dublin to Moscow. It is currently suspended until May.
The decision by the Government follows a similar move by the UK and other EU nations.
Shocking Russian attacks on Ukraine overnight. #Ireland will move to shut off Irish Airspace to all Russian Aircraft. We encourage other EU partners to do the same. We also support new wide-ranging sanctions to be agreed today at EU FAC & new assistance package for #Ukraine. 🇺🇦 https://t.co/tL7UriHsah

— Simon Coveney (@simoncoveney) February 27, 2022
The move will be enforced by the Irish Aviation Authority.
Ukrainian Ambassador to Ireland Larysa Gerasko tweeted "Thank you" in response to the announcement.
Thank you 💙💛🤝🇮🇪 https://t.co/Ihd0KPvuM7

— Larysa Gerasko (@GeraskoLarysa) February 27, 2022
Earlier, the Taoiseach has said that "unity is strength" when it comes to taking decisions such as expelling ambassadors and diplomatic staff and that Ireland will work on such measures with EU partners.
Micheàl Martin today described the scenes from Ukraine as "shocking" and said they were more like scenes from the early 20th century, rather than the 21st century and condemned Russia for engaging in an "unjustified, immoral war".
Speaking in Cork, the Taoiseach said that the EU, along with countries such as the United States and Canada, have acted with "great solidarity, with great unity and with great determination" in imposing "unprecedented" sanctions on Russia following Thursday's invasion.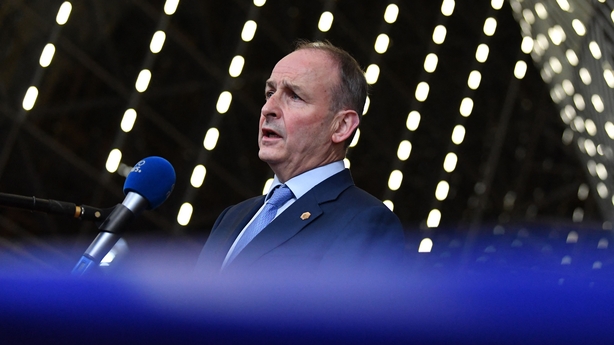 "I think we shouldn't understate the significance of the European Union response to date, in concert with fellow democracies, who want to uphold the basic principles of self-determination, sovereignty and territorial integrity," Mr Martin said.
"Last evening, we had further evidence of that, with the decision to remove Russian banks from the SWIFT [banking] system and also denying the Russian central bank access to its international reserves and further measures in relation to individuals and entities whose actions are facilitating this Russian war on the Ukrainian people."
Mr Martin added that he thinks "it's shocking what we are witnessing on our television screens".
"People are finding it very difficult to comprehend that in this day and age, such atrocities can occur and that practices that really belong to the early 20th century are now manifesting themselves in the early 21st century.
"I think most people would have thought we were rid of that."
Further sanctions
Later today, a third meeting of the EU's Foreign Affairs Council, which is expected to agree further sanctions against Russia.
The virtual meeting will adopt further measures in support of Ukraine and against "aggression by Russia", EU Foreign Policy Chief Josep Borrell said.
I am convening a virtual meeting of EU Foreign Ministers tomorrow at 18.00 to adopt further measures in support of #Ukraine, against aggression by #Russia.

I will propose a package of emergency assistance for the Ukrainian armed forces, to support them in their heroic fight.

— Josep Borrell Fontelles (@JosepBorrellF) February 26, 2022
"I will propose a package of emergency assistance for the Ukrainian armed forces, to support them in their heroic fight," he said on Twitter, adding that the meeting would start this evening.
Last night, Minister for Foreign Affairs Simon Coveney advised Irish citizens to avoid all non-essential travel to Russia.
In an update to travel guidance, the department said: "Due to the ongoing disruption to flight services to and from Russia, the Department of Foreign Affairs is advising citizens to avoid non-essential travel to Russia at this time.
"Further flight cancellations and uncertainty on travel routes from Russia are expected in the coming days."
Additional reporting: PA and Conor Kane
---
Read more: Neutral - but not neutral