Irish solo rower Dr Karen Weekes has made history by becoming the first Irish woman to row solo across the Atlantic.
Dr Weekes left Gran Canaria on 6 December last and landed ashore in Barbados shortly before 11pm Irish time last night after 80 days rowing at sea and crossing 3,000 miles of ocean in her vessel, Millie, named after her mother.
Crowds had gathered at the pier in Bridgetown in Barbados to welcome Dr Weekes, who lives in Kinvara, Co Galway, including 30 of her friends and supporters who had flown from Ireland to Barbados.
The sports psychology lecturer was greeted at the pier by Barbados Minster of Sport Charles Griffith.
Dr Weekes' epic rowing challenge sought to encourage more females into endurance and adventure sports and to provide a platform for women and girls to believe in their abilities to succeed.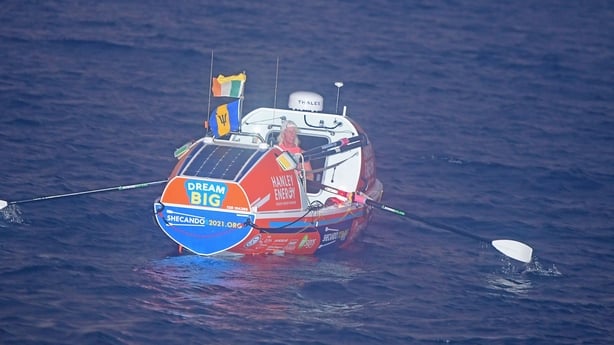 She also sought to draw attention to some of the UN's Sustainable Development goals, specifically gender equality and the conservation of the oceans and marine life.
Her campaign has also raised nearly €40,000 for the RNLI and the Laura Lynn Foundation.
On successfully completing her challenge Dr Weekes said: "I'm really not into records but I love the fact that I'm making a little bit of history."
A large crowd had gathered in a pub in Kinvara to watch live footage of her arrival in Barbados.
Among them was Paul Crowley who was part of Dr Weeke's support team. He said "We are so proud of Karen's achievement. It's unbelievable what she has done".
Dr Weekes is expected to return to Ireland early next month.