It is a sector that is crying out for skilled professionals, and a Galway teenager, said to be the country's only fully licensed female crane driver, has urged other women to consider a career in construction.
Latest figures show that women make up less than 10% of workers in the building industry.
Kate Fahey is a teenage trailblazer scaling new heights - 130 feet to be exact.
It is believed the 18-year-old is the youngest and only female tower-crane operator in the country.
Sitting, perched in her cab on Hume St in Dublin, she says: 'A few people have said to me 'fair play', well done', but I haven't really took notice that it's anything special... I just do it.'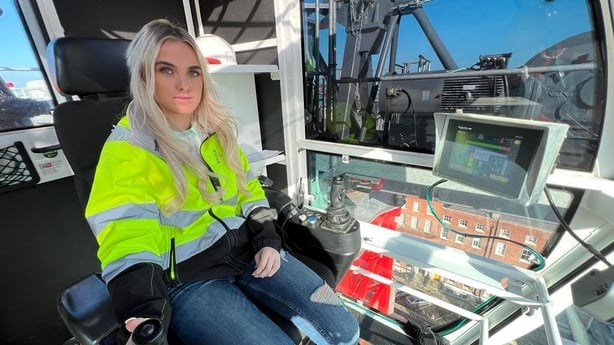 The teen spent six months training, and fully qualified last month.
"I am happy with it, it's an achievement, I am really proud of myself," she says, adding that she has always loved being around machines.
"I've been driving machinery since I was really young on the farm. I have a real interest in driving in general and I suppose I was never told females are any different to males."
It is a hugely responsible job and highly skilled. Moving tonnes of equipment around - all at her fingertips, she says confidence is key.
"It can be awful pressure sometimes especially if you're working in tight spaces ...or blind lifts, you just have to trust your banksman ... but once it's in the air, it's your responsibility... when you're in the seat, you just have to concentrate and just be confident in your driving.
"Try not to be too cocky, but definitely confident in your driving."
The teen is urging other women to consider a career in construction - a sector that is heavily male dominated.
Indeed on her site today, there are around 70 workers. Including Kate, just two are women.
"I think there will be more females in the construction industry. You can see it growing already. It's just to get them on the machinery," she says.
"The main thing is not to back down, not to be scared to go onto a site full of men. It's nothing too scary, they're up for the craic ... you have to be able to have a bit of craic and have fun with it."
The man in charge of the site is also her father. Roger Fahey from BKRN construction. He is responsible for the project - converting the old Hume St hospital into office blocks.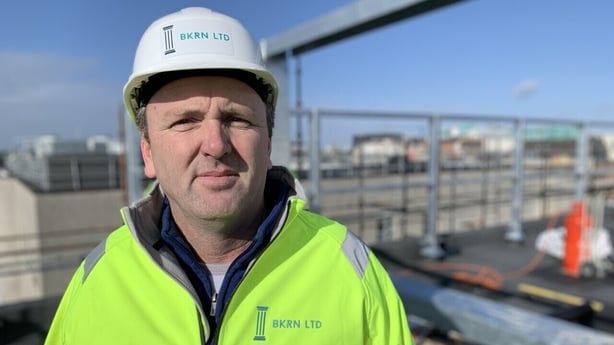 "I didn't bat an eyelid when she said she wanted to get into tower crane driving because she's on her grandfather's knee since two years of age driving the tractor on the farm.
"So coming from a farming background, you just do what's put in front of you and that's it."
He does recognise though, the importance of her work.
"It's a massive responsibility on site because you're lifting heavy loads ... it's not one to be underestimated," he says.
The pair hope Kate's success will encourage more women to consider a career in the building sector.
For the teen, her career is looking up. She has a head for heights.
"I absolutely love going to work, I really do. It's a good job and it's a good bit of fun," she says.