A father who died while trying to save his son from drowning after their kayak capsized on the River Barrow in Athy last year has been described as a hero at his inquest.
A sitting of Kildare Coroner's Court heard Declan Reid disappeared in the strong-flowing river after he had managed to pass his then nine-year-old son Aaron to a rescuer in the tragic incident on 28 February 2021.
Garda Padraig Minnock of Athy Garda Station described how a multi-agency search lasting seven days was conducted along a long stretch of the River Barrow before Mr Reid's body was eventually discovered on the afternoon of 6 March last year around 40 metres from where he was seen entering the water.
The 34-year-old plumber, of Moorefield Drive, Neilstown, Co Dublin had gone with his pregnant partner, Fiona Hanratty and his son to Athy to visit his father, Paul Reid, on what the inquest heard was "a glorious day".
A man who was sitting on a wooden pontoon by the river with friends described how he went to the rescue of a man and a boy after seeing them capsize.
Scott McQuaid, 24, told the inquest he had seen the father and son playing in their kayak on the river before he heard Declan screaming for help.
Mr McQuaid, who had life-saving training, said Declan had managed to hold Aaron out of the water but was struggling.
He said Aaron managed to jump onto him and they made for the riverbank.
As the river was fast-flowing and the water was cold, Mr McQuaid said it had taken ten minutes to reach safety.
The deceased's father recalled how his son and grandson had been going up and down the river in the kayak for around 20 minutes and "playing bumpers" with the riverbank.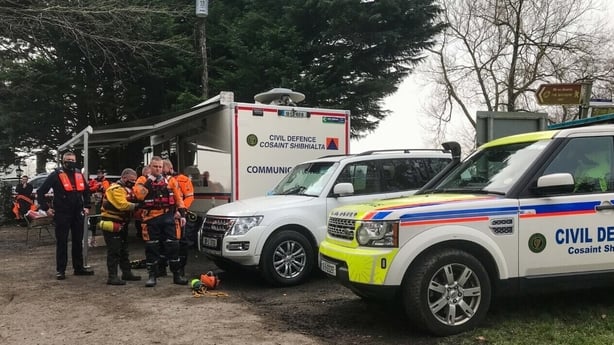 Mr Reid told the inquest how he had advised Declan to make sure to hold on to Aaron if they fell out of the kayak because he had observed the water level in the river being higher than normal.
"I was half-joking but still serious," said Mr Reid.
Weeping in the witness box, he described how his son had grown up living beside the River Barrow and would have been on the water every day in his youth.
"He would have been very comfortable in the water in kayaks and boats. He would have been an avid swimmer and able to mind himself in the water," said Mr Reid.
The inquest heard that Declan was also extremely fit and would spend around two hours at a gym every day before work.
Mr Reid said he had not seen his son for about a month because of Covid-19, but recalled his son being very happy with his life and work.
He told the hearing that he did not see Declan and Aaron fall in the water but he heard a splash.
Mr Reid said he dived into the water as he could see his son drifting down the river.
However, he said he got out of the water within two minutes as visibility under the surface was "almost non-existent."
The inquest heard that neither Declan nor Aaron were wearing personal flotation devices, while the deceased was wearing work clothes and boots.
Mr Reid's partner, Fiona Hanratty, described how they had decided to go to Athy because Declan was concerned his father was feeling lonely because of a poem he had posted on social media.
Ms Hanratty recalled that Declan had asked his son if he wanted to go kayaking and Aaron had initially replied "no".
She said she had also expressed concern to Declan's father about the strong current in the river, but he had replied that it was okay, as his son was a strong swimmer.
Ms Hanratty said she heard screaming and Aaron shouting that he was freezing as Declan was holding him up while floating on his back.
From speaking to Aaron, Ms Hanratty said she believed they capsized while Declan was using a paddle to push the kayak away from the riverbank.
Ms Hanratty said her partner had been in great form on the day and they had been talking about getting a mortgage and settling down together.
The inquest heard Ms Hanratty gave birth to the couple's son, Hunter, less than three months after her partner's death.
"Hunter keeps me going. It's what his daddy would want," she said.
Commenting on the evidence, Kildare County Coroner Denis Cusack, remarked: "It is clear to me there were a number of heroes."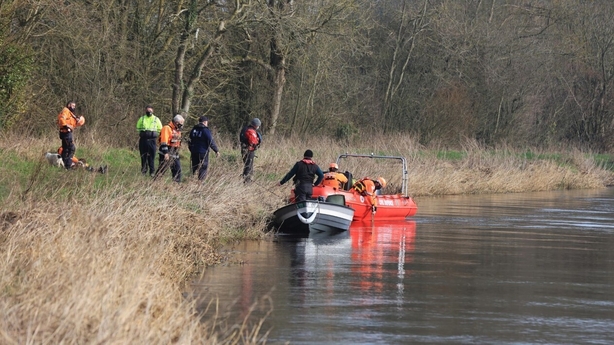 He said Mr McQuaid was "most definitely a true hero by putting his own life at risk".
The coroner said the young man's actions in saving Mr Reid's son were "heroic, brave and extraordinarily commendable".
Professor Cusack said it was encouraging to still see such instinctive bravery in a community where people tried to help each other.
He expressed condolences to Mr Reid's family on such a tragic and unexpected death.
"It was an exciting and great day for a father and son to be together and nobody expected something like this to happen," the coroner said.
Stressing that he was not blaming Mr Reid in any way, Prof Cusack said it would be remiss if he did not use the inquest to remind people about the importance of wearing personal flotation devices when going out on water.
Based on a post-mortem that showed Mr Reid had died as a result of drowning, the coroner returned a verdict of death by misadventure.
Speaking after the hearing, Declan's uncle, Gerard Reid, said: "Declan was a great lad. His death was a tragedy but it could have been worse as my brother, Paul, is not a good swimmer, while we owe Aaron's life to the young man who rescued him."
Mr Reid's family have also raised €5,200 to date as part of a GoFundMe campaign in Declan's memory to raise funds to train people in life-saving skills.