Minister for Defence Simon Coveney has said it will take him four or five months to draw up a government response to a report by the Commission on the Defences Forces, published today.
The Commission warned that maintaining current capabilities would leave Ireland without a credible military capacity to protect the country, its people and resources for any sustained period.
It outlined three potential levels of ambition with up to €3 billion investment required to implement the highest level.
The report recommended that 2,000 more members be recruited and identified a requirement for fundamental cultural change to build a more modern and open Defence Forces.
Minister Coveney said the report, which examined capabilities, structures and staffing, was credible, honest and hard hitting, adding that it called out failings that government needed to respond to.
He said there was a strong argument now that the army, navy and air corps are under resourced.
Speaking on RTÉ's Drivetime, Fianna Fáil Senator Lisa Chambers said she thinks the Defence Forces are on the cusp of change.
''The report is stark there's no point in saying otherwise. I think the defence forces have put their hands up and said we've got a problem here - but they have not been properly resourced or supported in the last two decades''.
She said that she had a very positive experience going through the Defence Forces for many years but ''I know that's not the same for everybody''.
We need your consent to load this rte-player contentWe use rte-player to manage extra content that can set cookies on your device and collect data about your activity. Please review their details and accept them to load the content.Manage Preferences
'More expensive to do nothing'
Independent TD for Kildare South, Cathal Berry is a former Army Ranger who spent 23 years working with the Defence Forces.
Speaking to RTÉ Six One News, he said the report was far more candid than a lot of people were expecting.
He said it is ''a very accurate assessment of the current state of play'' that identifies many gaps in Defence Forces capabilities.
''We can't monitor our own airspace," which he said is ''incredible for a nation state to admit."
"We can't manage out maritime environment and that's the reason were getting so many drugs and vulnerable people, contraband and weapons brought in.
''Our intelligence services need to be upgraded, we need to upgrade our special forces community and perhaps most importantly we need to focus on cyber defence.''
The report recommends an almost doubling of spending on defence.
Mr Berry said the report found that it's going to be more expensive to do nothing. He pointed to the €100 million bill for cleaning up after last year's HSE cyber-attack.
''The theory is that you get ahead of these attacks and actually focus on prevention rather than cure," he said.
"That requires investment like any insurance policy and there is a premium to be paid.
"If you wish to have insurance like this country needs - you have to pay the price. I think €1.5 billion is an appropriate cost.
''You're going to have to spend the money anyway- but you have a choice.
"You can spend it cleaning up after a cyber-attack, you can spend it chartering aircraft to fly kids to London at very short notice for organ transplants, or fly troops overseas, or evacuate Irish citizens - or you can actually invest the money rather than spend it.''
Mr Berry said the report has the potential to be transformational – "but only if it is fully funded and fully implemented by the government - and that has yet to be seen.''
He said there needs to be three priority areas - equipment, structure and personnel. And I think people should be ''absolutely number one.''
Limitations
Mr Coveney said the report "poses serious questions that we as a society must carefully consider."
Speaking on RTÉ's News at One, Mr Coveney said it will be hugely challenging for Government to respond, because there are real capacity limitations for the Defence Forces in the context of the work that they are expected to carry out, both now and in the future.
''This report really does not pull any punches,'' he said, adding that he hopes it will result in a very public and honest debate around defence in Ireland.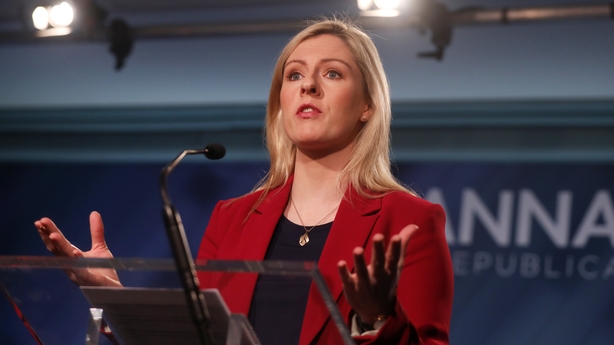 'Designed with men in mind'
Senator Chambers said during her time in the Defence Forces it was clear that the unifoms and kit were designed with men in mind.
''I do recall myself that the backpack you would carry on exercise, you know if you are a smaller physique, you might find it more difficult to carry because it was made for broad shoulders," she told RTÉ's Drivetime.
"That did impact your ability to carry the weight you had to carry.''
She said some of the clothing was slightly changed - but not really designed for women.
''I didn't really think too much about it at the time but looking at it now, I can see that that's not a good thing.
"And that they really do need to improve the equipment and the clothing to make sure that it fits the female body.''
Senator Chambers said the reality is that within the Defence Forces a lot of women purchase their own kit to suit their shape and size.
"I'm not saying that's a good thing. I myself purchased my own boots because the ones provided were not working for me.
"Other women would have purchased their own backpacks to get them fitted properly."
She said it comes down to a cost.