As many as nine out of ten hospitality businesses are having big problems recruiting much needed staff, according to research by Fáilte Ireland which is due to be published this week.
Across the sector it is feared the lack of chefs, bar staff and even managers will reduce the range of services available to tourists this summer.
Businesses said they are relying on college and transition year students to keep their doors open.
"At the moment it's extremely hard to get any staff, full-time or part time," Michelle Holmes, manager at Synergy Cafe in Carrick-on-Shannon told RTÉ's This Week.
"We are looking for everyone from kitchen porters up to chefs. We are advertising all of the time but nobody is applying," she said.
Chef Sham Hanifa reopened The Cottage restaurant in Jamestown, Co Leitrim this weekend, but only has the staff to cover two nights a week. For the moment, the highly popular Sunday lunch at The Cottage is also off the menu.
This week, Fáilte Ireland is due to present research showing there are as many as 40,000 vacancies across the hospitality sector. So where have all the staff gone?
"Before the pandemic there was a crisis anyway, but since the pandemic people have moved away," says Sham Hanifa.
"They couldn't live on €350 a week. They are skilled staff earning at least €700-800 a week. Then they got comfortable with weekends off and you can't blame them as family time is very important. Some left the country and never returned. So that's the problem."
Sham Hanifa says what's needed is more younger people to train into the industry.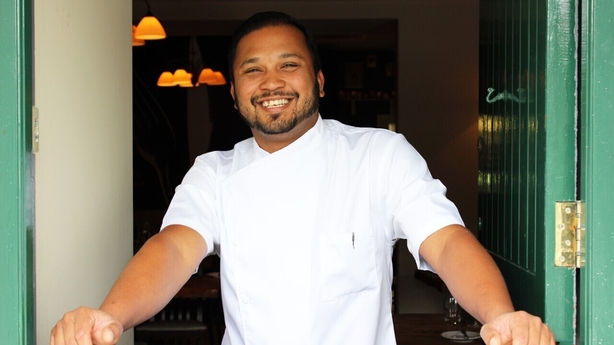 At the Landmark Hotel in the waterside town of Carrick-on-Shannon, the skilled staff shortage is causing real concern for the upcoming tourist season.
"We are seeing shortages across all departments including our kitchen team, front of house food and beverage, housekeeping, and reception," General Manger Patrick McGrath said.
"We are looking to recruit abroad, bringing in chefs from other parts of the EU. We've brought in chefs from Doha and Dubai previously."
But Patrick says this comes with different challenges such as organising visas and finding accommodation.
Both Patrick at the Landmark and Sham say wages in the sector have been increasing, particularly for staff who stay with employers.
As businesses try to get back on their feet after two years of disruption, they are highly dependent on college and transition year students.
"Only for the 16 and 17-year-olds we'd be closed," says Michelle Holmes at Synergy Cafe, who believes that secondary schools should put more focus on learning the important life skills needed in the industry.
The Landmark Hotel is also looking to students to fill gaps, even inviting them in for training ahead of the summer tourist season.
Patrick says: "We brought in a lot of college and school kids to join the team. With the time, training and support we've given them, we feel they'll be ready for a good successful summer ahead."
But Sham says if businesses are to service Ireland's tourist industry, long-term fixes will be needed.
"We spend millions and millions to bring people into this country. The last thing we want to do is to open the businesses and not deliver the service that we're used to, and the quality we're used to. That would leave a bad taste in people's mouths," he said.
Hanifa, who owns three restaurants in Leitrim and Roscommon, says he believes there is now need for a national training centre for chefs and others in the food service industry.
Separately, senior lecturer in culinary arts at TU Dublin Máirtín Mac Con Iomaire said it's estimated 5,000 new chefs a year will be needed in Ireland.
He said the current shortage of chefs is due in large part to a huge growth in demand for chefs producing high-quality food in Ireland.
Mr Mac Con Iomaire said Fáilte Ireland had got out of the business of training chefs and others in the food service area.
He said it may be time for the tourism body to get involved again in funding training to fill the skills gap.