The Minister for Housing has said he does not expect house prices to drop in the short term and "in some instances, in some areas" houses are at Celtic Tiger levels.
Darragh O'Brien said the difference between now and then is the large amount of savings that people have built up, which has fuelled some of the inflation, particularly in the second-hand market.
Speaking on RTÉ's Today with Claire Byrne, Minister O'Brien said the largest cohort of people buying homes are first-time buyers and this is, in part, due to the Help-to-Buy scheme.
He also acknowledged that many parents are assisting their children in buying houses, which, he said, is not sustainable in the long term.
Minister O'Brien said that different types of housing supply are needed and said he believes there will be improvements across delivery and stock over the coming years.
"I would see incrementally over the next couple of years, improvements across delivery, improvements in public housing, more social housing as well. Better use of vacant stock. All of that," he said.
---
Read More:
Should the Government try to push home values down?
The staggering generation gap in the housing market
---
Mr O'Brien said ten years of under supply means that Ireland is behind the European average for first-time buyers.
He said he understood why people looked at the situation "with despair", but said affordable homes will be delivered in 2024
The Affordable Housing Act and the First Home Shared Equity Scheme from the end of Quarter 2 will help people, he said.
"It bridges the gap between the finance they have and the finance they need by the State taking that equity.
"For a lot of those people who are listening here, who are renting [and] paying two grand a month and who are saving everything they have and who felt that they've no hope in actually buying a home, that's going to give them real options".
The minister said that the affordable housing levels under shared equity will see homes between €166,000 and €266,000 for purchase.
Mica scheme legislation progressing
The minister also said the Government is working through legislation with the office of the Attorney General for the mica redress scheme and it should be passed by the summer recess, with the scheme to be set up "very, very quickly after that".
He said that over the next couple of weeks monies will be repaid to people who had to pay upfront costs for testing.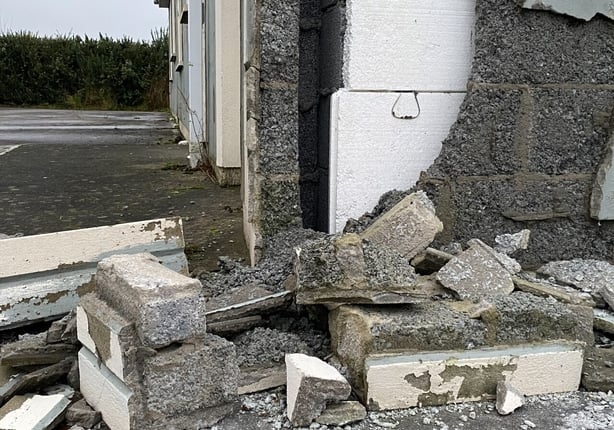 In addition, he said, a grant to make homes safe for people in the interim will be made available over the coming weeks.
The minister said the Society of Chartered Surveyors Ireland is also conducting a piece of work in relation to the rebuild rate for residents and this should be concluded by the end of this month or early next month.