Teacher unions say the traditional Leaving Cert exams must take place this year, saying there is no justification for offering students additional options.
The Teachers' Union of Ireland said the current circumstances are radically different from previous years and while the standardisation process was vitally important in the last two years, it cannot be replicated this year because more than half of students in some schools have no Junior Cycle data.
The TUI said it has already received reports of students disengaging because of an expectation that they will not have to sit examinations.
The Association of Secondary Teachers Ireland added its voice saying speculation surrounding the provision of a blended Leaving Certificate is "unfortunate and not helpful for students".
Eamon Dennehy, President of the ASTI told RTÉ's News at One that "it's very early days to be considering this. Of course, contingency plans should always be in place but as of now there is no reason to believe that the State exams can't go ahead as planned.
"It's unfortunate that this speculation is happening right now and it's certainly not helpful for students.
"The position of the ASTI has always been to support the idea of external examination and the work that the State Examinations Commission does in that regard. It's transparent, reliable and it's extremely well done.
"It's rigorous and highly respected. It is perfectly feasible that the exams would be able to go ahead. It's very early to be throwing in the towel, that we could have close to normal state exams, which would be to be benefit of everybody," he added.
Mr Dennehy believes that speculation surrounding a possible blended Leaving Certificate is causing "totally unnecessary" anxiety.
A spokesperson for the Department of Education said adjustments were made to Leaving Cert 2022 to take into account disruption to learning experienced by students early last year as well as any possible disruption this year.
He said the State Examinations Commission have issued details of more flexible arrangements for the submission of various subject coursework to take account of Covid-19.
The spokesperson said an alternative set of Leaving Certificate examinations will be run in 2022, shortly after the conclusion of the main set of examinations, for students who are unable to sit the main set of examinations for various reasons, including Covid-19 illness.
He said all planning for the 2022 examinations will be guided by the prevailing public health advice and will have regard for the well-being of students.
Meanwhile, the National Association of Principals and Deputy Principals says there does need to be a hybrid model to account for Covid disruption.
The NAPD, which represents more than 700 post primary schools, says it does not know exactly what that is but it is willing to sit down with stakeholders.
NAPD Director Paul Crone said "there has to be more than just the exam".
"We do believe in the importance of the exam and students should sit an exam in June, but given the impact the pandemic has had on the disruption to students education there needs to be something in addition," he said.
Mr Crone said there should be way to support students and give them every opportunity to achieve their best.
In recent weeks opposition politicians have been calling for a choice between exams and accredited grades.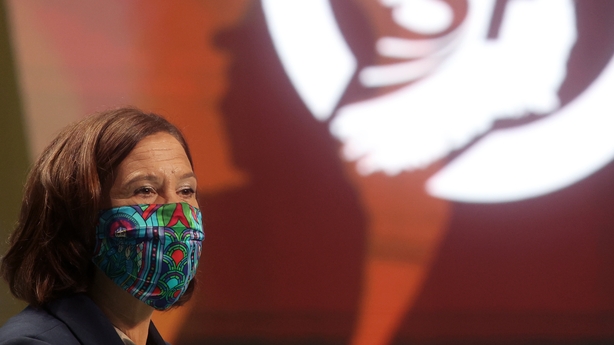 Sinn Féin leader Mary Lou McDonald said it is necessary to have clarity "very soon" on calls to have a blended Leaving Cert again.
She said this year's Leaving Cert students had their Transition Year and fifth year classes disrupted and are still living through disruption.
"So I think it's a matter of basic fairness that a blended approach needs to be offered and there needs to be clarity on that early," she said.
"Whatever work needs to be done in preparation for that needs to be concluded, and students, families and staff need to be given that clarity."
Ms McDonald said she accepts that consideration needs to be given as to what a blended model would look like, given that some students would not have previous exam information on which to base calculated grades.
However, she said that does not take away from the fact that all students have had ongoing experiences of disruption.
The Social Democrats' education spokesperson Gary Gannon said: "Students and teachers need to know what is facing them in the coming months and they also need a contingency plan. In previous years, the minister has delayed making these decisions and that cannot be allowed to happen again."
Aodhán Ó Ríordáin, the Labour party's education spokesperson, said that there may not be sufficient teachers to complete the Leaving Certificate cycle in some schools due to Covid-19.
"The reality is that there are not enough teachers in to deliver a Leaving Cert programme as we had previous to the pandemic," Mr Ó Ríordáin said.
"Teachers are out because they have Covid or they are close contacts. What we need to do is stop being so welded to the traditional Leaving Cert and to appreciate where the student is coming from and to do exactly what we did last year. I'm not asking for anything that is radically new, I'm asking for what happened last year to happen again this year.
"If we put students at the heart of what we are trying to achieve in education, I think we will appreciate that when they were in fifth year they missed in-school education, even though there was remote learning from January until Easter.
"The last number of months has been hugely disruptive with a number of teachers being out because of the pandemic. That continues this month and is likely to continue into the future as long as the pandemic rages," he predicted.