Fiona Whelan and her family were really looking forward to Christmas.
She lives with her 19-year-old son Sam and her parents Margaret and William, who are aged 79 and 89 respectively.
Her brother and his family were due to join them on Christmas Day.
"We were just so looking forward to this year because it's been a rubbish year and last Christmas we didn't really have a proper Christmas, so we all thought we'd make up for it this year," Fiona told RTÉ News.
"My Mum has probably bought half of Tesco. All the ingredients are here, the nibbles, and she makes a coddle on Christmas Eve ... we had the turkey and ham ordered, my Mum and Dad they just love Christmas," she said.
On Tuesday, Fiona received a positive Covid test result and that has brought the shutters down on their Christmas plans.
"I was really surprised because I had Covid in July and so did my son, and I thought we were immune for six months, that's what we were kinda led to believe, so I felt like I was bulletproof through all this," she said.
"We couldn't get the booster because that (the six-month limit) only changed the other day so we couldn't get that either."
Nevertheless, she said: "As soon as I developed symptoms I got a test and (I was) positive. I am just devastated."
Her son is symptomatic too and they had presumed that he was positive, however the results of his PCR test came back negative today.
As close contacts, her son and parents must now restrict their movements, her son for ten days and her parents for five as they have received their vaccine boosters.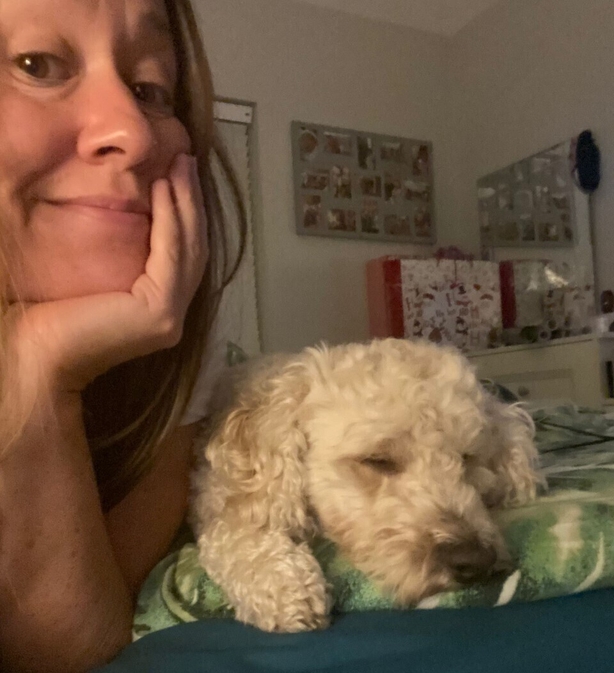 As a result, Christmas will be very different this year.
"I'm stuck in my bedroom because my parents have tested negative on antigen, they have no symptoms, nothing, so we want to keep them as safe as possible," Fiona said.
"I feel like I'm ruining everyone's Christmas, I don't mind being stuck in my bedroom ... but it's just the thought of ruining Christmas for everyone else, it's awful, awful, the guilt is awful."
However, Fiona knows it could be worse.
"I know of two people who have died of Covid in the last month, we're okay, once my parents don't get it, I'll be happy.
"As I said we had it in July this year and this time we are not as sick, ... a bit fluey, a bit chesty, a cough, sore throat, but that's nothing, there are people in hospital, there are people dying, so we're okay, so that's all I can say," Fiona said.
Chloe Donohue and Shane Walker are also trying to stay positive.
The couple, both 22, are from Kildare and had hoped to be sharing this Christmas with their respective families.
"We were both going to get the train down on Christmas Eve and have a great time," Chloe told RTÉ News from their apartment in Dublin where they are self-isolating.
This week, Shane took an antigen test which came back positive, and a second showed the same result.
A few hours and a few more antigen tests later, Chloe received the same result.
"We live with two other people, thankfully they went home for Christmas, so we are now just stuck in quarantine," Chloe said.
"Ah look, you just have to move on with it, you know? We're here now, it could be a lot worse, at least neither of us are alone," Shane said.
Shane, who is asthmatic, works as a tour guide and Chloe works in retail in Dublin city centre.
"We managed to avoid it all the way through the pandemic until this point," Shane said.
"Yeah, a good two years working in retail, and it was the week of Christmas (that we catch it)," Chloe said.
"My Mam was very worried, more so for Shane because he is high risk.
"But when I told my step-dad he had a laughing fit, just because it is so close to Christmas, he just could not believe it."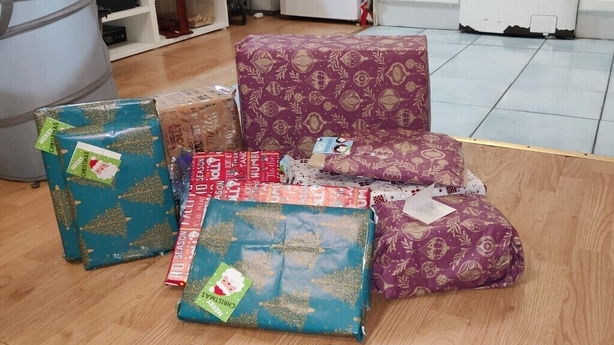 As they make the most of things, they are missing a little of the festive cheer that goes along with Christmas, although their families have been helping out however they can.
"We don't have any decorations up because we thought we'd be at home," Shane said.
"That's one thing that I'm really disappointed about, we don't even have a piece of tinsel so my Mam is going, I think she's going to Homestore, and buying as much as she can to make the place as festive as possible."
However, no family member will be allowed across the threshold while they self-isolate.
"My parents arranged a sort of a dead drop situation out the front of the apartment block. They left a big pile of groceries there and we went out and brought them in afterwards," Shane said.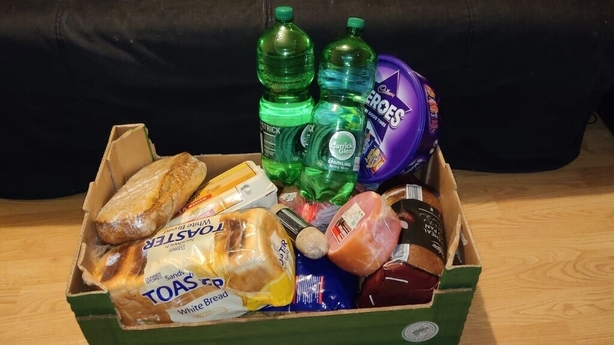 "They brought us loads of gifts as well," Chloe added.
"Turkey and all sorts of stuff, so we'll be alright!" Shane added.
Fiona, Chloe, and Shane are just three of the tens of thousands of people facing into a Christmas in effective home quarantine this year.
There have been more than 35,000 confirmed cases of Covid-19 in the last seven days.
With the average number of close contacts currently standing at three, well over 100,000 people are being told to self-isolate or restrict their movements this Christmas.