The Department of Education has said it is not considering closing schools any earlier than planned before Christmas.
There have been calls for schools to finish up early.
A professor of immunology at Dublin City University said it would be sensible to close schools on Friday to give the best chance of limiting the spread of Covid-19 and to ensure schools reopen in January.
Speaking on RTÉ's Today with Claire Byrne, Professor Christine Loscher said that if schools closed at the end of this week it would allow for a longer 'circuit breaker' ahead of Christmas when inter-generational mixing will occur.
A joined-up decision is needed on the issue as "the last thing we want to do is worry about opening schools" in January, she said.
Prof Loscher said that schools have the highest number of unvaccinated people mixing when there is concern about a new highly transmissible variant of the virus and this does not make sense to her.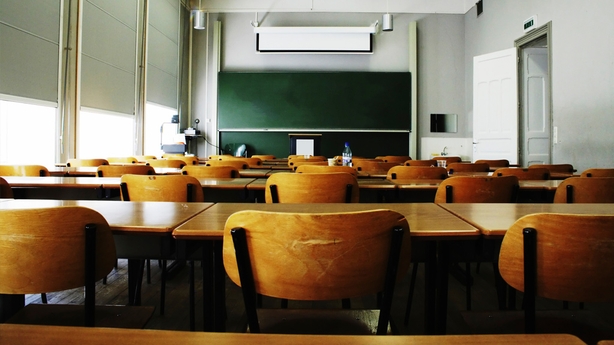 Closing schools early would give children seven or eight days of minimal exposure and mixing before Christmas begins, she added.
She said the Omicron variant makes up an estimated 10% or 11% of cases now and that could be at 50% or 60% of cases next week.
But the Department of Education said: "There are no plans to alter the school break at Christmas.
"The scheduling of the school holiday periods during the academic years is agreed between the managerial authorities of schools, the teacher unions and the department for the purposes of standardising breaks at Christmas, Easter and mid-term.
"This is important to ensure certainty for the school community about the dates of school holidays," the spokesperson said.
Meanwhile, a primary school principal has called for schools to close this Friday.
Louise Tobin, who is principal of St Joseph's Primary School in Tipperary Town, said that schools closed on 22 December last year and it was activity over the previous weekend that led to huge levels of Covid cases among staff and pupils which "ruined" Christmas for many people.
Speaking to RTÉ's Today with Claire Byrne, Ms Tobin said schools have worked tirelessly to keep the doors open but they should only be kept open if it is safe to do so.
Parents are calling to see if the school is open next week and attendance is quite low, she said, adding that she is unsure if parents will send their children to school next week.
She said she believes parents will err on the side of caution and keep children home next week.
Ms Tobin added that she hopes the HSE, the Department of Education and NPHET are monitoring the situation carefully so as to "learn from last year's mistake and do what is best".
Labour Party Education Spokesperson Aodhán Ó Ríordáin said his party is not calling for schools to close early as a circuit breaker to reduce Covid-19 transmission because a convincing case has not been made.