A new road safety strategy aims to reduce the amount of deaths and serious injuries caused by road collisions by half over the next nine years.
Last year 147 people were killed on Irish roads, a figure which was slightly up on the previous year, while 1,259 were seriously injured.
The Road Safety Authority, in conjunction with the Department of Transport, has issued its fifth plan since 1998 in a bid to significantly cut those numbers.
While the aim is to reduce both figures by half by 2030, the Government wants to eliminate all deaths and serious injuries on our roads by 2050, as part of its Vision Zero commitment in the Programme for Government.
"We must adjust our attitudes and behaviours to take account of the fact that no one form of transport takes primary over another," Minister of State at the Department of Transport, Hildegarde Naughton, said.
"Each and every road user is entitled to use our roads and not have their safety or life put at risk due to others' dangerous behaviour."
She told the launch at the Royal Hospital Kilmainham in Dublin that the nine-year plan is split into three three-year phases, with a review to take place towards the end of each phase.
Road Safety Authority Chairperson Liz O'Donnell said that Ireland has made "significant progress" since the first such strategy was introduced 23 years ago, with road deaths down by almost 71% since then.
"Reducing road deaths and serious injuries by 50% over the next decade is achievable," she said. "Vision Zero by 2050 is achievable. We can do it. Given our road safety journey to date, no target is too ambitious for us."
Among the steps which the strategy envisages are a review of speed limits including the possibility of a 30 kph default speed limit in urban areas; a review of the speed camera system; increased sanctions for drug and drink driving; a review of penalties for certain offences including impaired driving, speeding, mobile phone use, non-wearing of seat belts, and carrying unrestrained children in a vehicle; and the possible introduction of an online portal which would allow road users upload footage of traffic offences.
Garda Commissioner Drew Harris urged people to heed road safety advice in the lead-up to Christmas and over the seasonal period, but also all year round.
"Do not drink and drive, do not drive under the influence of drugs, do not speed, wear your seat belt, don't be distracted by your mobile phone," he said.
"These are simple acts, well known by everyone, but if you breach these the consequences are far too great and simply not worth taking the risk."
"They say time heals, but I think you just learn to live with the changes and you do the best you can from day to day"
One of those 147 who lost their lives on the roads in 2020 was Maurice Fehily, a 54-year-old from Kilsheelan in Co Tipperary who left behind a devastated wife Lorraine, children Shane, Holly and Sam, and many family members and friends.
He was killed after being involved in a collision while on a motorbike ride with friends on 4 January of last year.
"Maurice was a really larger than life character, he really loved his life. He was a great brother, a great father and he was a great husband," his sister Jackie recalled.
"He had a wide circle of friends and his absence is really, really a big loss to us.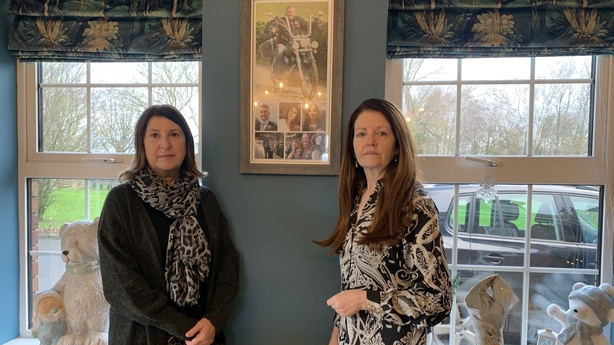 "It's kind of hard to say in words," she said of the family's loss. "You go into shock and try and cope the best you can, and then the reality sets in, that he's gone, and it just leaves a great void in your life.
"They say time heals, but I think you just learn to live with the changes and you do the best you can from day to day."
Jackie, who along with Maurice's wife Lorraine is part of the PARC road safety awareness group, has urged all road-users to take care on the roads and try to prevent other tragedies. "I don't want anyone to go through what we've gone through."