Ireland contributed over €150m to the global response to Covid-19 in 2020.
It was included in the country's total overseas development aid spend of €867m.
The figures have been released in the newly published Irish Aid Annual Report 2020 highlighting how it supported global partners to mitigate both the health and the socio economic impacts of the pandemic.
Irish Aid, an all-of-Government programme, quadrupled its contribution to the World Health Organization following the WHO's appeal to help low-income countries cope with the pandemic.
The 2020 budget was in and around the same as the 2019 budget, but funding was allocated accordingly to allow extra funding to respond to the global covid-19 crisis.
Minister for Overseas Development Aid and Diaspora Colm Brophy said: "By the time we were looking at the 2020 budget, we knew that Covid was going to be a huge part of what we would have to do."
He said they looked at how they could target extra money that would come in, without cutting programmes in other areas, they just reallocated it within the programme.
"There was always that ability to do that within the programme. It's one of the key things that I've watched as minister being developed, is to keep that flexibility of approach within it," he said.
Next year's Ireland's aid budget will be over €1bn for the first time ever.
"We will be making decisions again as to how we take that extra allocation and how we spend that extra allocation. But in 2020 that was very much focused on the World Health Organization," Mr Brophy said.
Irish Aid also increased its support to other bodies supporting people in poorer countries last year.
Money spent on pandemic essentials
Its bilateral programmes helped ministries of health in their partner countries to manage the first wave of the pandemic, create surge capacity, obtain PPE, put in place infection control protocols and establish ICU facilities.
During the early months of the pandemic, approximately €1.5m of Ireland's support to the health sector in Mozambique was reallocated to buy essential PPE for frontline workers.
The Health Service Executive has been collaborating with the Ministry of Health in Mozambique since 2016 with the aim of improving quality of health care.
Dr David Weakliam, HSE Global Health Programme Director, said of 2020: "It was a challenging year working with Mozambique not being able to travel. Looking back, the most important thing was that we showed solidarity with our partners when our own health service was under pressure from Covid-19."
In Sierra Leone, €750,000 was provided to the World Food Programme for food assistance in Covid treatment centres and food distribution to vulnerable households.
Around €480,000 was provided to the Minister of Gender for Covid-19 emergency cash transfers in Malawi.
In Uganda, €1.8m was provided to the World Health Organization to support the health system and procure testing kits.
The report highlights how the Covid-19 pandemic created new needs and exacerbated existing ones for people caught up in conflict, natural disasters or living in extreme poverty.
An estimated 440 million people needed humanitarian assistance and protection - a 165% increase from 2019 - with over 1% of the world's population forcibly displaced.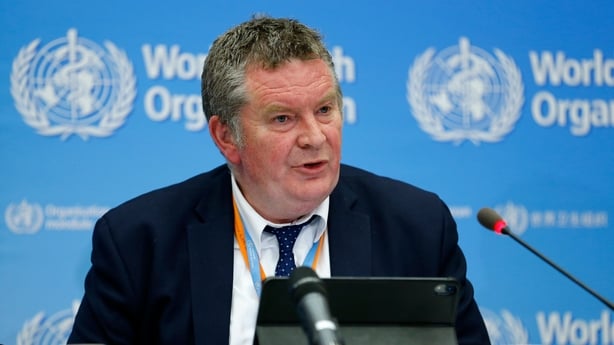 Dr Mike Ryan, Executive Director of the WHO health emergencies programme, said: "When emergencies hit, Ireland is a consistent and generous partner, supporting timely assistance for the world's most vulnerable communities, and staying the course to support recovery.
"Ireland is a strong advocate for international cooperation and solidarity, particularly at times of crisis when it is needed most."
In May 2020, the OECD's review of Ireland's Development Cooperation programme said the Irish population has a positive attitude towards development cooperation and acts in support of sustainable development.
It said a higher proportion of people in Ireland than in other EU countries consider it very important to help people in developing countries - 49% compared to 36% across all EU member states.