People in Red and Orange weather alert areas have been urged to heed advice from authorities to remain at home until Storm Barra has passed after a nurse had a narrow escape when a tree fell on her car.
Iva Hruskova, a home-help nurse, was out on her morning rounds at around 9.30am when the tree fell on her vehicle near Coyne's Cross in Co Wicklow.
The trunk crashed onto the passenger's side of the car, crushing the roof and narrowly missing Ms Hruskova who was driving.
Ms Hruskova managed to get herself out through the driver's side window and rang her partner, Stephen Leeson.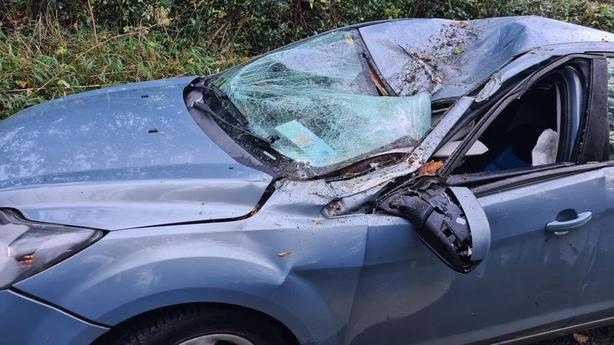 Although she was only minutes away, it took Mr Leeson some time to figure out exactly where his partner was and make his way there to help her.
In the meantime, a local resident had come to Ms Hruskova's assistance and called an ambulance.
Miraculously, she escaped with only cuts and bruises, although she was badly shaken and was taken to hospital in Dublin, where she remains this evening.
"If there had been someone in the passenger side they would have been completely gone," said Mr Leeson, recalling the scene that greeted him when he arrived.
"She was just lucky to be alive."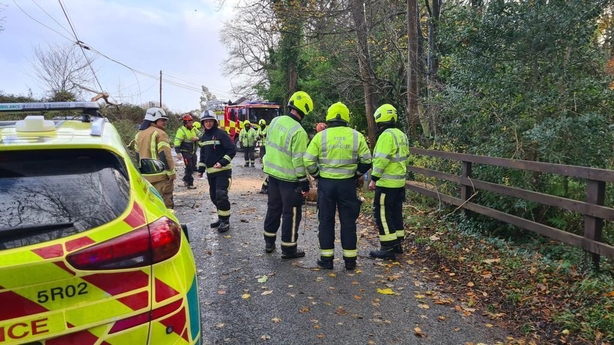 Mr Leeson said his partner's experience should serve as a warning to people who are in an Orange weather warning area, such as Wicklow, that dangers still exist.
"She diverted because a tree had fallen on a bungalow, she had to turn and go a different direction that she wouldn't have been going," he said.
"Stay at home, listen to all the warnings. If there is no need to go outside, stay at home."
This was one of a number of cases of trees falling on cars that emergency services in Wicklow had to deal with today.
---
Read more
Live updates on Storm Barra
Flooding, power cuts and transport disruption as storm crosses country