The Department of Education has advised that schools should not open tomorrow in 12 counties covered by Status Red and Orange weather warnings for Storm Barra.
The Red warning has been issued for Cork, Kerry and Clare tomorrow, while an Orange warning will be in place for many other counties around the country.
In a statement, the department said that Met Éireann has advised there is a strong possibility that the status of counties covered by the Orange level warning are likely to change and escalate to Status Red.
It offered similar advice to all universities, colleges and further education facilities in the affected areas.
Bus Éireann has announced that school transport services in the 12 counties covered by the Red and Orange warnings are also cancelled.
The HSE has said that there will be a disruption to some of its services tomorrow, including Covid-19 vaccination and test centres, due to Storm Barra.
The Head of Forecasting at Met Éireann Evelyn Cusack said that the storm is currently forming in the middle of the Atlantic Ocean and what could be described as a "weather bomb" is heading our way.
Speaking on RTÉ's News at One, Ms Cusack said there is "a danger to life", as well as a risk of snow and flooding, over the next two days.
We need your consent to load this rte-player contentWe use rte-player to manage extra content that can set cookies on your device and collect data about your activity. Please review their details and accept them to load the content.Manage Preferences
Storm Barra will bring wind gusts in excess of 130km/h and Met Éireann said there is a risk of coastal flooding due to a combination of high waves, storm surge and high tide.
It said that power supplies and travel services are likely to be disrupted.
The Red warning for Cork and Kerry will be in effect from 6am to 9pm tomorrow, while it covers Clare from 4pm until 1am on Wednesday.
An Orange Weather warning will be in place in Limerick, Waterford, Wexford, Galway and Mayo, as well as Cork, Clare and Kerry.
A similar Orange warning will be in place for Dublin, Wicklow, Louth and east Meath from 8am to 1pm tomorrow.
A Yellow rain and wind warning is in place for the whole country from 2am to 6pm tomorrow.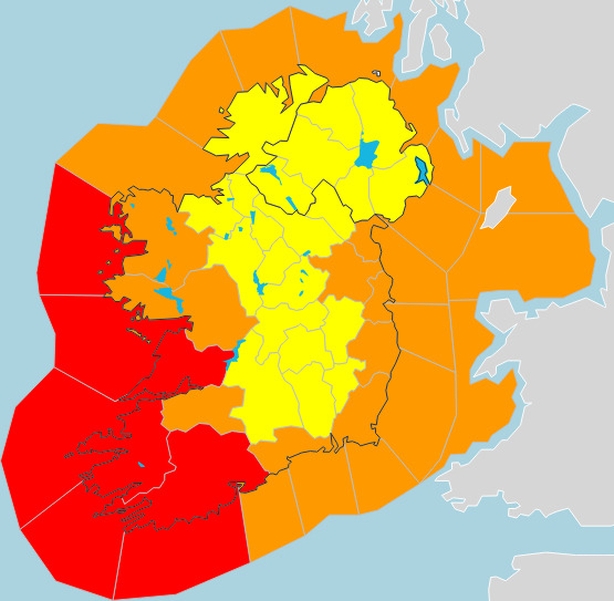 The UK Met Office has also issued a Status Yellow wind warning for Northern Ireland and said strong winds are expected to affect most areas with the potential for travel disruption in places.
Meanwhile, a Status Red marine warning is also in place today on Irish coastal waters from Roche's Point to Valentia to Erris Head, with Storm Force 11 winds expected.
Ms Cusack said Storm Barra is a multi-faceted weather system, which will last through tomorrow, tomorrow night and into Wednesday.
Tomorrow morning will see heavy rain and south easterly winds around the country.
She urged people to input their location into the Met Éireann app, which will give hourly forecasts as it will vary throughout the day.
A red wind warning is now in place for #Clare from tomorrow afternoon until midnight on Wednesday.

⚠️Orange and Yellow warnings in place elsewhere.

Follow local safety adviceℹ️ https://t.co/XGJxZFd5UU pic.twitter.com/XlphtSAcT4

— Met Éireann (@MetEireann) December 6, 2021
Speaking earlier on RTÉ's Today with Claire Byrne, Ms Cusack said the local authorities and emergency services are preparing for multiple hazards brought about by "a significant and severe weather event".
She said the storm will being very heavy rainfalls of between 50mm and 70mm. Storm Barra will hit the west coast between 4am and 5am tomorrow morning and will quickly extend across the country.
Ms Cusack said it will be "a very bad morning everywhere" with very strong and gale-force southeasterly winds, accompanied by driving rain and snow in places.
She said there could be snow blizzards for a few hours in parts of Donegal, Sligo and the northwest.
Ms Cusack urged people to be very careful and to take preventative action today, such as tying everything down, bringing in outdoor furniture and securing Christmas decorations.
Parts of Galway, Limerick, and Tipperary will also experience very stormy conditions.
Ms Cusack said Storm Barra will result in quite dangerous driving conditions throughout tomorrow and up to midday on Wednesday.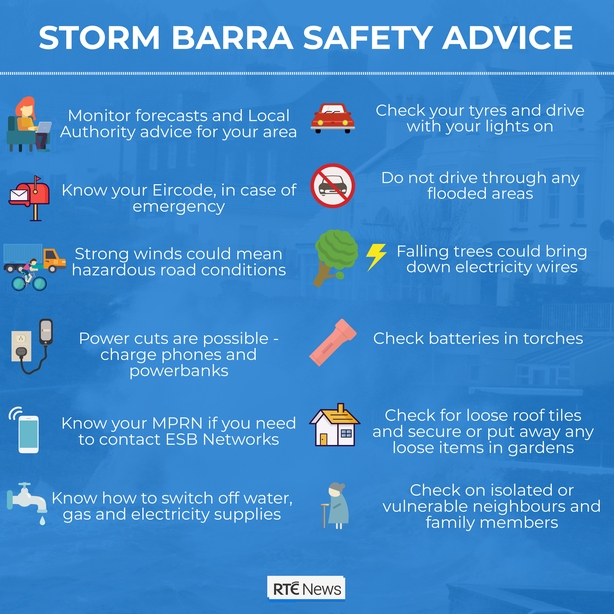 Cork Airport has said that both early morning Aer Lingus flights to Amsterdam and London from the airport have been cancelled.
Aer Lingus is due to review the remainder of tomorrow's schedule later this evening or early tomorrow.
Taoiseach Micheál Martin has said the Government is very, very concerned about Storm Barra and would urge people to stay at home unless it is necessary to travel.
He said this is a very, very serious storm and he urged people to stay away from coastlines.
Public urged to shelter in place
The head of the National Emergency Coordination Group has urged people in areas where a Red warning is in effect to seek shelter before the warning and to remain indoors until it expires.
Speaking on RTÉ's News at One, Keith Leonard said this means no travel, no movement outside of buildings during Red level warnings.
He said in areas where an Orange Level warning is in place, people should only travel if necessary and motorists should be aware of the hazardous travel conditions, such as fallen trees and power lines.
As well as strong winds, #StormBarra will bring spells of heavy rain through tomorrow and Wednesday which could lead to surface flooding and tricky driving conditions.

⚠️Yellow #rain warning issued nationwide.

ℹ️https://t.co/XGJxZFd5UU pic.twitter.com/pNfr18wk0j

— Met Éireann (@MetEireann) December 6, 2021
Mr Leonard said the main response agencies have been preparing for this storm since Friday and have been activating the crisis management and local coordination teams.
They have begun deploying sandbags, erecting temporary flood defences and starting to ramp up the local communications and public safety messaging.
Mr Leonard urged people to stay away from coastal areas for the duration of the warnings and to keep their mobile phones charged in case they need to contact the emergency services.
He said Cork will experience some flooding, Galway city has deployed its aqua dam to try to mitigate the worst affects, but coastal flooding is expected across the country, including in Dublin city.
After a blustery day, #StormBarra will rapidly deepen this evening bringing very strong winds and heavy rain to Ireland tomorrow and Wednesday⚠️🍃☔️

Barra will gradually clear Ireland later on Wednesday and winds will slowly ease, with a more settled few days to end the week. pic.twitter.com/qJFzn8btKB

— Met Éireann (@MetEireann) December 6, 2021
The Coast Guard is appealing to all mariners and coastal communities to be mindful of the severe weather warnings.
The organisation is also appealing to anybody considering any form of coastal or open water recreation to be mindful of the risk posed by forecasted storm conditions.
Coast Guard Operations Manager Micheál O'Toole appealed to the public to remain vigilant and to avoid any unnecessary travel.
Disruption to health services in Cork and Kerry
The HSE has said that there will be disruption to hospital services across Cork and Kerry due to the impact of Storm Barra.
In a statement, it says that appointments may be cancelled as the focus will be kept on keeping essential and life-saving services available.
In terms of hospital services, the HSE says that the South/South West Hospital Group is advising that all elective inpatient and outpatient appointments and procedures in Cork University Hospital, Bantry General Hospital, Mallow General Hospital, Mercy University Hospital, South Infirmary Victoria University Hospital and University Hospital Kerry are cancelled tomorrow with the exception of time critical cases.
The HSE says that the appointments will be rescheduled as soon as possible.
All Covid-19 vaccination and test centres in Cork and Kerry will be closed tomorrow and appointments will be rescheduled. Community services, such as day services, will also be closed tomorrow.
The HSE says that there will be no Covid-19 testing carried out at centres in Ennis, Co Clare, Nenagh, Co Tipperary and the centre on the Ballysimon Road in Limerick.
Meanwhile, court sittings in Kerry, Cork, Clare and Newcastle West have also been cancelled.
Separately, the Department of Children has advised all early learning and care and school-age childcare services covered by the Red and Orange warnings should not open tomorrow.
Councils preparing for potential damage ahead of storm
Cork City Council has issued a warning to city centre residents and traders about the possibility of flooding along the city quays on foot of a predicted tidal surge.
Kerry County Council said that its Severe Weather Coordination Team, including representatives from Kerry County Council, An Garda Síochána, the HSE, Kerry Fire Service and Kerry Civil Defence is meeting this afternoon to coordinate a response to Storm Barra.
It said that members of the public are advised to remain indoors and to avoid travel for the duration of the weather warning.
Limerick City and County Council has been installing flood defences along the estuary and city quays.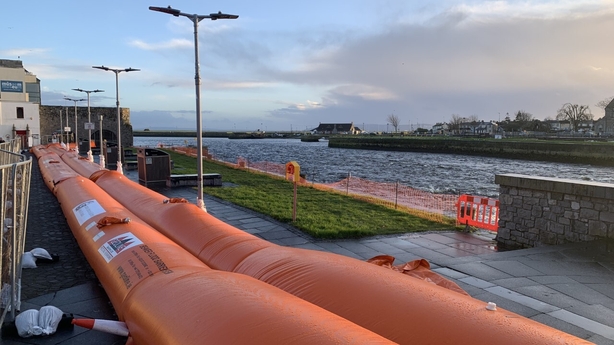 Flood defences are being installed at vulnerable locations in Askeaton and Foynes, while the flood barriers on the city quays along the Three Bridges route are being put in place.
Clare County Council has advised business owners, caravan parks, homeowners and members of the public that caravans should be securely tied down and any street furniture, including parasols and awnings, should be taken indoors or fully secured.
Meanwhile, Dublin City Council has said it is closing the car parks at Clontarf and Sandymount, as well as the flood gates along the Dodder.
It has also urged people to avoid the sea and coastal areas during the storm.
---
Read more: Advice for staying safe during Storm Barra