The arts and entertainment industry has been reacting to the Government's latest restrictions which sees audience capacity numbers halved.
Some venues and pantomime organisers have expressed doubt about whether they can afford to go ahead with pantomimes and gigs this Christmas.
In Galway, the Taibhdhearc Theatre was in full rehearsal for 'Jack and the Beanstalk' by the Fíbín Theatre Group with sold out shows for 200 plus audiences next week.
But the excitement of opening for the first time in two years was overshadowed by the latest news with capacity capped at 50%.
Artistic Director Philip Doherty said: "The Government's announcement has knocked us sideways and sales are already slumping for later shows.
"We're lucky overall though because we're a funded theatre and we can pay people and we're viable.
"The most important thing this Christmas is that the kids who have worked so hard get to perform and the kids are excited."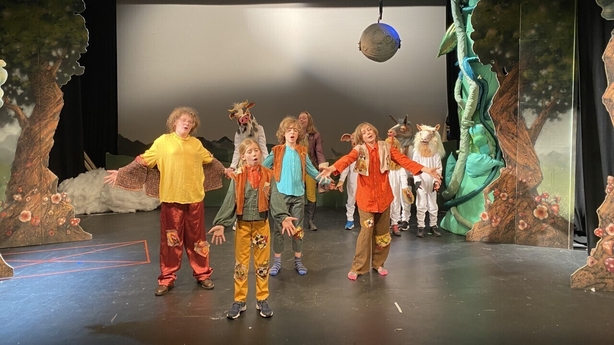 Artists have been taking to twitter to express their upset at the latest restrictions
Singer Dermot Kennedy who has two sold out gigs in the Arena on 13 and 14 December to raise funds for Pieta House and Focus Ireland tweeted last night to tell his fans that he will "figure something out".
I'm working on it I promise. I'll figure something out. Talk to you tomorrow 💚 🇮🇪 pic.twitter.com/gxNU5WYuQj

— Dermot Kennedy (@DermotKennedy) December 3, 2021
In Dublin, Gaiety panto dame Joe Conlon said he was broken and sad after performing last night to a fully masked and sanitised public.
Meanwhile at the Townhall Theatre in Galway, the organisers of the Cinderella pantomime are meeting this weekend to decide whether it can still go ahead, a decision facing theatre groups all all the country.
Sean Power, one of the directors of the Renmore Pantomime Society said: "The theatre takes 400 which is quite small, so 200 is very tight. And we have to check and see if we can cover the costs.
"We want to do it. We'd love to do it. Rehearsals are going great but I'm not sure we can go ahead."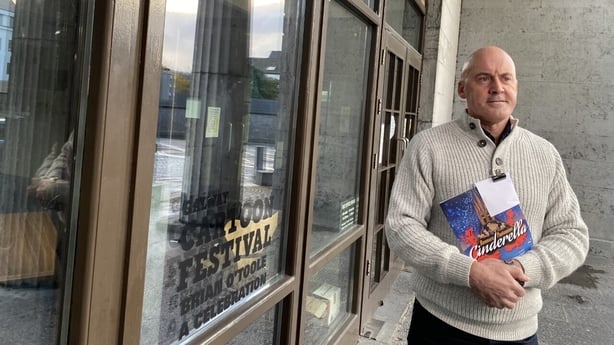 Dave Allen, the booking manager at Whelans in Dublin, has said that he will have to cancel or postpone most of the gigs booked for the coming weeks, following the announcement that capacity must be reduced to 50% from Tuesday.
Mr Allen said that there were gigs booked for almost every night between now and the end of the year. He said he would have to cancel gigs in its main room and upstairs venues.
"The reality means that unfortunately the shows in our main room aren't really viable, so I've pretty much been spending the day seeing if I can reschedule or cancel them, unfortunately," Mr Allen said.
"We've the upstairs venue as well and there are a number of shows there that we are going to cancel as well that don't work as a seated show either.
"Realistically (at) 50% (capacity), when you make it into a seated show it becomes 20% so it is just not viable to put a show on."
Of the shows that won't be cancelled Mr Allen said they were trying to work with acts to deliver a seated/streamed hybrid model.
"Some of the kind of comedy acts are still keen and some of the bands, they're keen to try and find some way of doing it... but the majority of shows are going to be rescheduled or cancelled, that's the reality."
Meanwhile, the Taoiseach has said he shares people's frustrations and disappointment with the new restrictions, which are aimed at curbing the spread of Covid-19.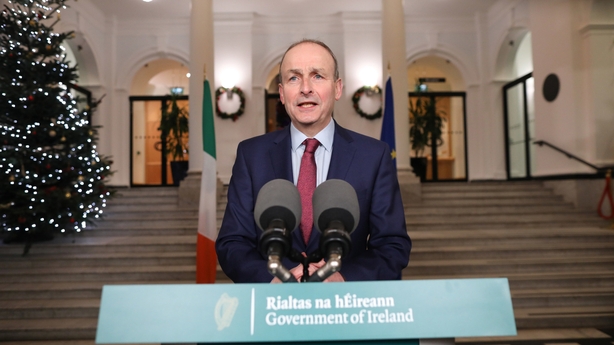 Micheál Martin said this is not another lockdown, but rather a readjustment of measures to respond to the current threat.
Following warnings from the National Public Health Emergency Team that the new Omicron variant risks causing another surge, ministers felt they had little choice, and the Government accepted the recommendations, which will be in place from next Tuesday until 9 January.
Under the measures announced by the Taoiseach, nightclubs will close and there will be tighter measures adopted in bars, restaurants and hotels.
Tables will be limited to six individuals and no multiple bookings will be allowed, although closing time remains at midnight.
There is to be a maximum of 50% capacity at indoor entertainment and sporting events. This will not apply to religious, educational events or normal workplace business activity or to outdoor events.
The Digital Covid Certificate will be required for gyms, leisure centres, as well as hotel bars and restaurants.
There will be no exemption for hotel guests, but wedding guests will not be required to show the pass.
Mr Martin said the current surge had stabilised but, just as the country was getting a handle on it, news of the Omicron variant emerged.
Anyone arriving into the State after midnight tonight will be required to present a negative PCR or antigen test result for Covid-19. Self-administered antigen tests will not be accepted; they must have been carried out by a health professional or skilled testing personnel.
The requirement was delayed to enable passengers and carriers prepare for the measure.
Passengers who arrive without a negative test result will have to home quarantine and take a PCR test within 36 hours of arrival.
In Northern Ireland, a further 1,642 cases of Covid-19 and nine deaths have been reported.
Additional reporting Laura Fletcher