Two brothers found dead at a farm in north Cork last February both died as a result of multiple blows to the head, consistent with an axe, while a third brother found in a river the next day, an inquest has heard.
The bodies of 66-year-old Willie Hennessy and his brother, 60-year-old Paddy Hennessy, were found outside a farmhouse at Curragorm, about 8km from Mitchelstown, on the night of Thursday, 25 February, after an alert was raised. They were the victims of unlawful killing, the inquest found.
The body of 59-year-old Johnny Hennessy was found the next morning in the river Funcheon and the inquest jury found that he took his own life.
The latter was found after an alert was issued in relation to the whereabouts of Johnny Hennessy and a van he was seen driving.
That van was found near another farmhouse, not connected to the brothers, near Killacluig Church, a few kilometres from Curragorm, followed by the discovery by the Garda air support unit of Mr Hennessy's body in the river.
An inquest into the three deaths was held today at Mallow Courthouse by the coroner for north Cork, Dr Michael Kennedy, and heard that there was some "friction" between Paddy and Johnny Hennessy over a timber delivery round, but gardaí found no reason for the deaths.
We need your consent to load this rte-player contentWe use rte-player to manage extra content that can set cookies on your device and collect data about your activity. Please review their details and accept them to load the content.Manage Preferences
Assistant state pathologist Dr Margot Bolster said she carried out autopsies on the three bodies over the weekend of 27-28 February at the City Morgue in Cork.
She was shown an axe which was "heavily blood-stained," she said.
The body of Willie Hennessy had multiple lacerations to the scalp, she said, as well as multiple fractures of the skull, and acute, severe brain injury.
The cause of death was severe brain injury caused by blunt force trauma to the head due to multiple blows with a blunt weapon and the injuries were consistent with being inflicted by the axe shown to her, Dr Bolster said.
Patrick Hennessy's body was identified to her using dental records, she said.
There was severe blunt force trauma to the head and severe facial injuries, with multiple depressed fractures of the skull. There was severe brain injuries and injuries to the chest.
The cause of death in this case was severe traumatic brain injury due to multiple blows to the head with a blunt instrument.
Both William and Patrick would have lost consciousness very quickly, Dr Bolster said.
The body of John Hennessy had no evidence of trauma injuries, she said. The cause of death was acute cardio-respiratory failure.
On 26 February last, over 50 gardaí from several units and districts were involved in the search and the initial stages of the investigation. They included officers from local stations and others in the district, the air support unit, the armed support unit the dog unit, and the Garda Technical Bureau.
Gardaí confirmed at the time they were not looking for anyone else in relation to the three deaths which caused widespread shock and sadness in the north Cork area, where the men were well-known, and beyond.
The men's sister, Breda O'Reilly, said in a statement to the inquest today that Johnny rang her at about 5.50pm on the evening of 25 February and "seemed kind of stressed". He told her that the other two brothers were arguing with him and they had "hit him a belt of a fist" and he wanted her to come over to the house at Curragorm.
She said she was "shocked" because of the state Johnny was in, and he had never been like that before.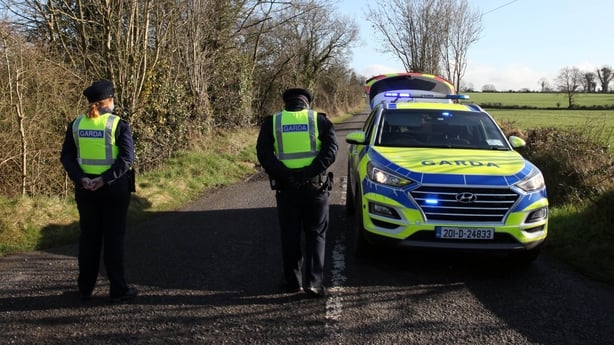 She handed the phone to her husband, Ned O'Reilly, and Ned subsequently rang the gardaí.
Johnny rang her a while later and said things were okay, and he seemed okay. She didn't think any more of it.
Ned O'Reilly said in a statement that when Breda handed the phone to him initially, Johnny said: "I'm in trouble, I'm in trouble, can you come over". Johnny then said "the two brothers beat him up" and he was completely out of breath. He asked Johnny should he ring the guards and Johnny said he should.
He rang the garda station and told the garda on duty about the conversation.
Garda Tracy Howard said in her statement to the inquest that she took a call at the station from Ned O'Reilly at about 6pm that evening and Ned told her about the conversation with Johnny Hennessy. She rang Johnny and "he was calm and composed" and told her that the situation was now calm and didn't require garda attention. He even cracked a joke, she said, saying "at their age they should know better".
She spoke to another garda and relayed the details of the conversation. She felt that she had dealt with the situation sufficiently and it didn't require a Garda to attend the house.
Garda James Wade said he was in the garda station at the time of this conversation and could hear the tone of it, and the tone was "completely calm".
Elaine Hennessy, Paddy's daughter, said she lived in Mitchelstown with her father Paddy and her children. Paddy was in Tipperary, at his partner's house, that afternoon and left at about 2pm.
That night, at about 10pm, he hadn't returned home which was unusual for him. She rang his partner, Kitty, who said she hadn't heard from him since he left Tipperary that afternoon.
They rang his phone and there was no answer, and also no answer from Willie Hennessy's phone.
At about 11pm she decided to go to the family farmyard at Curragorm with her mother, Stephanie Hennessy, because they were "worried at this stage".
On arrival, they saw Willie's van parked in the yard, and Paddy's car parked by the shed.
"Mam said, 'there's a body'," she said, and she then saw her father lying face up on the ground in the yard.
"I could see lots of blood on his head and on the ground," she said, adding that she knew he was dead.
They panicked and her mother dialled 999 and told them what had happened. They then stayed in the car for about five minutes before becoming nervous and driving away again, and meeting the gardaí at a garage in the area.
She said the three brothers got on well, with "no hassle between them at all". Willie suffered a bit from his nerves and Johnny had social anxiety and did not mix, while her father Paddy was "very quiet" and never had a bad word to say about anybody.
Her mother, Stephanie Hennessy, Paddy's ex-wife, also gave evidence of arriving at the yard and seeing Paddy's body.
Superintendent Padraig Powell told the inquest that a criminal investigation had concluded that, for an "unknown reason," Johnny Hennessy killed his two brothers on 25 February last and subsequently took his own life.
Willie Hennessy's body was found in a shed on the farm at about 5am by members of the garda armed support unit, he said, and there was a blood-stained axe nearby. A search for Johnny Hennessy involving multiple gardaí across a number of units resulted in his body being found in the river Funcheon after midday on 26 February, by the air support unit, after items belonging to him including car keys, false teeth, and a baseball cap and footmarks were found on the riverbank by a member of the Garda Dog Unit.
DNA analysis found that blood staining on Johnny's t-shirt contained a match of both Johnny and Willie's DNA, but some of the blood staining couldn't be analysed because of the t-shirt having been submerged in water.
A number of local people gave evidence of having known the three brothers for years and how they had all got on very well. They all cut timber and sold it on various local rounds and there was a family farm of about 10 acres at Curragorm.
One local man, John McGrath, said there was a "small bit of friction" between Johnny and Paddy when Johnny took over Paddy's timber round after the latter had a stroke, and then Paddy wanted it back when he recovered.
After returning their verdicts of unlawful killing in the cases of Paddy and Willie Hennessy and that Johnny Hennessy had taken his own life, the inquest jury recommended that the minister for health carry out a review and enhancement of support services available locally for people who may be suffering from mental health issues; and that the role of the community gardaí be reviewed in relation to engaging with people in distress.