US President Joe Biden called the Ireland rugby squad to congratulate them on their 29-20 win over the New Zealand All Blacks on Saturday.
"Yesterday, the President and members of his family called the Irish Rugby Football Union to congratulate the team for their victory over the New Zealand All Blacks," a White House official said.
"The President had written to Team Ireland on Friday to wish them luck ahead of the Test match in Dublin."
The US Embassy in Dublin tweeted a video of Mr Biden congratulating the Irish team along with members of his family, including his brother James and sister Valerie.
The video shows Joe Biden in a dark jacket and pants, sitting on the armrest of an armchair, between his siblings.
.@POTUS congratulating the @IrishRugby team on their superb win over the All Blacks! ☘️ pic.twitter.com/9ZTEzi7Nz8

— U.S. Embassy Dublin (@USEmbassyDublin) November 14, 2021
Mr Biden trumpets his Irish roots and his distant cousin Rob Kearney featured in Ireland's first ever win over the All Blacks, a 40-29 triumph in Chicago in November 2016.
"Congratulations fellows," said Mr Biden. Cheers are heard at the other end of the link.
"We are huge fans," said Mr Biden, who had written to the team to encourage them before the match.
"What was the final score again?" James 'Jim' Biden asked.
A voice is heard in the video evoking a visit to the White House. "I could work that out," Mr Biden said.
"We're really proud of you guys," Mr Biden told the team.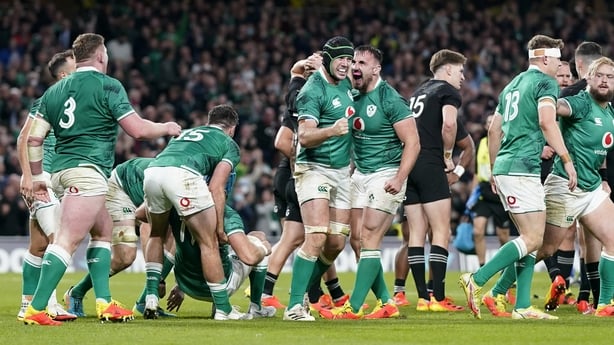 "When I was down in New Zealand not long ago, I was bragging about you guys and they almost didn't let me off the island!" he added, describing himself as a huge fan.
Mr Biden also called Taoiseach Micheál Martin following Ireland's win.
"President Biden rang the Taoiseach to congratulate Ireland on the team's victory over New Zealand in the rugby international," according to a spokesperson for the Taoiseach
"The President also told the Taoiseach he was pleased to have met him at the COP26 World Leaders Summit in Glasgow last week," the spokesperson added.
President Biden was born in Scranton, Pennsylvania, home to a large Irish-American community, including his mother, whose ancestors hailed from Ballina, Co Mayo.
Catherine Eugenia "Jean" Finnegan Biden died in 2010 aged 92.