A new supercomputer will improve short-term weather forecasting and help communities become more resilient to climate change, Met Éireann has said.
The forecaster is joining forces with the national weather services of Denmark, Iceland and the Netherlands to operate the "High-Performance Computer" built by Hewlett Packard Enterprise (HPE).
It will perform 4,000 trillion calculations per second and handle millions of weather observations every 24 hours to provide more accurate weather forecasts, and advance climate science research, Met Éireann said.
With global temperatures projected to rise further over the next decades, weather patterns are expected to become more extreme and more challenging to predict.
The supercomputer, which is due to be up and running by early 2023, will provide high-resolution weather forecasts that will be used to assist emergency services to prepare for the potential impact of severe weather.
The forecaster also said that the collaboration will help people and communities make better decisions to protect lives, homes and businesses when impacted by extreme weather events such as heatwaves, flooding or heavy snow.
Director of Met Éireann Eoin Moran said it will also mean more timely and accurate weather information is available during extreme weather events.
Speaking on RTÉ's Morning Ireland, he said the warnings will also be important for improving transport safety, marine safety, helping the agriculture sector while also giving people more time to protect their lives, homes and businesses.
He explained that the computer, which will be located in Reykjavik, will be able to process massive amounts of data and calculations in seconds.
Mr Moran said the contract for the computer is being signed today and the machine should be delivered in the middle of next year, after which an elaborate and rigorous testing process will begin.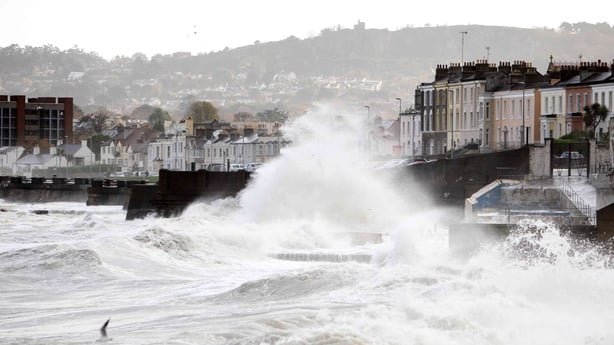 The collaboration between Met Éireann, the Danish Meteorological Institute, Icelandic Meteorological Office and the Royal Netherlands Meteorological Institute, is part of the "United Weather Centres-West" initiative, and a broader collaboration between ten national weather services in Europe, known as United Weather Centres (UWC), which plans to operate the common multi-national weather forecasting system by the end of the decade.
---
---
Minister for Housing, Local Government and Heritage Darragh O'Brien said: "As we continue to see the impacts of extreme weather from a changing climate both around the world and closer to home, it has never been more important to provide accurate and timely weather information.
"With Met Éireann uniting their scientific expertise and excellence in numerical weather prediction with the national weather services in Denmark, Iceland and the Netherlands, we will be able to provide more efficient and reliable weather forecasts and warnings to all our citizens to help them make better decisions to protect lives, homes and property".
The supercomputer will be powered by renewable Icelandic hydropower and geothermal energy sources.
By "taking advantage of the local temperate climate" the supercomputer components will be kept cool, Met Éireann said, adding that running costs and CO2 footprint "will be kept to a minimum ... in line with the four nations' commitments towards net-zero".