An Oireachtas committee has heard calls for school-based assessment to continue - rather than exams - until the Leaving Cert is reformed.
There were also strong appeals for young people to be given a central voice in the overhaul of the four decade old model.
And the committee was warned that the current system favours the well-off, but badly fails those who are disadvantaged.
Tanya Ward, chief executive of the Children's Rights Alliance, said that after protracted lockdowns, there are "many young people with very poor mental health, and poor emotional well being".
She said that "study after study" reveals that children and young people suffer "enormous levels of stress" during the Leaving Cert.
And the school-based assessment has been shown to reduce stress, and so should be retained, she added.
The Joint Committee on Education is exploring the long-proposed reform of the Leaving Certificate.
It heard calls for a greater focus on children who do not plan to go to college, and may opt to pursue other paths such as an apprenticeship.
Niall Muldoon, the Ombudsman for Children, pointed to shortages in the health services and construction industry as indicators that a change is needed.
We need a "new and more wide ranging senior cycle" which is not only helping those who are aiming for university, and includes apprenticeships, he said.
He agreed with Minister for Further and Higher Education Simon Harris' assessment that the Leaving Cert "does not prepare students for life beyond education".
"It can't get worse, as far as I'm concerned," he said. "Change has got to come."
Mr Muldoon noted that almost six years on from a UN recommendation to overhaul the system, nothing has been accomplished.
If changes are introduced by 2030 as is being considered, 800,000 students will have sat the exam since the UN consulted on the issue, he said.
A child in junior infants when the consultations began will be doing the Leaving Cert when the changes are introduced.
Young people must be recognised as "primary stakeholders" in the process, and "their views must be heard now" and "given equal weight with all other stakeholders," Mr Muldoon added.
The current system offers "huge advantage" to those who are from well off families and have strong supports, he said.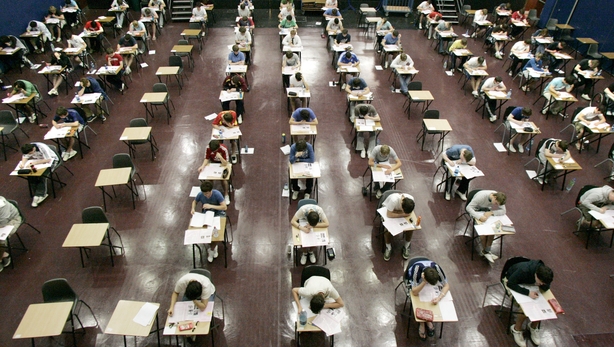 Suzanne Connolly, CEO of Barnardos, said the charity gets many referrals from schools for children who are living with ongoing trauma and chaos.
Those circumstances make participating in the Leaving Cert fully very difficult, and for those children, college is out of reach.
And for those children who do poorly in the Leaving Cert, or who leave school before sitting it, they are likely to be unemployed, homeless and unwell, Ms Connolly said.
Tanya Ward said that of 17 agencies which make decisions affecting the education system, only one speaks on behalf of young people (the Irish Second–Level Students' Union ).
But Beatrice Dooley, President of the Institute of Guidance Counsellors, pointed out that the IGC is also an advocate for students.
Many contributors referred to the trauma which the Leaving Cert causes students.
Labour TD Aodhán Ó Riordan said the "trauma" of the "brutal" cycle needs to be urgently tackled.
While Marc Ó Cathasaigh, Green Party TD, agreed that it makes no sense "to continue to inflict the suffering" which the Leaving Cert entails on young people.
He emphasised that the pandemic had shown we can adopt alternative approaches to assessment.
Daire Hennessey of Citywise Education said only one in twenty people from his neighbourhood in Tallaght have a third level degree.
But he told the committee that 85% of those who his organisation helps go on to third level.
Mr Hennessey graduated last year from Trinity College Dublin, where he coordinates the Community Mentoring programme.
"It's time to give the Leaving Cert back to the students," he said.