Iarnród Éireann has said it does not want to see train services disrupted in the run up to Christmas as it appealed to employees threatening strike action to "work with us to address the scourge" of anti-social behaviour on the network.
NBRU members are to ballot for work stoppages over anti-social behaviour on trains. General Secretary Dermot O'Leary said his members "have had enough".
Speaking on RTÉ's Today with Claire Byrne, Mr O'Leary said staff are in fear of going to work as they are witnessing incidents, including drug taking and drug dealing, fighting and intimidatory behaviour.
He said staff have faced threats of being sexually assaulted, stabbed or shot, as well as verbal assaults and intimidation.
"It's horrific", he said, adding that what has been observed on the Cork-Dublin train line for example, "goes beyond what would be described as low grade anti-social behaviour".
Mr O'Leary said that union members "do not want to be on strike but want a safe environment to work in and a safe environment for people to travel in".
In a letter to Iarnrod Éireann management and senior Government ministers, including Minister for Transport Eamon Ryan, the union outlined some of the incidents experienced by its members, and called for action to deal with the ongoing "thuggery".
Mr O'Leary said the authorities have a responsibility to make the workspace safe and while a dedicated transport police "is not a panacea", he said there is a greater role for gardaí to play in tackling the problems.
He said the ballot for work stoppages seeks to establish whether Iarnród Éireann can provide a safe environment for its staff and customers.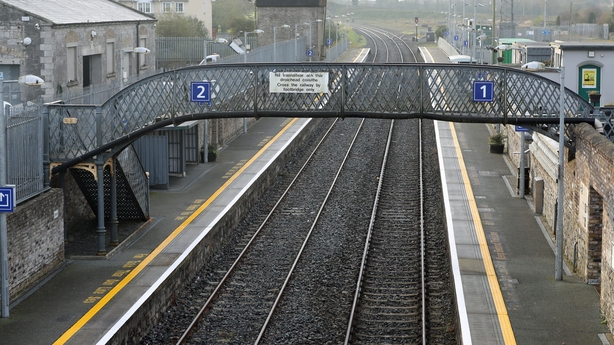 Mr O'Leary acknowledged that the company has tried to tackle the anti-social behaviour on trains, but said that "management are out of touch with what is happening on the frontline".
He said the ballot is not linked to a recent claim for additional leave as a result of working on the frontline during the pandemic.
In a statement, Iarnród Éireann said it recognised that staff who work on board trains and in stations "are most directly impacted by incidents which occur".
The company said it has worked to put measures in place to address anti-social behaviour and ensure "as safe a travelling and working environment as possible".
It outlined a number of measures, including joint patrols with gardaí, "particularly on DART, Heuston Commuter, and the Cork route, including specific programmes such as during the current mid-term and Halloween season".
The company it wants to continue working with staff and trade unions on the issue.
"Disrupting, through industrial action, the overwhelming majority of customers, who are law-abiding and rely on our services daily, will not achieve this", it concluded.
Spokesperson Barry Kenny said that Iarnród Éireann agrees with the concerns put forward by the NBRU.
Speaking on RTÉ's News at One, Mr Kenny said that there has been an increase in anti-social incidences onboard trains over the last 18 months, with drug dealers using the rail network to avoid garda roadchecks during the lockdowns.
He said that there has "undoubtedly [been] a situation where incidents of drug dealing on trains have increased".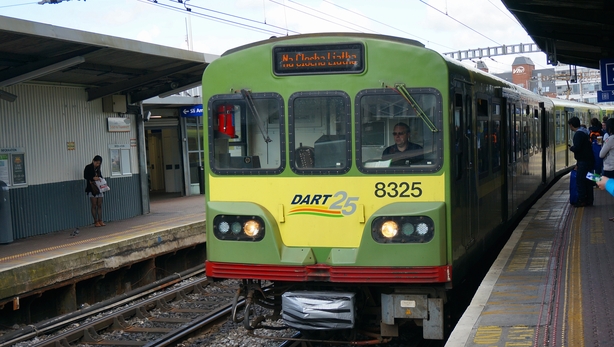 Mr Kenny said Iarnród Éireann is working with gardaí on measures to prevent and tackle incidents of anti-social behaviour in a proactive way.
He said that arrests have been made, with staff working with gardaí on one trainline to put undercover resources in place.
Mr Kenny said Iarnród Éireann wants to also work with its employees and trade unions to get their insights and to plan resources to prevent these incidents from taking place.
The Taoiseach said that he is always concerned about anti-social behaviour, particularly when it occurs on public transport.
Micheál Martin said that country owes a lot to public transport workers, considering their continued work throughout the pandemic.
He said that Government wants more and more people to use public transport and therefore they should be safe.
Mr Martin appealed to the public to be respectful to drivers and workers.
Transport Minister Eamon Ryan has said that antisocial behaviour on public transport is "totally unacceptable" but that he is "not surprised because there's a problem within our society".
He said that "there is a lot of action being taken in the last four years" including an increase in spending on security within the trains systems from €3.7m per year to €5.2m.
Mr Ryan added that if there is a need for more funding then it will be provided.
"If Irish Rail have to go further and do more in terms of providing additional security system services as they are already providing but if it's needed to go further, there won't be any shortage of support or income," he said.
He said that tackling this problem is a matter of urgency for both staff and passengers.