Litter in the country's main cities has now reached a level not seen in ten years, according to the first post-lockdown survey by Irish Business Against Litter.
The survey of 40 areas around the country, carried out by An Taisce, marked Dublin's north inner city as the nation's only 'litter blackspot', with reports of abandoned "sacks of rubbish" and "piles and piles of accumulations" of rubbish.
Of the 25 sites examined in the area, only two were found to be clean, and 17 were 'heavily littered' or worse.
Most of Ireland's main urban areas, such as Dublin, Cork and Limerick, ranked worse than they did in last year's rankings.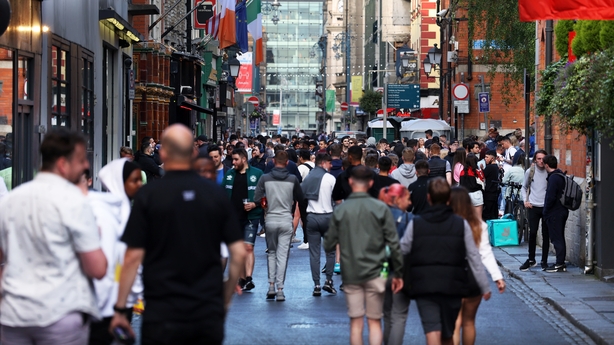 Galway and Dublin's Tallaght and Ballymun registered significant year-on-year improvements.
However, the survey, also shows that the majority of smaller towns around Ireland have become less cluttered with litter in the last 12 months.
Portlaoise, which was ranked worst in 2010, came out top of the survey and was one of eight areas that have been deemed 'cleaner than European norms'.
The Laois town finished ahead of Leixlip and past winner Ennis.
Overall, the number of areas deemed clean rose from 17 to 23. A total of 68% of towns showed an improvement on last year.
Rise in Covid-related litter
There was a near-30% increase in the prevalence of PPE masks on the country's streets and an increase in alcohol-related litter such as cans and bottles.
This rise is not a total surprise, given restrictions still in place, according to IBAL spokesperson Conor Horgan.
"The need for PPE has not abated – unfortunately, we're still using disposable masks. We're still dropping them at an alarming rate and they are still not being picked up," he said.
"We are consuming more outdoors and this is translating into more food- and drink-related litter.
"Litter levels have worsened to a level we have not seen in the past ten years. Now that we have emerged from lockdown, we cannot use it as an excuse for high levels of litter."
The results of this survey mark the 19th year of the IBAL Anti-Litter League.
---
Top of the Anti-Litter League rankings:
1: Portlaoise - Cleaner than European Norms
2: Leixlip - Cleaner than European Norms
3: Ennis - Cleaner than European Norms
4: Arklow - Cleaner than European Norms
5: Dún Laoghaire - Cleaner than European Norms
6: Kilkenny - Cleaner than European Norms
7: Fermoy - Cleaner than European Norms
8: Naas - Cleaner than European Norms
9: Carlow - Clean to European Norms
10: Longford - Clean to European Norms
---
Bottom of the Anti-Litter League rankings:
40: Dublin north inner city - Litter blackspot
39: Limerick city south - Galvone Heavily littered
38: Drogheda - Heavily littered
37: Waterford city - Ballybeg - Littered
36: Dublin city centre - Littered
35: Galway inner city - Ballybane - Littered
34: Ballymun - Littered
33: Cork northside - Littered
32: Mahon - Cork city - Littered
31: Cork city centre - Littered