Former Pensions Ombudsman and member of the Retirement Planning Council Paul Kenny has said there is "no doubt" that the pensions age needs to be increased as people are living longer, but he also believes it needs a thorough overhaul.
Last night, the Cabinet discussed a proposal to increase the State pension age by three months every year from 2028.
Mr Kenny said that while it can ease people into getting their pension without having to wait a full year, it makes a "complicated situation even more complicated".
He explained that while there will not be a decision made on it overnight, if the Commission on Tax and Welfare reports back to the Government in March, it will have to make some decision.
They cannot "kick the can down the road indefinitely", he said.
"They have to take the bull by the horns and start putting this into legislation.
"It is a postponement of the original plan ... that has been brought out to 2028 and 2031 and eventually 2039."
---
Read more:
SF proposes €5 increase in state pension in Budget proposals
Taoiseach dismisses suggestions of a 'give-away' Budget
---
Mr Kenny also warned that the danger with the suggestion of a quarterly increase could mean people will not apply in time to get their pension because they may forget.
He said lot of people have a complicated contribution history, and the Department of Social Protection needs time to sort all of this out before people can receive their pension.
We need your consent to load this rte-player contentWe use rte-player to manage extra content that can set cookies on your device and collect data about your activity. Please review their details and accept them to load the content.Manage Preferences
He said it would be very contentious to go with the commission's recommendation of scrapping the special exemption that currently allows those over the age of 66 to avoid PSRI on other income.
"It is a tax on old age, basically."
Mr Kenny stated that the only way to balance the books is to increase PSRI contributions, which some would say is a tax on jobs.
He also raised the point that some people are forced to retire at certain ages, with some having to retire early because they are "physically not up to the job".
There are huge anomalies in the pensions system at the moment, he said.
"For example, if you worked all your life in Saudi Arabia or South Africa and didn't have any contributions in Ireland and you pitched up in Ireland at the age of 55-and-a-half and you put in 10 years of contribution you can qualify for a full State pension," Mr Kenny said.
"It isn't fair. There is no way that is fair," he added.
Reducing pension rate could push people below poverty line
Chair of the Pensions Commission Josephine Feehily has warned that reducing the pension rate risks pushing some people below the poverty line.
Speaking on RTÉ's News at One, Ms Feehily explained why the commission made the recommendation that paying a lower rate should be "ruled out".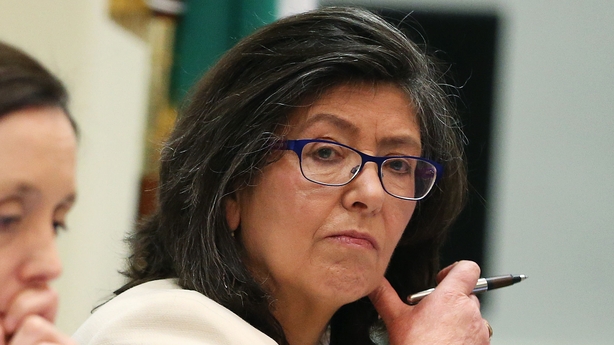 "It is an absolute essential social requirement that the basic pension is adequate to keep people out of poverty," she stated.
She warned that there is a minimum rate that must be maintained and any uncertainty around this issue should be removed.
"We are making a recommendation about benchmarking, to make sure that the basic pension rate stays at the level of about 34% of average earnings," she stated.
She added that "the risk of poverty for single pensioner households is high".
"We're commending the Government for having increased living alone allowance ahead of the rates of inflation and we're suggesting that they should keep doing that.
"There's no point in having a pension that is not enough, so that's really why we ruled out the rates," Ms Feehily stated.
Ms Feehily stressed that the commission regards the fact that people are living longer as "good news".
She said that the commission "don't like to hear it described as a problem" and it is viewed as a challenge that has to be "planned for and managed".
"If it's not planned for and managed, then we introduce huge uncertainty," she cautioned.
We need your consent to load this rte-player contentWe use rte-player to manage extra content that can set cookies on your device and collect data about your activity. Please review their details and accept them to load the content.Manage Preferences
She said that the pandemic has shown the impact that uncertainty has on people and mental health.
There needs to be policy decisions that ensure the Government does not run out of money and need to borrow more, she added.
But increasing tax or cutting services are "not ideal" options, she said.
"And so, what would really happen I think in reality is you set up a contest between generations, or between policy areas; does the Government pay for pensions or pay for schools? Does it pay for pensions or does it pay for young people and housing?
"We really think that should be avoided by planning now to shore up the sustainability of the Social Insurance Fund, so that there can be certainty that there will be a pension and that that pension will be of an adequate amount to keep older people out of poverty."
Increasing the pension age is one potential solution which must be considered, she said.
"Age increase has to contribute to solving the funding issue here and so we're suggesting that the age should go to 68, but that it should go much more gradually, much more slowly," she explained.
"One of the things that became clear to us from our submissions and engagement with the public was that it seemed to come as a bit of a shock, so we're also suggesting that there needs to be a lot more communication, a lot more frequent communication, and a lot better communication to people who are contributing," she added.