The country's power system operator has warned that electricity supply will be tight during winter.
But Mark Foley, EirGrid CEO, said that "if an emergency is declared", data centres "will be a first port of call" to reduce energy consumption.
He told an Oireachtas committee that those centres would switch to on-site power generators.
"I think they have stepped up to the plate... and we can call on them this winter", he told the Joint Committee on Environment and Climate Action.
EirGrid has had extensive engagement with the sector, Mr Foley said.
"We are happy with the response we got", he added.
He also forecast that energy demand will increase across the country by at least 28% over this decade. This is driven by economic growth, data centres, electrification and home heating, he said.
The EirGrid CEO added that data centres account for around 30% of total energy demand. Mr Foley said that a figure of 70% which has been mentioned in some quarters "has no basis".
He said that older generators with "reliability problems" will continue to be taken offline for essential repairs over the coming months.
In his opening statement to the committee, he said that Huntstown and Whitegate gas-fired generators are "expected to be back online in October and November".
However, "[other] units will be on outage as needed and the winter will remain tight", he said.
"[Our] overall view is positive... assuming no other force majeure type event manifests", Mr Foley said.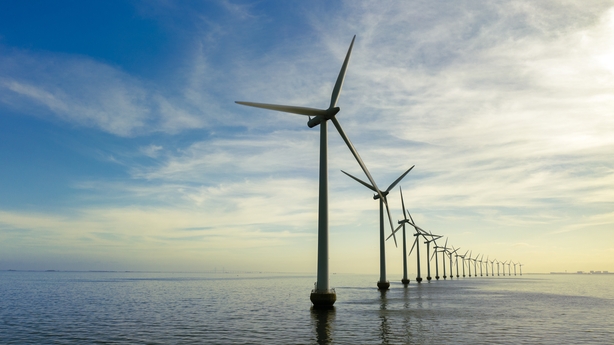 However, he cautions that "an extended period with no wind" will lead to further "tightness on our own system".
This would be "coupled with a reduced ability to call on Great Britain for support", he said.
But Mr Foley emphasises that "robust" contingency plans are structured so that "we do not expect to see impact at the level of the consumer and/or essential services".
New proposals for data centres
The committee also heard from the energy watchdog.
The Commission for Regulation of Utilities (CRU) warned that the demand from data centres is unprecedented in the history of the State.
Chairperson Aoife MacEvilly said they will publish proposals on the sector this month.
"Our aim is to ensure that data centres are part of the solution to the challenge they present," she said.
Jim Gannon, also with the CRU, told the committee that they had received "over 50 responses" while consulting with data centre operators on the proposals.
The commission presented a variety of options, he said, adding that a "possible blanket moratorium is a tool that remains open to regulators".
And he noted that there "is a mixed perspective" among data centre operators, and some "find it more difficult to be flexible".
Mr Gannon also said that 500MW of electricity that had been secured, "now, will not deliver".
He said that the commission is working with energy providers to ensure that the causes of this are addressed.
Mr Foley informed the committee that EirGrid "[hasn't] signed a contract with a data centre operator for over 12 months".
He added that they now impose "some degree of obligation on the data centre customer to help us".
And he thinks that the forthcoming proposals from the CRU will help to "strike that right balance".
The proposals would ensure that data centres will "have to bring something to the party", he said.
Measures include locating outside Dublin, bringing "some degree of dispatchable generation", and having energy storage facilities, Mr Foley added.
Dispatchable sources of power can be called upon by EirGrid when demand is high.
And he appealed to the ICT sector to "look favourably" on the commission's proposals.
Contingency plans
Mr Gannon noted it has been a full six decades since wind was as weak as it has been this year.
Mr Foley emphasised that EirGrid's "robust" contingency plans mean he does not expect that "[consumers] and/or essential services" will be affected.
Aoife MacEvilly drew attention to "the security of natural gas supply" which she said is "of increasing strategic national importance".
Ireland will be dependent on the UK "for 90% of our gas supplies by 2030", she told the committee.
If that single energy source is interrupted at a time of high demand, supply could not be guaranteed, she noted.
The commission therefore advises "an examination of the future role of LNG (Liquid Natural gas)".
There is currently strong opposition to a LNG plant which is proposed for Shannon.
Meanwhile, a leading academic warned that increasing electrification "will require more transmission infrastructure".
"That means more transmission lines, more pylons, more transformer stations", DCU's Professor Barry McMullin told Green Party Senator Pauline O'Reilly.
Prof McMullin expressed concern that this is not yet "generally understood" by the public.
Call for moratorium on energy disconnections
The Social Democrats, meanwhile, have called for a moratorium on disconnections for energy customers.
Deputy Jennifer Whitmore said some families would see increases of €800 or more over the winter due to "skyrocketing" prices.
She said they would have to choose between feeding children, paying rent or heating their homes.
Ms Whitmore also said the fuel allowance should be expanded.
A moratorium on disconnections was introduced during the pandemic and was in place for 42 weeks.
It was lifted by the Commission for Regulation of Utilities (CRU) at the end of May.
People Before Profit called on the Government to restrict price hikes by using existing legislation to declare an emergency in the supply of energy and to impose a maximum price cap.
It is raising a Private Members motion on this which will be heard in the Dáil tomorrow.
Deputy Paul Murphy also said it was "extra crazy" to push ahead with carbon tax increases at a time when people are facing massively hiked energy prices.