A group of students gathered outside the Dáil today to highlight the accommodation crisis at third-level, which they say is worse than ever.
The demonstration was organised by the Union of Students in Ireland, which said some students are being forced to defer or drop out of their third-level courses because of a lack of suitable accommodation.
Some of those in attendance were due to sleep outside the Dáil overnight to highlight the problem.
USI President Claire Austick said there is a huge amount of anger and frustration among students who feel the Government has ignored the situation for far too long.
Speaking on RTÉ's Today with Claire Byrne, Ms Austick said the accommodation shortage is not a Covid-related problem, and that students should have the right to stay in secure accommodation.
She said students staying in hotels or B&Bs will not be able to cook for themselves or enjoy the college experience properly and called for more purpose-built accommodation to be provided.
"Access to education is not just about getting in the door ... it's also about having a place to stay and that often gets forgotten about," she said.
Ms Austick said the Government must commit to long-term sustainable solutions and provide capital grants to third-level institutions to provide accommodation, so that students in future years will not encounter the same problems.
Protest by ?@TheUSI? getting underway at Leinster House, calling for Govt to act immediately to build more suitable accommodation... they say the problem is at crisis levels pic.twitter.com/mIQ8t2E7tV

— Conor Hunt (@conorfhunt) September 23, 2021
Dublin City University (DCU) has called on the State to provide mechanisms to support the construction of affordable student accommodation.
Commenting ahead of the protest, the university criticised proposals contained in the Government's Housing for All plan, which it said are based on a false assumption.
It questioned what it said are suggestions in the plan that the extension of borrowing facilities to institutions across the third-level system will solve the supply issue.
In a statement, DCU said that even with the availability of cost effective loans from the European Investment Bank and the Housing Finance Agency, "escalating construction costs mean that it is now simply uneconomic for universities to undertake the construction of student accommodation".
The university said that currently the cost of constructing a single additional student bed is in excess of €150,000 "and this is likely to increase further with construction sector inflation running in excess of 10% per annum".
It said the rental levels which would have to be charged to finance the construction and provide for the ongoing investment to maintain the accommodation would be beyond the ability to pay of most students and their families.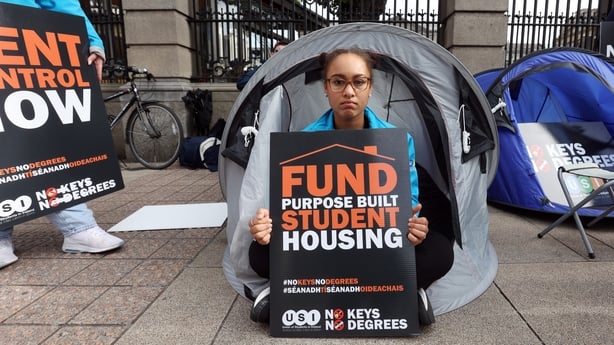 The university said that while it does not have any evidence of deferrals due to lack of accommodation, "we are aware from our Students' Union of the significant pressure this deficit is putting on students and their families".
It said the use of local hotels and B&Bs as a stopgap measure is not sustainable.
DCU President Daire Keogh said: "Demand is now far outstripping supply. This will inevitably create a family-income-based barrier for entry into Higher and Further Education.
"A sustainable solution is urgently required to enable the sector to provide additional affordable student accommodation. This will necessitate creative solutions and incentives to make the construction and maintenance of new student accommodation economic and enable universities to offer accommodation at an affordable price."
Echoing comments made by other student leaders, DCU's Student Union President Terence Rooney said the crisis has worsened significantly this year.
"We are seeing B&Bs and hotels in the surrounding areas filling up to capacity as a means of emergency accommodation for students, and many students will choose to defer as attending college this year is simply unaffordable and unsustainable."
Mr Rooney called for immediate action to prevent more and more students deferring and dropping out.
Accommodation is 'impossible to find anywhere'
Students' Union President of Waterford IT Rachel McCartney said one in ten WIT students - approximately 1,000 - are without accommodation.
Speaking on RTÉ's Morning Ireland, she described the situation as "absolutely ridiculous".
"Unfortunately, I don't see any quick solution unless houses can appear overnight."
Galway-Mayo Institute of Technology (GMIT) Students' Union President Colin Kearney described the situation faced by students in Galway as a "disaster"
"We cover Galway city and rural towns outside Galway ... and the accommodation crisis has never touched Letterfrack before," Mr Kearney said.
He said over 10% of students in Letterfrack, which is 85km from Galway city, are on waiting lists for accommodation and are being forced to commute.
A second year student at GMIT, Therese Pine, said she has stayed in hotels to avoid commuting several hours to and from her home in Kilmaley in Co Clare.
"It is very difficult to even get study time in, as it's nearly 8pm by the time I am home."
She said accommodation is "impossible to find anywhere".
In Limerick, Mary Immaculate College has, for the first time, agreed accommodation arrangements with hotels in the city, and in Thurles, Co Tipperary, where it has a smaller campus, for students to pay up to €390 weekly for a five-night stay.
The college's accommodation manager, John Randles, said the accommodation shortage is far more extreme this year compared to previous years, citing remote learning over the past year-and-a-half, and houses that used to be available to students have become long-term rentals.
There has also been a dramatic fall in the number of people offering traditional "digs" accommodation to students.
Minister not happy student accommodation used for tourists
The Minister of State at the Department of Further and Higher Education has said he is not happy that student accommodation is being used as tourist or short-term accommodation.
Niall Collins told RTÉ's Prime Time that purpose-built student accommodation was granted planning permission and that we cannot now retrospectively change that permission.
He said the message is clear, that purpose-built student accommodation is just that.
"The notion of entertaining any more changes of use applications simply isn't on," he said.
Mr Collins said that his department has instructed local authorities to carry out needs assessments in their areas in relation to student accommodation.
Labour Senator Rebecca Moynihan said this type of accommodation was always going to be out of reach for students in terms of affordability, and has been built in areas with high levels of tourist footfall, far away from third-level institutions.
Minister Collins said this is an issue of supply and demand and this shortage for students is a consequence of the housing issue.
He said the Government is acutely aware of the problem and is "dealing with it".
Senator Moynihan called for rent caps for purpose-built student accommodation.
Issue raised in the Dáil
The Tánaiste told the Dáil that "students have suffered a lot in this pandemic".
Speaking during Leaders' Questions, Leo Varadkar said Covid-19 has had a "significant impact" on on-campus accommodation, as shared rooms are generally not now being offered.
It also seems that fewer people are offering digs, he said.
However, upfront payments for student accommodation have been removed, he added.
He was responding to Sinn Féin's Pearse Doherty who said many people were suffering from the Government's failures on housing.
He said the Government should feel ashamed for overseeing "a crisis that is ruining peoples' lives".
Deputy Doherty said it was having a "profound effect" on access to education and affecting students.
Additional reporting Emma O Kelly