President Michael D. Higgins has led tributes to veteran RTÉ broadcaster Donncha Ó Dúlaing, who has died aged 88.
President Higgins said Ireland has "lost a widely respected and influential broadcaster", who was "part of a generation of ground-breaking presenters and journalists that shaped Irish public broadcasting".
"We owe him a debt of gratitude for his contribution to Irish culture. His love for Irish music and Irish sport was contagious and he brought an energy and enthusiasm to his journalism," President Higgins said.
"Equally, he will be remembered for his love of his native Cork and its heroic personalities and traditions, his generosity of spirit and his tireless efforts in support of many charitable causes, including the famous walks for such purposes, invoking the spirit of place and local history.
"All of this, and so much more, will for ever be associated with his name."
A career lasting decades
Mr Ó Dúlaing, from Doneraile, Co Cork, was known for his cultural and traditional music programmes.
His broadcasting career spanned more than half a century during which he presented radio and television programmes that had wide-ranging appeal.
He began his broadcasting career in the early 60s and became known at home and among Irish communities abroad for his cultural and traditional music programmes.
His Highways and Byways series on RTÉ Radio One became hugely popular as did his television series on RTÉ Television.
In the course of his career with RTÉ, he interviewed, among others, President Éamon de Valera, Pope John Paul II, Mick Jagger, Gene Kelly, Siobhán McKenna, Maureen O'Hara, Christy Ring and John Steinbeck.
He raised large sums for charity through fundraising walks.
President Michael D Higgins presented a specially commissioned sculpture to him at Áras an Uachtaráin seven years ago in recognition of his contribution to Irish culture.
Mr Ó Dúlaing is survived by four sons.
He was predeceased by his daughter, Sinéad, and by his wife, Vera, who died last Sunday.
In later years, he attracted a large number of listeners to his Fáilte Isteach programme on RTÉ Radio One.
He said goodbye to his listeners on the final edition of the programme which was broadcast on 25 April 2015.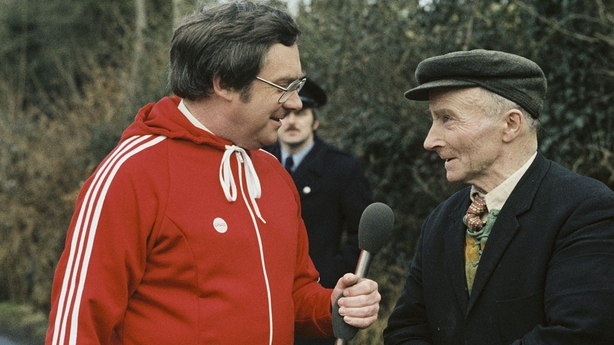 Taoiseach Micheál Martin has paid tribute to Mr Ó Dúlaing, calling him "an outstanding broadcaster who brought much joy to his loyal listeners over the decades".
"'Highways and Byways' reached parts of Ireland that didn't always get attention," Mr Martin wrote on a social media post.
"His interviews will live long in the memory."
Director General of RTÉ Dee Forbes said that Mr Ó Dúlaing was a proud Corkman whose long-running programmes were "as iconic as the man himself".
"A tireless fundraiser, his charity walks were as legendary as the many legends who crossed his path, from Eamon de Valera to Pope John Paul II, Mick Jagger to Gene Kelly," Ms Forbes said.
"When he closed his beloved parlour of dreams with the final Fáilte Isteach in 2015, it brought to an end a 50-year career in broadcasting.
"His contribution to public service broadcasting, to Irish life and Irish lives, was immense."
Head of RTÉ Radio One Peter Woods said that Mr Ó Dúlaing was a central part of Irish cultural life during his career as a broadcaster.
"The word 'legend' is sometimes used lightly but he was that," Mr Woods said.
"He loved the road and in an era when radio outside broadcasts usually came from a mobile unit, Donncha adapted early to technology and ranged across the country with a tape recorder. He had great enthusiasm for radio and presented Fáilte Isteach well into his 80s.
"He said [Christy] Ring's advice was to keep an eye on the ball, even when it was in the referee's hand - that advice characterised the broadcasting career of Donncha Ó Dúlaing. He was a one off."