The Government jet has been deployed to the Middle East to support the emergency mission that has been sent to Afghanistan.
The Learjet 45 is being sent to an undisclosed location in the region.
It was deployed this afternoon and stopped at Cairo in Egypt to refuel.
It is understood that it has been sent as a "contingency measure" and will not be going into Afghan airspace.
The development comes after a small group of Army Rangers and two Department of Foreign Affairs officials left for the Afghan capital Kabul last night to help facilitate the evacuation of remaining Irish citizens.
We need your consent to load this rte-player contentWe use rte-player to manage extra content that can set cookies on your device and collect data about your activity. Please review their details and accept them to load the content.Manage Preferences
Earlier, the Minister for Foreign Affairs said the Irish mission to Afghanistan had been under consideration for some time.
Speaking on RTÉ's Today with Philip Boucher-Hayes, Simon Coveney said the Government was making progress in getting Irish citizens to the airport last week, but the situation had become more complex and tragic since then.
He said this prompted the decision to send an Irish team to Afghanistan.
The minister said the mission will be a "short and targeted deployment to make sure that Irish citizens are prioritised along with other foreign nationals" and the team will have left Afghanistan ahead of 31 August, which is the deadline for the withdrawal of US troops from the country.
Mr Coveney said Ireland would like more time to evacuate Irish citizens from Afghanistan, but no one can safely stay once the US presence is removed from Kabul airport.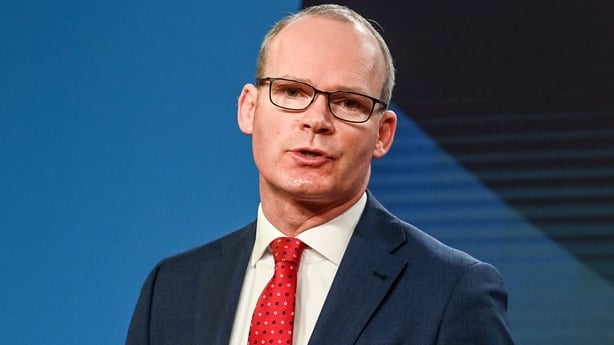 "We do need more time to get people out, but that has to be managed predominantly by the US", adding that "no one is going to be abandoned," he said.
Mr Coveney said arrangements are in place with the French to ensure the Irish officials and Rangers are able to leave "bar unforeseen circumstances".
He said the overall risk is being managed "and it is a risk worth taking to support Irish citizens who need guidance, advice and help in a very volatile and fluid situation".
Mr Coveney said this is the first emergency civil assistance team Ireland has sent to Afghanistan and this type of humanitarian mission does not require a Dáil resolution as part of the triple lock system.
---
Read More:
Biden defends Afghan withdrawal, cites 'growing' risk of IS attack
Afghanistan's media enters the unknown under Taliban rule
---
The minister said that so far ten Irish citizens have left the country and these individuals were all single and travelling alone, while the remaining Irish are 24 plus 12 non-Irish family members that have an EU or UK passport or an Afghan passport.
He said there was one Irish person who wants to leave but is not in Kabul and will be unable to travel over the coming days.
Mr Coveney said the UK and US have been fantastic in terms of facilitating Irish citizens in Afghanistan and France is bringing the Irish mission in and "in all likelihood will bring them home again".
The Irish team is not authorised to leave the airport in Kabul, he said.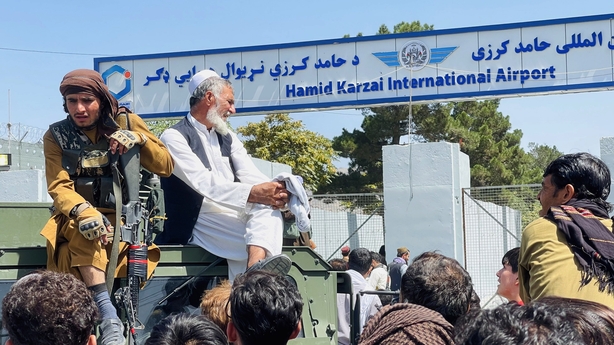 Speaking later to RTÉ News in Cork, Mr Coveney accepted that not all 24 Irish citizens and their 12 dependants may be evacuated from Afghanistan by the 31 August deadline.
"Of course that is a risk," Mr Coveney said.
"But just to reassure them and their families, if we cannot get them out by the 31st safely we will continue to work... Afghanistan will still be there, Kabul will still be there after the 31st and we will continue to work with those families into the future until we can get the out safely," Mr Coveney said.
Nasruddin Saljuqi knows two dual Afghan/Irish citizens attempting to leave Afghanistan with members of their families.
The chairperson of the Afghan Community and Cultural Association of Ireland said he has so far made contact with one of them, his friend Hamid.
He told RTÉ News that Hamid has sent him a message to say: "We are waiting to find (out), how can we go back to Ireland ... when you know that it is a very bad situation, that I can not go to the airport... because there is gunfire, there are many people, I cannot go."
Irish mission will make a difference - TD
Earlier, Independent TD Cathal Berry, who is a former member of the Defence Forces, said the "small, discreet and focused" Irish mission will make a significant difference on the ground in Kabul.
Speaking on RTÉ's Morning Ireland, Mr Berry said the team's main function will be to liaise with those Irish citizens wishing to be evacuated and with multi-national colleagues in the airport to secure seats out of Kabul.
In addition, he said, there will be a medical element and the team can also provide secure communications back to headquarters in Dublin.
Mr Berry said the issue is not the number of available seats leaving the airport, but getting people into the airport and then processing them onto those aircraft.
He said it will be a challenging mission but well within the comfort zone of the Rangers.
While threat of attack from the Taliban will be a factor, he said, the mission will be well able to deal with that and all indications are that the Taliban will not interfere with military operations.
Mr Berry said he believes the State has a responsibility to anyone in Afghanistan who has worked with An Garda Síochána or the Defence Forces, adding that the Defence Forces were deployed to Afghanistan from 2003 to 2016.
He also said that Ireland and Malta are the only two EU countries that do not have their own independent airlift capability and said he will be calling for provision to be made for this in the forthcoming budget.
"'We shouldn't be relying on other nations and the goodwill of other countries ... we are paying vast sums of money every single year to book and charter aircraft at very short notice ... it would be far more cost efficient to purchase our own aircraft so we can do these operations independently."
Ten Irish citizens have left Afghanistan, having received consular assistance, since the Taliban took power earlier this month.
'Significant number' of refugees to arrive
A significant number of Afghan refugees should begin to arrive over the coming days, according to the Minister for Children, Equality, Disability, Integration and Youth.
Roderic O'Gorman said that these people will now go an emergency and orientation centre that will allow them link in with local services in Ireland, such as social welfare.
The Department of Children, Equality, Disability, Integration and Youth said it has committed to bringing around 230 Afghan refugees to Ireland under the Irish Refugee Protection Programme, the backbone of which is community sponsorship.
This is up from its commitment to take 150 refugees last week, while Government ministers have indicated that more humanitarian visas are likely to be issued in the coming weeks.
The Department of Justice is also fast-tracking the applications of 103 Afghans seeking to be reunited with family in Ireland under the International Protection Act.
Forty-nine Afghan family members have been approved for reunification through applications made under the act since the start of this year.
In addition, 128 joint family visas have been granted to Afghan nationals seeking to join a family member living in Ireland.
This family member may have Irish citizenship after moving here, or be a refugee that is in Ireland more than one year.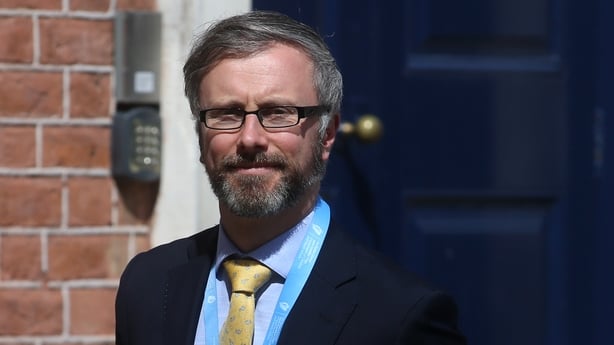 Speaking on RTÉ's Morning Ireland, Minister O'Gorman said that a number of those who have received visas have already left Afghanistan.
The minister added that there has already been a significant increase in offers of community sponsorship.
However, Mr O'Gorman pointed out that there are also existing commitments to Syrian refugees and that there is no point in bringing people to Ireland unless the proper supports can be offered.
Several Afghan refugees arrived in Ireland yesterday evening, the first to do so since the Taliban took control of Afghanistan.
The Minister of State for Overseas Development Aid has said the Department of Foreign Affairs has allocated just over €1m to the United Nations High Commissioner for Refugees to deal with the humanitarian crisis.
Speaking on RTÉ's Drivetime, Colm Brophy said Ireland has always been supportive of the UN and non-governmental organisations which will be working on the ground on the response.
Additional reporting Aisling Maloney