After the year that changed our lives, a new podcast from RTÉ seeks to find out what we really value.
Core Values, presented by RTÉ journalist Carla O'Brien, hears from people in Irish public life and the parts of their lives that are now most important.
Throughout the series, guests will describe the aspects of their lives that have gained, retained or lost value, as well as elaborate on their most valued possessions, and their MVPs - their most valuable players.
"We don't have anything more powerful than a shared experience."
For the broadcaster and writer Louise McSharry, sharing is her life's work, as her tribe of loyal social media followers will attest to.
As well as being heard on her weekend morning show on RTÉ's 2fm, the author and beauty columnist has previously shared her experience with cancer, of her childhood and her struggle with body confidence in a best-selling memoir, as well as making a documentary, F*** Cancer, for RTÉ.
"If you are in a position to share your experience, your feelings or what has happened to you, that is the most powerful thing you can do, because loneliness is at the root of so much of our problems as a humanity."
Louise believes that the benefit gained by knowing that others are experiencing similar challenges, took on a greater value during the pandemic.
"I think we needed to hear other people were upset too, other people felt like they couldn't go on, other people are worried about this, all of that lent itself to that feeling of community and support. You really weren't alone in it."
Loneliness is at the core of many of our problems as a people, she says, and we all stand to gain from opening up.
"If you are in a position to share your experiences, and you feel able to, then that is the most important thing that you can do. Loneliness is at the root of so much of our problems as a humanity. Obviously, world hunger and poverty are bigger problems, but for lots of us it's loneliness. That's where hate comes from and really toxic things like racism and homophobia.
"A lot of that comes from people feeling alone, who are looking to connect with people on some level. Often all you need to do is to hear someone else say something and to have that feeling of 'Yes, that's exactly how I felt'. It is so powerful. It makes you feel so normal, and heard, and seen and less alone. It can be restorative and almost like a cure.
"I am more passionate than ever about making sure my work can facilitate other people sharing their experiences so that we can all just feel a little less alone. I think the more empowered you feel by hearing other people's experiences, the more empowered you are to share your own. Without overstating it I think it could do the world a lot of good if we were all a little bit more open."
An experience that should always be shared is childbirth, according to the mother-of-two. She has been angered by Covid-19 restrictions imposed at Ireland's maternity hospitals.
"It breaks my heart to think of the situation women have found themselves in. I had two inductions with my children, and I was in hospital for days before they were born. They were some of the most challenging days of my life and I had my partner beside me, and they were still the most challenging days of my life.
"I know there were women whose husbands missed their child's birth and women like me who were in there for days on their own, in excruciating pain and afraid. Particularly with your first children you're so afraid anyway, that if you add in this unknown, I just can't imagine how difficult that must have been.
"It just feels like another disregard for women around maternity, in a long history of disregard for women in maternity."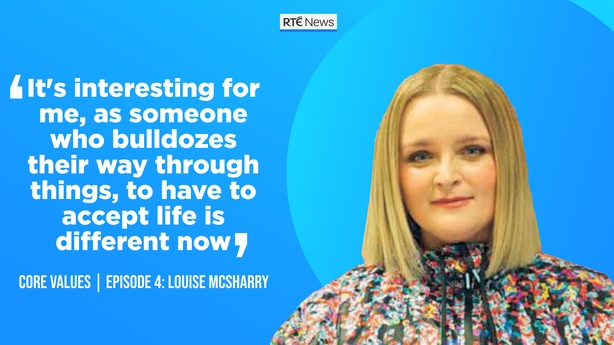 In her 2016 memoir, Fat Chance: My Life in Ups, Downs and Crisp Sandwiches, Louise wrote about the death of her father aged 28, when she was just three years old. She also shared her experience of her mother's alcoholism, the family moving to the US and back, and being adopted by her mother's brother and his wife.
Despite the significant challenges that she has overcome in her young life, she tributes the pandemic with showing her how to have a deeper level of acceptance.
"I am strong headed. I put my head down and just keep going. I don't tend to reflect that much. After I had cancer, I was asked lots of times 'what did you learn? How has it changed you?' and I never had an answer.
"At the time I was saying to myself, 'I am going to do what the doctors tell me, and I am just going to get through this and then it is going to be over'. And with the pandemic it was the same thing.
"I think it's only now that I am starting to realise that there isn't going to be an end to this. We are not going to wake up one day and be given the all clear from the pandemic, in the way that I was given the all clear from cancer, or in the way I was able to create a safe family situation for myself feel like, 'Ok that trauma is over'.
"That's an interesting thing for me to reflect on as someone who bulldozes her way through things; To have to sit with it and accept that life is different now and it is going to be different for quite some time."
There is a tendency, after going through a life changing experience, to try to pinpoint what lessons can be learned, Louise says. She hopes that, at the very least, the population can "hold on" to the sense of community shown to one another during the pandemic.
"We tend to think we have had seismic shifts by big events in our lives, and then often we don't, we just eventually go back to normal. But I hope that people can connect to fact that we all made huge sacrifices, for ourselves and for each other.
"Irish people at our heart, we want to care for each other, and we have more in common in that desire, than we do in difference. I would love to think that we could hold on to that; That we are a community; We are a small island, and we care for each other, and we want the best for each other."
To hear Louise's Core Value, who her Most Valuable Player (MVP) is and her most valued possession, listen to the full episode of RTÉ's Core Values, hosted by RTÉ journalist Carla O'Brien, wherever you get your podcasts.