After the year that changed our lives, a new podcast from RTÉ seeks to find out what we really value.
Core Values, presented by RTÉ journalist Carla O'Brien, hears from people in Irish public life and the parts of their lives that are now most important.
Throughout the series, guests will describe the aspects of their lives that have gained, retained or lost value, as well as elaborate on their most valued possessions, and their MVPs – their most valuable players.
"This has been like dialling in with a psychiatrist!"
It came as no surprise that the Michelin star chef Richard Corrigan, who is known for his knack for high-end hospitality would be generous when sharing his thoughts on the last year-and-a-half.
The 58-year-old is the owner of the 150-acre estate, Virginia Park Lodge in Cavan, as well as three restaurants in central London.
When the pandemic hit last year, the lights went off in the city's hospitality heartland of the West End. They would stay off for three lockdowns.
With two of Corrigan's operations - Bentley's Oyster Bar and Grill and Corrigan's Mayfair - located there, the award-winning chef knows only too well the impact of forced closure.
"It's been a big rollercoaster. I was riding high in 2019, I was out in front the whole time. I thought I was top of the tree and then tree was cut down. And not only was the tree cut down, but it also fell on top of me as well."
The Meath native successfully renegotiated all three leases for the London restaurants, but he describes the city's landlords as "merciless".
"From the day we closed down I was on to my landlords. I shook the tree and now Corrigan's Mayfair has a brand-new lease. We have the same in Bentleys, and we have the same in Daffodil Mulligan's, and I own Virginia Park Lodge outright.
"When you send a landlord an email, and it doesn't come back, I think that's absolutely the worst bad manners that you can show any tenant. Ireland has a very long history of bad landlords, and I wasn't going to put up with any bad landlords dealing with me, so I shook the tree and I got what I wanted.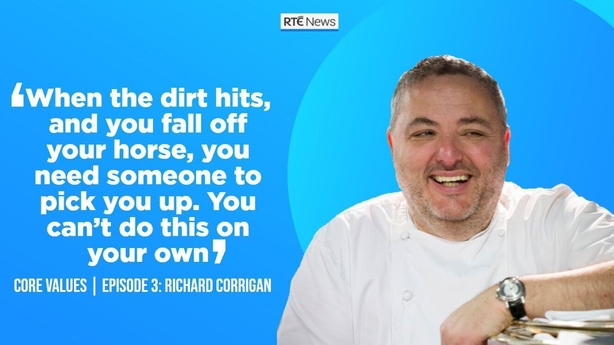 "It doesn't mean you walk away Scot-free. It means yes, they want money, but they'll take time to get it off me. At least we can pay them slowly over a number of years. It's best to get it out of the way early rather than dealing with them next year when things might have improved, and they might be more merciless."
The impact of the pandemic on the hospitality sector hasn't dampened Corrigan's spirit. If anything, it has rekindled it. He said the career afforded to those in the industry needs a serious upgrade, and he is determined to do what he can to help workers feel rewarded.
"We need to be better," he said.
"We need to move hospitality into a real professional operation. We need to stop talking about it but do it."
He said employers need to "wake up" and contribute to a significant improvement in pay scales in the hospitality sector.
"We've moved all our pay scales up accordingly, and we will move it further if we have to. We must show that we want to hold onto our great people. There are so many nice restaurants and hotels you go into in the country, and the staff are on ten quid an hour. Get lost. Everyone needs to wake up.
"I want to make a difference. I don't want to just talk about it and do a bit of PR about it. You can't just sit there and go off to the Bahamas and think of how well you've done, with everyone around you on minimum pay. Let's get a life."
Hospitality - the cornerstone of Corrigan's approach to business - is seen best in action, he says. At the onset of the pandemic, the award-winning chef, who is a patron of the Irish Youth Foundation, swung into action with the UK volunteer collective, Under One Sky, to hand out breakfast to London's young homeless.
"I've always felt embarrassed about making money. So, I used to set myself a little thing in my head, whatever I earn, I'd try to earn on the outside for charity. I'm not saying that I've done it every year, but I have gone pretty far in the last few years."
He said the scale of homelessness in London during the pandemic was worse than anything he has seen in over 30 years living there.
"What I saw in Soho Square shocked me to the core. Soho Square was full. That's hard to imagine. There were queues for instant porridge. I've never seen that in my 30 plus years in London. So that got me.
"The whole crew piled in behind me. Of course, we couldn't get credit from any of our suppliers, but BaxterStorey were fantastic. About 15 bikes arrived with water, fresh fruit, and a hot sandwich, in a big fluffy bun, like a blaa. We did kidney beans with rice, a wonderful organic egg. It was brilliant to see. It really put something good into your soul."
But the issue of homelessness in Ireland has not escaped Corrigan, who believes more needs to be done to help those who have mental health issues and who are without a home.
"When I see the homelessness around Ireland and especially Dublin over the last three years, my blood boils. We are rich enough now to solve that very quickly.
"I'm done with people talking. Someone should just get things done.
"We need outreach hostel accommodation for the mentally insecure, and the right therapist space for them. We have to help the most needy in society. Not give them a tent to live along the banks of the Royal Canal."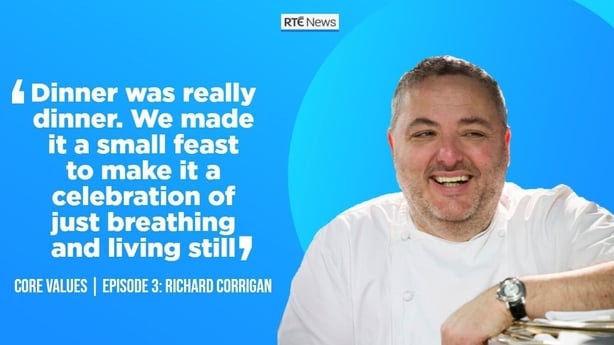 For a chef of Corrigan's calibre, who has navigated a highly successful career spanning five decades, he admits that he hasn't had much time to reap the benefits.
While it may have been forced free time, the father-of-three said his family had the novel experience of sitting down together most nights when his restaurants were closed.
"Dinner was really dinner. We made it a small feast - a celebration of breathing and living still."
During this period of flux, Maria, Corrigan's wife of 29 years has kept him on stable ground.
"When all worlds were collapsing, she was an absolute rock. When we had so many, many battles to fight, Maria was an incredible stability to have around."
Whilst Richard says he is "just happy to be through the year" it has made him even more determined to strengthen his family firm, with the help of his children.
"I think what is important now is my children are in the business. Richard, my eldest son is the operations director in the company. He is the best at what he does. There's no nepotism in this house. He has a remarkable instinct to be the best of the best of his field. Jessica, my daughter has her own PR company, and she is in the restaurant world, and my son Robbie is in hotel school.
"I'm at an age now where I'm determined to mould, what we have in hold wonderful hospitality company, and I think we can really make a difference."
To hear who Richard's MVP is, and the core value with which he lives his life by, listen to the full episode of RTÉ's Core Values, wherever you get your podcasts.