A woman who spent more than two weeks in a coma after contracting Covid-19 while pregnant has described her daughter as a "miracle baby".
Laura Curtis, a youth worker from Donaghmede in Dublin, was placed in an induced coma in ICU for 17 days.
She has thanked doctors and nurses at Beaumont and the Rotunda hospitals for the care she received.
The 29-year-old tested positive for Covid-19 in March and, within days, she says she started to deteriorate, with a temperature of 39.5C.
She says she has no underlying health conditions, but by the following Tuesday she was struggling to breathe and her partner called an ambulance.
She says she was very concerned as she was 21 weeks pregnant. She pleaded with the medical teams to save her baby when she learned she had to be hospitalised and placed in an induced coma at Beaumont Hospital.
While she was in the coma, teams from both Beaumont Hospital and the Rotunda worked together to treat her.
They also kept her family informed and were able to send her partner Robbie updates - including a recording of the heartbeat.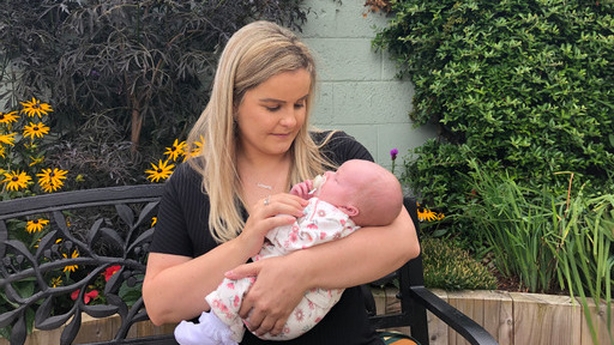 Ms Curtis said that when doctors woke her up, she did not believe that she was still pregnant, because the last thing she heard was that they did not know if they could save the baby.
"My partner had a heartbeat sent to him on his WhatsApp from one of the doctors from the Rotunda Hospital and he played it to me," she said.
Ms Curtis spent around five weeks in hospital and had to relearn how to walk and talk properly after her experience.
Laura said the rest of her pregnancy was an anxious time, describing how she would wait for her weekly appointment in the Rotunda.
In addition, Laura said it was very difficult to differentiate between her post Covid and pregnancy symptoms such as breathlessness.
"It was always a worry. 'Is she really going to be ok after this? Is the birth going to be ok? Has she made it?'," she said.
"Even though I could feel her kicking away, I definitely was still extremely worried, until the day I had her in my arms."
Baby Demi was born in the Rotunda on 14 July.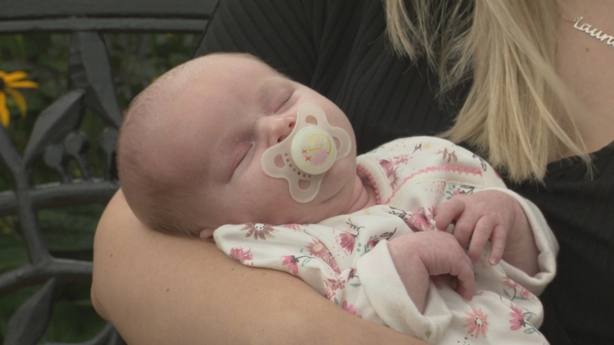 Ms Curtis says the whole experience seems surreal. She says it was very traumatic and a very hard recovery with pregnancy and Covid being "two really hard things". So having to do both together is hard, she added.
As for Demi - her mother says she is doing well.
"She's actually doing great. There's not a bother on her."
Ms Curtis said she is looking forward to showing her the newspaper and TV reports when she's older to let her see what they have been through together.
"She is a little miracle baby," she said.
Ms Curtis paid tribute to the staff in Beaumont and the Rotunda who saved her life and that of her unborn daughter.
"The care they gave me. It's just amazing," she said.
"They saved both of our lives."