Prisoners in Ireland serving a life sentence must now complete 12 years in jail before being considered for parole, due to the commencement of the Parole Act.
Before this act, which commenced on 30 July, people in prison with life sentences would have to serve seven years before being considered for parole.
According to a statement issued by the Department of Justice, the average sentence served, in the last ten years, before a life-sentenced prisoner is released on parole is 18 years.
Minister for Justice Heather Humphreys says this change was made with victims in mind.
"The change to the length of a life sentence which must be served, from seven years to 12 years, before an initial parole hearing is a recognition that the previous period was distressing for victims," she said.
"I believe the new period of 12 year is a positive change."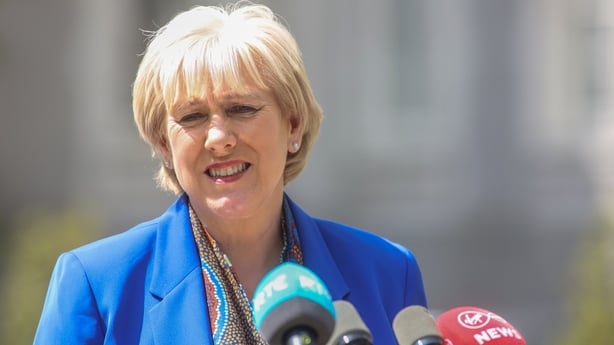 The Executive Director of the Irish Penal Reform Trust says the parole changes for prisoners serving life sentences is a significant one.
Speaking on RTÉ's News at One, Fíona Ní Chinnéide said sentence management and engagement with prison services must begin at the earliest point in the sentence, as this can often be delayed until the first parole hearing is scheduled.
"Parole plays an important role in promoting public safety by supporting the safe reintegration of people serving long sentences back into the community," she said.
"The increase in the number of years before a life-sentenced prisoner becomes eligible for their first parole review must not result in delays in engagement with rehabilitative treatments and services in prison.
Sentence management should begin shortly after the sentence is received, and not when the first parole review is coming up. It is also important that access to other rehabilitative measures such as open prisons, which reduce institutionalisation and support normalisation, are not impacted by this change."
Parole will only be granted if the board is satisfied that the prisoner does not pose an undue risk to the public, that they have been rehabilitated.
Victims of crime will be also be able to make submissions if they wish and may also receive legal assistance.
Parole Board
Minister Humphreys also announced the establishment of a new Parole Board, which will make independent rulings on parole applications.
Minister Humphreys says this newly-appointed board will play a "vital role" in the justice system.
"Transparency and accountability are vital in achieving fairness for victims of crime and rehabilitation for the prisoners. I believe that the new independent Parole Board will considerably improve the system as it currently operates," she said.
"I am also glad that the new Board includes members who have significant experience of working with victims as well as prisoners."
The Parole Board, which was a key commitment in the Programme for Government, will be chaired by Head of the Central Criminal Court the Hon. Mr Justice Michael White.
Mr Justice White was nominated by Chief Justice Frank Clark.
A further 9 Board members were appointed following their nomination by specified nominating bodies. There will be a total of 13 members of the board overall.
Ms Ní Chinnéide welcomed the decision to put the Parole Board on a statutory footing and make its decisions binding.
Until now, she said, the board would present its recommendations to the Minister for Justice and these recommendations could either be fully or partially accepted, or rejected.
"The independence of the board to make these decisions is extremely important to improve confidence among parole candidates, victims and the wider public," she said.