Climate change is widespread, rapid and intensifying, according to an influential UN report released today.
The Intergovernmental Panel on Climate Change has said strong and sustained reductions in emissions of carbon dioxide are required urgently to limit the damage to the planet.
The first instalment of the IPCC's sixth assessment report was approved by 195 member governments last Friday.
The finding is unequivocal; human activity has led to climate change and the time for action is now.
Among those reacting to today's report were young people involved in the Fridays for Future campaign. A small number of them gathered outside Leinster House this afternoon, demanding urgent action.
Eighteen-year-old Beth Doherty believes that the IPCC report is stark, however she is still hopeful that the worst effects of climate change can be avoided:
"I think today is an absolutely crucial day. I think it's a wake-up call that is really showing us the urgency of this crisis but it's also showing us that it is possible to get to 1.5 degrees warming and to limit it at that. I think it's showing our politicians now what they need to do."
Farmers were also among those reacting to the report, which one UN chief described as "a code red for humanity".
The report calls for strong, rapid, and sustained reductions in methane emissions - a challenge farmers are ready for, according to President of the Irish Farmers' Association Tim Cullinan.
However, the Tipperary farmer warned that the Government will need to provide supports.
"We will continue to work to reduce methane emissions in agriculture, but it's vital that Government puts the structures in place to support farmers on this journey," he said.
He also explained that farmers can offer solutions, "by using our natural advantage to produce carbon efficient foods, increasing the production of renewable energy on farms and with greater removal of carbon from the atmosphere, we can positively contribute to meeting the climate change challenge".
We need your consent to load this rte-player contentWe use rte-player to manage extra content that can set cookies on your device and collect data about your activity. Please review their details and accept them to load the content.Manage Preferences
Opposition parties also welcomed today's UN report.
Sinn Féin said that a "just transition" needs to be central to the Government's response to climate change.
Speaking this morning at Leinster House, the party's spokesperson on climate action, Senator Lynn Boylan, said that the pandemic has proven that people are willing to respond in the collective interest.
Darren O'Rourke TD, also a Sinn Féin spokesperson on climate action, said the Climate Action Bill is lacking when it comes to provisions for public consultations and for a just transition.
He also called for increased investment in public transport, particularly in rural areas, so that people can "leave the car at home".
In a statement, Social Democrats Climate Spokesperson Jennifer Whitmore said that the forthcoming Climate Action Plan, due to be published shortly, must provide a comprehensive and credible roadmap to reducing climate emissions.
She added that the Government must move from "climate rhetoric to climate action" and warned that "time is running out and failure is not an option".
---
Read more:
Latest climate stories
Will politicians step up after dire climate warning?
The report in full
---
Director of Friends of the Earth Oisín Coghlan believes that the report from the IPCC is a "final wake-up call".
"There is no wriggle room left," he warned.
According to Mr Coghlan, "every time the Government faces a major policy decision now, we need them to choose the option that reduces emissions, even if it means standing up to noise lobby groups who want to dilute or delay action".
The Oireachtas recently passed the Climate Act, which commits the nation to reaching net zero greenhouse gas emissions by 2050 at the latest, and a cut of 51% by 2030 compared to 2018 levels.
The soon-to-be published Climate Action Plan 2021 will set out the measures needed to reach 2030 targets.
This morning Minister for the Environment, Climate and Communications Eamon Ryan said that "these steps will be challenging but they will also create new opportunities".
"It's not without hope, but the time to act is now. It's really urgent, we cannot wait but we can avoid the worst of climate change if we do act now," he added.
The consequences of failing to bring Ireland's carbon emissions down is beyond compare, Mr Ryan argued.
The minister said he believes the landmark United Nations report on climate change will outline real certainty on the science around climate change and the need to move quickly because "the window for action is closing".
Speaking on RTÉ's Morning Ireland prior to the publication of the report, which states humans are causing climate change, the minister said the first key thing that needs to be done is to stop using fossil fuels.
He said that reducing the use of nitrogen-based fertilisers will help reduce carbon emissions in farming, adding that farmers will be paid to move towards a different grass system.
These will reduce emissions and ultimately result in a better outcome for farmers.
The Green Party leader said farmers are the frontline of the climate response, in managing the climate change that is to come, but also in changing the way land is monitored in order to reduce emissions, restore biodiversity and lower pollution at the same time.
"Doing nothing is not an option. The science is ever clearer and unequivocal," he said.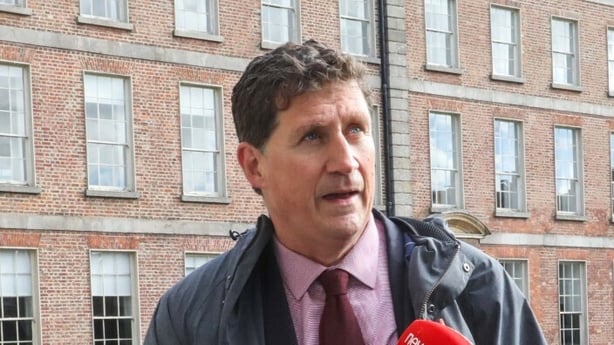 "It's our future we are talking about."
He added that the pandemic has shown that we can change our transport systems to return to stronger sense of local community, with the development of "15-minute cities and towns", where services, facilities and employment are closer to living spaces.
Minister Ryan said the Dáil will collectively agree a budget on how to plan and achieve this, but noted that the first thing is to "recognise the science and this is being set out today".
"For too long it has been about 'oh, well, maybe', but today's report will show that the science is unequivocal and the cost of inaction is far greater than the cost of any action," he said.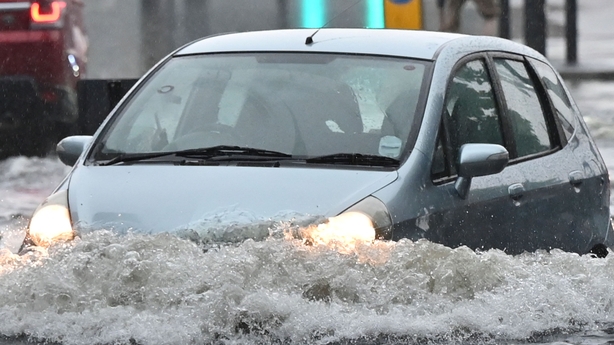 In a statement, Minister Ryan added: "The report makes it clear that failure to act will have devastating consequences, but it also offers hope.
"Strong and sustained reductions in emissions of C02 and other greenhouse gases would limit climate change. We know what we have to do. We now need to harness a national and global effort to do it."
Scientific methodology 'has advanced'
One of the report's contributing authors said there was substantial evidence that human activities are the main driver of global warming and have contributed to climatic changes that cause extreme weather events.
Also speaking on RTÉ's Morning Ireland, Dr Michael Byrne said he found the report particularly significant because the last report, in 2013, was inconclusive about how extreme weather events were linked to climate change.
However, scientific methodology has advanced, he said, and the effects of climate change on these events are now more apparent.
Dr Byrne, climate scientist at the University of St Andrews and research fellow at the University of Oxford, said
the report outlines clear evidence that these extreme events are bearing the hallmarks of climate change.