An organisation that represents people bereaved or injured through The Troubles from all across the island of Ireland, Britain and further afield has strongly criticised the British government's plan.
Britain's Northern Ireland Secretary Brandon Lewis today confirmed that his government intends introducing an end to prosecutions for all killings during the Troubles.
Sandra Peake, Chief Executive of the WAVE Trauma Centre, told RTÉ News that those it represents are very angry, disillusioned and feel let down.
"The real question is, how on earth can they do this?" she said.
"I mean, this seems so morally wrong. It also...undermines the rule of law here, because everybody deserves to have a process that addresses what happened to their loved one, and to hold those to account, if that's possible."
She said she hopes Minister for Foreign Affairs Simon Coveney was right when he said this morning that he does not believe the plans are a "fait accompli".
But she added that victims of the Troubles do not trust the British government and had not been consulted in advance of today's announcement.
---
British govt to end prosecutions for killings during Northern Ireland's Troubles
---
"I think sadly that trust and confidence in the British government here is at an all time low. I think that people really feel that, that this is the direction of travel that the government wants to take," she said.
"I think that many victims and survivors today will be questioning what on earth this was all for, why their loved ones death didn't matter, why the state are saying that what happened to their loved one is no longer of interest to them, why they're saying to those who perpetrated, you're no longer of interest to us.
"And I think that's that feeds a further injustice to families and that is so wrong."
'Utter and unacceptable betrayal'
Michael O'Hare, whose 12-year-old sister Majella was shot by a soldier in 1976, said the legacy proposals set out by the Northern Ireland Secretary were an "utter and unacceptable betrayal".
Mr O'Hare, supported by Amnesty, is calling for an independent investigation into the killing.
He said: "These proposals are an utter and unacceptable betrayal - they must not succeed. The UK government is inflicting great pain on my family and other victims denied justice.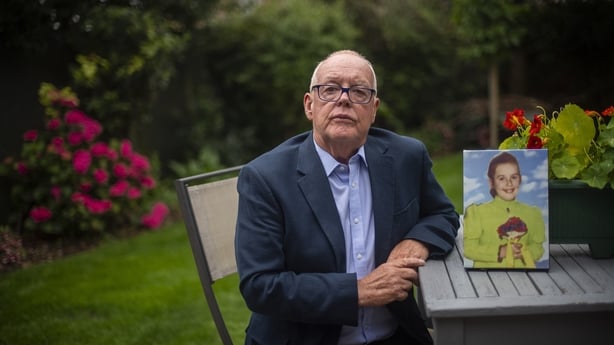 "Our Majella had her life cruelly robbed, at the tender age of 12, by bullets from a soldier's machine gun. She was an innocent child with her whole life ahead of her. The Ministry of Defence apologised to my family, but a proper investigation has never happened.
"The UK government is now trying to deny us meaningful truth and justice forever. I will never stop fighting for Majella - my sister deserves justice. I hope these proposals are firmly rejected. I call on all parties involved to end the perpetual cycle of victims being failed."
The families of those killed by soldiers in west Belfast in 1971 also urged against a statute of limitations on Troubles prosecutions.
A fresh inquest into the deaths of a woman and nine men in Ballymurphy earlier this year found they were "entirely innocent".
The daughter of one of the victims - Joseph Corr - said they see the proposed statute of limitations on Troubles prosecutions as the British government's "cynical attempt to bring an amnesty and a plan to bury its war crimes".
Eileen Corr said the proposals "will not be tolerated and will be legally challenged".
"The Ballymurphy Massacre inquest findings show how the law should work independently," she said.
"All victims need to know the truth, they need to know what happened to their loved ones. We all bleed the same blood so everybody needs truth and justice and then maybe they can start living their lives.
"We spent 50 years trying to prove that our loved ones were innocent, there are loads of families out there like us and they all need to know the same thing."
Patricia Burns, whose father was killed by the British army in 1972, said she has been "re-traumatised" by the UK government's announcement.
Speaking on RTÉ's Drivetime, Ms Burns said she has spent her "whole adult life" searching for justice and "at every turn, that has been blocked by the British government.
"My Daddy was an innocent man, and the British government are cowards. They will not admit that they committed war crimes.
"They murdered innocent people, and they uncovered it, and they re-traumatised the relatives all these years, who have spent their whole lives fighting for justice every step of the way."
Ms Burns said she would like to meet with the Northern Ireland Secretary.
"I can't accept what he says here today, and I would challenge him to meet me and to look in my eyes and into my children's eyes and tell me to my face why he thinks it is not significant to carry on."
Mike Ritchie, from Relatives for Justice, said victims are "angry" and are "re-traumatised", adding "the phones have been hopping all afternoon with victims asking what it means."
He said: "There is a deep sense of anxiety because not only have they banned prosecution, but they have also banned civil cases and inquests.
"What happened with the Ballymurphy inquest a couple of months ago, is Brandon Lewis saying that was hard for families? No, that was positive for families. They got a lot more information, and vindication from the coroner's findings."
Mr Ritchie said today's announcement is a "cynical and shameless exercise" by the British government.
"They're hiding behind words like reconciliation, consultation, collaboration and moving on, but that's the last thing that they want to do. All they want to do is cover up the activities of their agents.
"They just want to hide under a stone so what they were involved in during the conflict can't leak out."
UK govt wants to protect state forces from 'dirty role' in Ireland - O'Neill
Northern Ireland's Deputy First Minister Michelle O'Neill said the proposals are to protect state forces from their "dirty role" in Ireland.
She added: "I think that once again today, the British government have set out their statement of intent, and it goes right to the highest echelons of government, because it begs the question why they're doing this.
"Particularly given the fact that all the five political parties here are opposed to an amnesty, all the victims and survivor groups are opposed to amnesty, as is the Irish Government.
"So you have to ask the question, why are the British government intent in taking this route?," the Sinn Féin politician asked.
"It has to be two things in my mind. It has to be to protect state forces and their dirty role here in Ireland. I think it also has to be to protect those in suits who directed British state murder, murder of Irish citizens.
"That's what the intention is and this does nothing to serve the needs and the interests of victims and survivors. We will continue to work with the victims and survivors because this is not acceptable."
SDLP Leader Colum Eastwood described the proposal as a "massive betrayal" and that the "route to truth and justice has been blocked".
Speaking on RTÉ's Drivetime, he said: "The British government here only doing this to protect themselves, to feed some narrow political interests. They have absolutely no concern for the victims who are suffering today, and they should be entitled to seek trust, and justice.
"To pretend that this is about truth, recovery or reconciliation is an absolute insult to the victims and all of us who've watched how this British government have approached these issues," he said.
Mr Eastwood said people will not come forward willingly to give information.
"Unless you do a proper investigation using new techniques, and frankly, a police service that's interested in investigating many of these issues, you won't get the truth because nobody's going to come forward willingly, even if they don't have the prospect of prosecution hanging over them."
DUP opposes any form of amnesty - Donaldson
DUP leader Jeffrey Donaldson said the proposal would be "rejected by everyone in Northern Ireland who stands for justice and the rule of law".
He said: "The past is complex and we have always believed that any process to deal with the legacy of our troubled past should be victim-centred.
"Victims will see these proposals as perpetrator-focused rather than victim-focused and an insult to both the memory of those innocent victims who lost their lives during our Troubles and their families.
"Justice was corrupted in 1998 with the release of prisoners and then by Tony Blair's on-the-run letters. Understandably many victims will feel that these proposals represent a further denial of the opportunity to secure justice for their loved ones.
"There can be no equivalence between the soldier and police officer who served their country and those cowardly terrorists who hid behind masks and terrorised under the cover of darkness. We find any such attempted equivalence as offensive.
"The Democratic Unionist Party, both publicly and privately, has, and continues to oppose, any form of amnesty. Everyone must be equal under the law and equally subject to the law. We will oppose any plans that give an effective amnesty to those who murdered and maimed over many decades.
"We understand that with the passage of time the prospect of justice is diminishing for many but these proposals, if passed, will extinguish that flickering flame of justice completely and is a moral overreach that cannot be accepted."
Ulster Unionist leader Doug Beattie said plans to ban Troubles prosecutions "reinforces the injustice" which victims in Northern Ireland already feel.
Former Army captain Mr Beattie said: "It's the wrong path and will tread on the emotions of innocent victims and their families. Nobody has the right to deny them the hope that someday, finally, they might see justice being done."
Proposals show 'offensive disregard for victims' - Amnesty
The British government's proposals for dealing with the past in Northern Ireland show "offensive disregard for victims", Amnesty International has said.
Amnesty's Northern Ireland campaign manager Grainne Teggart said: "The UK government is showing an appalling and offensive disregard for victims; grossly dismissing their suffering and rights to truth, justice and accountability.
"In pursuing a statute of limitations to put state forces and other perpetrators above the law and beyond accountability, government debases natural justice.
"People in Northern Ireland have been clear in their rejection of a de facto amnesty.
"Many victims are having their worst fears realised in these proposals - the Government are closing down paths to justice.
"The Irish Government, Northern Ireland political parties and members of the UK Parliament must unequivocally reject these proposals and stand with victims," she said.
Additional reporting PA