Drivers have been reminded to be careful and mindful of other road users including cyclists, walkers, runners and horse riders this summer.
The chairperson of the Road Safety Authority said that as more people will be holidaying at home, traffic volumes will be increased and she urged people to be cautious and pay attention while driving, especially if travelling on unfamiliar roads.
Speaking on RTÉ's News at One, Liz O'Donnell said there has been an increase in speeding and "if excessive speed is involved, it makes any crash worse".
Ms O'Donnell said more people are cycling and "cyclists have an absolute right to be safe on the road and people should make space for them".
She said gardaí will be enforcing the traffic laws and have urged people to be particularly careful if they are towing caravans or driving recreational vehicles, which they are not be used to.
The RSA and An Garda Síochána earlier launched a new campaign - 'Stay cautious on your staycation'.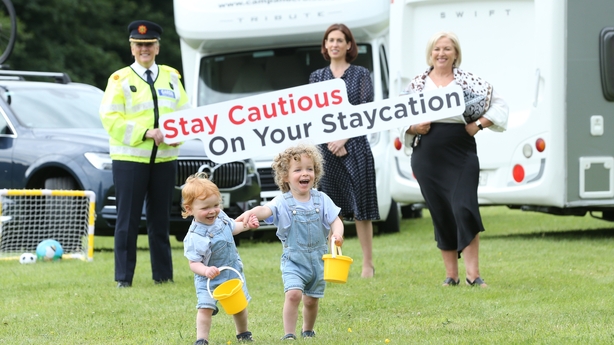 Assistant Garda Commissioner Paula Hilman, Roads Policing and Community Engagement, said drivers should take frequent breaks and to be vigilant on the roads, particularly around changed road layouts.
She also encouraged road users to park safely and legally when visiting beaches, beauty spots as well as other public amenities.
Minister of State at the Department of Transport Hildegarde Naughton said: "As we go about our staycations this year, we must remain vigilant and safe on the road, not just when travelling to or from a holiday destination but also when touring around and on the holiday itself."