Ireland's first horological museum - dedicated to clocks and watches dating back hundreds of years in some cases - has opened in Waterford city.
The National Museum of Time is located in a refurbished church at Greyfriars in Waterford's Viking Triangle and will host more than 600 items set out across two floors.
The collection has been made possible by donations from two of the country's most prolific and long-standing horologists, David Boles and Colman Curran, both from Dublin, who have given their collections of timepieces to the museum.
Along with the oldest Irish clocks, the museum also has pieces from around the world, including from the US, UK, France, Austria, Switzerland, and Japan.
"They are absolutely superb, world-class collections, as are the clocks themselves," said Eamonn McEneaney, director of Waterford Museum of Treasures.
"We feel this is a museum for everybody. Young people are into technology these days, even more so because of Covid ... when we think of it, these were the early computers of their day.
"People were interested in astrology in those days and wanting to know how do you exactly figure out time. It was a great science.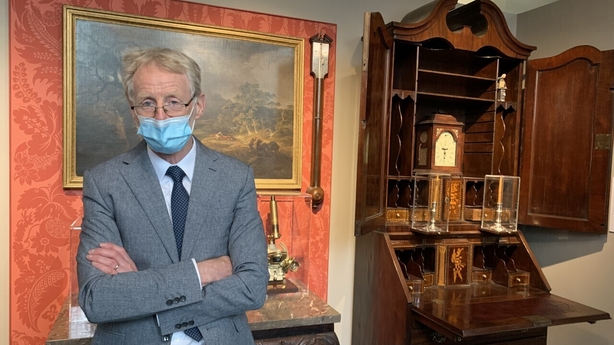 "I think it will interest all age groups, really, from the people who are really into horology and wanting to know exactly what was in the clocks and how one was different from another, and the people who just want to know how clocks work and again from the other stage, just the fashion of clocks."
Waterford's Viking Triangle is the only "museum quarter" in the country, he said, with five museums now in the area.
"In our museums we've concentrated not just on the history of Ireland's oldest city, but also on the history of glass-making, craftsmanship, the history of Irish silver-making from the Vikings right up to the 20th century, and here the history of timepiece making."
Mr Curran: "Ultimately, it's very difficult to see this number of, particularly Irish, clocks all in the one place. It's been a very interesting collaboration and it's wonderful to see it coming to fruition after six years. It's been a long road, but here we are."
He said he will not miss having his clocks around his home.
"I'm happy that they are coming to a place where they can be enjoyed, the integrity of them is maintained here, they can be enjoyed by people in Ireland and the progression of them can be seen, the social history of them can be examined, the beautiful cabinet-making can be examined, and the engineering. It's all very interesting."
Mr Boles agreed that it is worth having the collections together, where they can be appreciated by the public.
"I heard that Colman and Eamon were planning to set one [museum] up. I came down, I looked at the building and I was highly impressed with the building for a start. It had wonderful potential. A converted church didn't sound great to start with but when I saw it, I thought it was marvellous.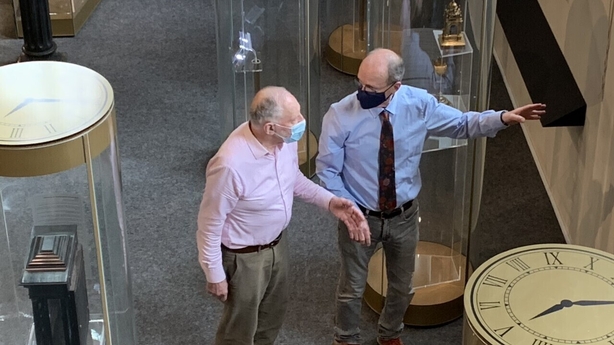 "It seemed to have wonderful ability to show a terrific collection of Irish clocks between Colman and myself and I feel that they should be displayed.
"They were here, there and everywhere, stored in the attic and so on. I won't miss them, I'll be delighted to see them in a very good home where other people can appreciate them.
"In their day they were only seen by a few families and the average ordinary person in Ireland would never have seen these things. They'd be in very wealthy homes, very top of the range aristocratic families and ordinary people would never see them.
"Here, you have a chance to see everything from humble clocks for poor people to wonderful clocks for extremely rich people or even aristocracy. It's great to see them being open to the public, in a wonderful setting, well-preserved," Mr Boles said.
Rosemary Ryan, Keeper of Waterford Treasures, said it is a great occasion for Waterford.
"It is the finest collection of Irish-made clocks and watches in the world. It also contains very significant European pieces and it just goes from the earliest pieces, about 1560, right up to the present day.
"It's quite a coup for Waterford really to have acquired this collection and this museum. We're very excited, it's really quite a red-letter day."
We need your consent to load this rte-player contentWe use rte-player to manage extra content that can set cookies on your device and collect data about your activity. Please review their details and accept them to load the content.Manage Preferences