The family of a Dublin woman who died from Covid-19 say they don't want her to be forgotten.
Amanda Keogh died on 14 February.
Her brother John, is calling for a permanent memorial forest to be established for all those who died after contracting coronavirus.
"She was loving, and caring and she had a heart of gold."
That's how Amanda Keogh's daughter describes her: "She was a very friendly and open person. All that ever really mattered to her was her relationships with people and her friendships," says Niamh Lawless.
The 52-year-old healthcare worker started to feel unwell at the start of January. It started with a sick stomach. She went for a covid test. The test came back positive.
Her daughters say the worst symptom she had at that point was a fever. But, after about a week her daughter Ray says she complained of being short of breath when she moved.
Niamh phoned the doctor and was told that can happen with Covid-19 and there was nothing to worry about just yet.
But the next day, Amanda's daughters say she was quite bad and incoherent. They say that she had been hiding how bad her shortness of breath was. They called an ambulance and when the paramedics arrived, they were told she wasn't getting enough oxygen.
She was brought to hospital. But her daughters say she deteriorated rapidly.
Her daughter Ray Lawless says that one of the hardest parts was not being able to be there with her in the hospital and having to find out how she was doing through phone calls.
While she seemed to rally at times, they then would be told she had got worse again.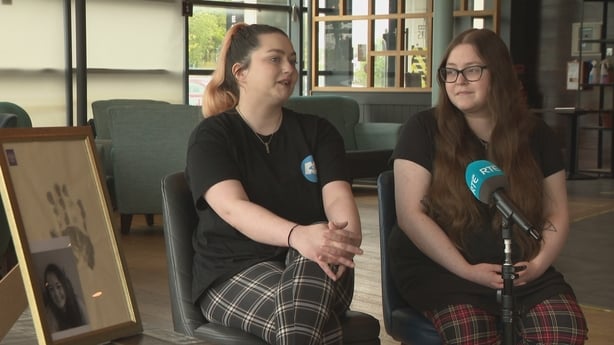 Her daughter Niamh says it was so difficult because the whole time they were expecting her to get better. "You're like, no. She's 52, she's healthy, she works full time. This shouldn't be happening to her. It was a matter of a couple of weeks she was fine, and healthy and coherent to she's not here anymore."
Her brother John says that it was so fast, and it affected every organ and every system in her body. "She just could not fight against it."
Her daughter Ray says that they feel very lucky that they got to be there with their mum when she died: "because there are so many people whose loved ones are dying of Covid, and they are dying alone and we will always be very grateful to the Mater Hospital for letting us have that".
Afterwards staff at the hospital made copies of her handprints which were given to each member of her family.
Her daughter Niamh says it does really comfort her to see them. "Sometimes I put my hand to it" she says "like I am, you know reaching out to her".
Amanda's brother John says that from the time she was born she was always a carer.
Even when they were young, with only eleven months between them he says that she would always see if you were ok.
They believe that she didn't contract Covid-19 at work but instead picked it up in the community.
He says he would like a permanent memorial for all those who have died with Covid.
"She wasn't a number," he says. "She was our sister. She was my best friend. And I think it is vitally important for those families and for the loved ones that died that a memorial such as a memorial forest should be created for those families."
An online memorial page he has set up has already had almost 300 virtual trees dedicated to loved ones that have died in the pandemic.
We need your consent to load this rte-player contentWe use rte-player to manage extra content that can set cookies on your device and collect data about your activity. Please review their details and accept them to load the content.Manage Preferences