Portmarnock Golf Club in Dublin is to end its men-only membership policy after 127 years.
A majority of members voted to change the policy, which has been in place since the club was founded in 1894.
The vote saw 83.4% in favour of the change and 16.6% voting against.
Up to this point, the club's Rule 3 stated that: "The club shall consist of members and associate members who shall be gentlemen properly elected and who shall conform with the rules of amateur status."
The words "who shall be gentlemen" will now be removed.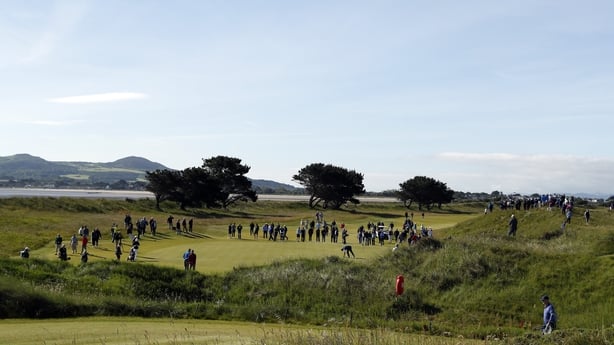 In a statement, the club said that "as a consequence ... the rules and bye-laws of the club will now become gender-neutral, which marks a positive development in the club's long and distinguished history".
The officers and committee said they now looked "forward to welcoming women as members of the club".
The course is known around the world and has played host to the Irish Open on several occasions.
Minister for Sport, Catherine Martin, praised the club for "finally" admitting women and thanked it "for taking this progressive step - your club and community will be all the richer".
In a post on Twitter, she also said: "I welcome this decision and hope women in the community now take up golf and perhaps in future we'll see even more women go pro."
In a statement, Golf Ireland CEO Mark Kennelly said: "Golf Ireland warmly welcomes the very strong decision of the members of Portmarnock Golf Club to become a gender neutral club.
"We look forward to the implementation of this historic decision which is very much in alignment with the core values of Golf Ireland."
The National Women's Council of Ireland (NWCI) has welcomed the decision by Portmarnock Golf Club to end its men-only membership policy.
Orla O'Connor, the Director of the NWCI, said: "It is obviously welcome that they made this decision and voted overwhelmingly for it."
However, she said the move has been a long time coming and it was "really shocking that in 2021 we are still talking about male only institutions".
Ms O'Connor added that the decision was important as it highlighted that there is "absolutely no place for women being excluded from any sporting institution".
In 2002 the NWCI called for a boycott of the 2003 Irish Open at Portmarnock Gold Club due to its membership policy.
The Equality Authority took a case against the club under the Equal Status Act 2000, which it won in the District Court, but lost on appeal in the High Court in 2005.
The Supreme Court dismissed the Equality Authority's appeal in 2009.