The DSPCA says it has been "inundated" with calls and inquiries from members of the public about teenagers and children buying ducklings from street sellers for as little as €5.
The charity said it took in 23 ducklings yesterday, with more expected to be brought in today.
Head of education and media at the DSPCA Gillian Bird said: "We have been astonished at the completely unacceptable behaviour that's gone on in the last day or so.
"We have been taking ducklings in throughout the day and we obviously have several concerns.
"Ducklings need a lot of expert care. They cannot survive in cold water without the oils from their mother's feathers and can die from hypothermia. They cannot learn to feed and can die from the wrong diet.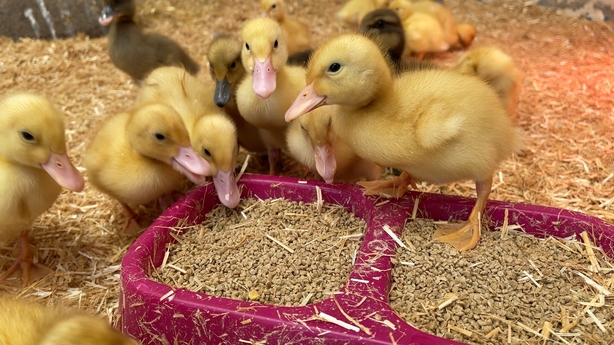 "Three of the ducklings we took in are wild ducklings, not farmyard animals. We are afraid people might be just scooping them off the canal and selling them on. We have even heard reports of young teens carrying them on the Luas."
Ms Bird said she was aware of other animal welfare charities which have taken in ducklings in the past few days.
The DSPCA suspects the interest in ducklings may have been sparked by videos on social media.
Videos on TikTok with the hashtag 'ducklings' have amassed more than 275m views.
?? Some of the ducklings being cared for by @DublinSPCA this morning.
?? The charity suspects interest in ducklings may have been sparked by videos on social media.
?? Message from staff: "Please tell your children NOT to buy any ducklings."
?? Read more: https://t.co/kCSxrM5knt pic.twitter.com/4GZdmgUvb5

— Philip Bromwell (@philipbromwell) May 11, 2021
Speaking on RTÉ's Morning Ireland, Ms Bird said the DSPCA suspects some people are scooping ducklings from the canals in Dublin and selling them for €5 on the street after "a day in the life of a duckling" became a trend on social media.
Other ducklings for sale are coming from farms.
She said there are huge concerns about the welfare of these ducklings that are very young and should not be separated from their parents.
We need your consent to load this rte-player contentWe use rte-player to manage extra content that can set cookies on your device and collect data about your activity. Please review their details and accept them to load the content.Manage Preferences
Ms Bird explained that duckling feathers take up to four weeks to become fully waterproof and that the ducks need to be kept warm and properly fed.
In addition, she said, the ducklings have a lifespan of between seven and 15 years and there are worries about what will happen to the ducklings when they grow.
Ms Bird said there is already a video on TikTok showing someone expressing regret for buying a duckling and saying they were going to leave it back in a pond.
She warned that these young birds will just be picked off by predators if this happens.
In a Facebook post, the DSPCA said: "If your children have bought ducklings, please call us and we will take them into our care. Please also tell your children not to buy any ducklings. Our inspectors have been investigating this matter and will continue to do so."
Meanwhile, Ireland's only hospital dedicated to injured and sick wildlife says it has also been "inundated with ducklings".
Aoife McPartlin from the Wildlife Rehabilitation Ireland facility in Co Meath said: "It has been very stressful on our entire team. We have been inundated. We have managed to divert some to other animal charities and our own foster carers so I think have around 60 at the hospital now."
WRI is urging people not to buy a "cute duckling", saying they "simply won't survive".