Mullingar has been named as the host town for Fleadh Cheoil na hÉireann in August, 2022.
The Fleadh is the biggest event on the Irish music and cultural calendar and attracts hundreds of thousands of people each August, with up to a quarter of visitors coming from overseas.
Comhaltas Ceoltóirí Éireann says 2022 year will see the return of the Fleadh as it was prior to the pandemic.
Mullingar had been chosen to host the 2020 and 2021 events but both were cancelled due to Covid-19.
Announcing the host town on RTÉ's This Week radio program, Labhrás Ó Murchú, Ardstiúrthóir of Comhaltas Ceoltóirí Éireann said it was a unanimous decision to award the 2022 Fleadh Cheoil na hÉireann to Mullingar.
"Mullingar is very special because it's where Comhaltas was founded. A lot of the groundwork is done. The Fleadh committee in Mullingar has created a bond with Westmeath County Council. They're planning to deliver something very special for culture and tourism. This is a very important financial injection for the region of over €50 million," he said.
The town was selected this weekend by the 32-member Ard Comhairle of Comhaltas Ceoltóirí Éireann.
Labhrás Ó Murchú said that Comhaltas will also host Fleadh Fest in the first week of August this year to fill the vacuum created by the loss of the 2021 Fleadh Cheoil na hÉireann.
He said county and provincial competition elements will be virtual but hopes the national Fleadh Fest in Sligo can incorporate live events. It will involve participants from 18 countries where Comhaltas operates.
"They already have a plan A and a plan B. A lot of it will be virtual but some of it will be live as well. We have negotiated major television coverage. There will be a lot of the elements of the Fleadh as we understood it in the past," Labhrás Ó Murchú told This Week.
We need your consent to load this rte-player contentWe use rte-player to manage extra content that can set cookies on your device and collect data about your activity. Please review their details and accept them to load the content.Manage Preferences
Meanwhile across the country Irish dance classes resumed outdoor this weekend for many young people. This follows a decision to categorise dancing as a sport which allows 15 children to train in an outdoor pod.
The move has been welcomed by parents and children as well as dance teachers at the Crossan School of Dancing in Carrick-on-Shannon, Co Leitrim.
"Nothing beats seeing the kids in front of you and seeing how they are getting on," teacher Laura Crossan told This Week.
"At least we can follow the guidelines now. It's much better to feel included and to follow those guidelines because before we were in the dark," said teacher Claire Crossan.
Parents said the kids were excited to be back.
"My girl said I don't care if its raining mammy. I will dance in the rain," said one parent.
Dance schools however are waiting to hear if they can move indoors, particularly for the autumn term.
"Outdoors is not long term plan for us. There will be showers and its it's very hard to dance on concrete particularly for the harder dances. Its very hard on legs," said Claire Crossan.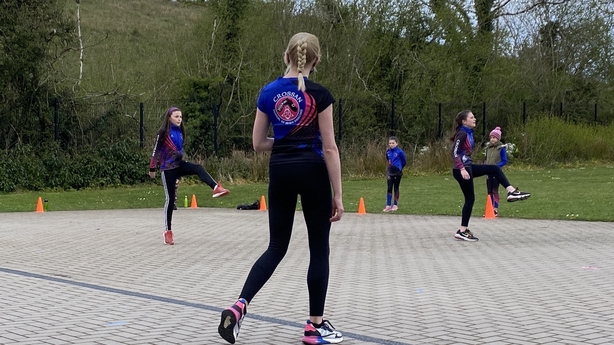 Leitrim traditional singer Fionnuala Maxwell said her class with the Fred Finn branch of Comhaltas is continuing online.
"Everyone can sing. You can sing in the shower or the car. But that sense of togetherness of singing for the younger cohort who need that bit of support with a sing-along is a big miss," she said.
And Fionnuala said even if outdoor singing classes or groups were permitted they would not be ideal.
"You can spread people out but if someone is far enough, how much are they going to hear you. It is considered a dangerous activity with mouths open and all the rest. I think it's going to be the last thing to be honest that's going to come back," she told This Week.