A wildfire is continuing to burn in Killarney National Park for a third night in a row.
Kerry Chief Fire Officer Andrew Macilwraith said that two fire crews will remain in the park for at least some of the night, working to divert the blaze from a number of houses in the area.
Air support units have completed their operations for this evening.
The Irish Air Corps' AW139 helicopter team has been put on notice and is expected to return to the scene tomorrow.
Two private helicopters have also been contracted by the National Parks and Wildlife Service to take part in tomorrow's fire-fighting operation.
The aftermath — the utter devastation within #Killarney National Park. What was lush parkland a few days ago has been left like a desert... pic.twitter.com/69BzyMYDfs

— Paschal Sheehy (@PaschalSheehy) April 25, 2021
Despite the ongoing ground operation, Mr Macilwraith said they were "relying on air support" to extinguish hard-to-access fires still burning on higher ground "in the region of Purple Mountain".
Throughout the day, strong winds continued to aid the spread of the fire.
Mr Macilwraith revealed that "almost 2,000 hectares" has already been burned, around a third of the park's landmass.
He said that ground crews assisted by Killarney Water Rescue had successfully extinguished an oak wood fire as part of today's operation.
"That's important... because [they are] some of the oldest oaks in the country, so we are delighted that is out," Mr Macilwrath said. He also urged people not to set fires.
"At this time of year, everything is so dry... things catch fire very easily and it can do a huge amount of damage," Mr Macilwrath said.
The fire began around midnight on Friday.
Members of the public have been advised to remain away from affected areas of the park.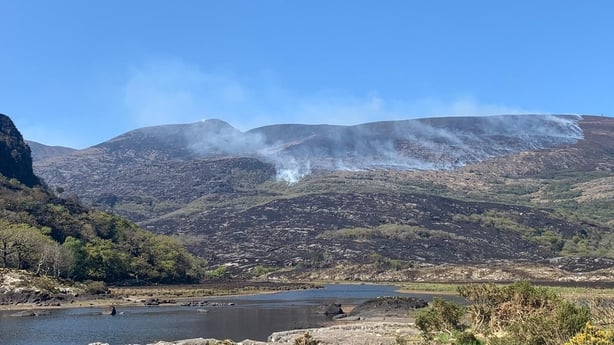 The Mayor of Kerry, Cllr Patrick O'Connor-Scarteen, said that many people have contacted him to express sadness and shock at the devastation caused to vast swathes of Killarney National Park by the fire.
"Currently the emergency services with the relevant training, expertise and equipment are dealing with the issue. However in the coming weeks and months, a greater community approach may be in place to help repair and restore the park," Cllr O'Connor-Scarteen said.
A spokesperson for the Department of Housing, Local Government and Heritage said Ministers Darragh O'Brien and Malcolm Noonan were being briefed hourly on developments.
In Northern Ireland, the firefighting operation at the Mourne Mountains is being scaled back.