Traveller employment needs to become a significant focus for Government policy and strategy if unemployment among members is to be tackled, according to a new report.
The 'Travellers in the Mainstream Labour Market' report shows 80% of the Traveller community are not in work.
The research, which was conducted for the St Stephen's Green Trust, includes interviews with members of the Traveller community working in a range of employment settings, and with employers, trade unions and policy makers.
It says employment for members of the community should be a "named focus" and it calls for the creation of a work experience programme and internships for Travellers in the public sector.
It says more Traveller employment liaison personnel are required under the Department of Social Protection to act as connectors and provide support for Travellers and employers.
A model of local partnerships between private companies and Traveller organisations created by employers group IBEC could create work experience and employment opportunities for Travellers.
It recommends employer bodies and unions provide awareness programmes for members on Travellers' aspirations for employment, the difficulties experienced by Travellers and the steps that need to be taken.
It also says trade unions should prioritise recruiting and supporting Travellers.
We need your consent to load this rte-player contentWe use rte-player to manage extra content that can set cookies on your device and collect data about your activity. Please review their details and accept them to load the content.Manage Preferences
Brigid Quilligan, Manager of the Kerry Travellers Health and Community Development Project, said racist attitudes and stereotypes are at the heart of why Travellers find it so difficult to find employment and stay in employment.
Ms Quilligan said changing such attitudes will involve significant cultural shifts.
"As the report points out, unfortunately, micro-aggressions in the form of workplace conversations that are hostile or negative about Travellers are a common and difficult experience for many.," she added.
"Changing this culture is crucial and will require action by employers and trade unions - for example line managers need to challenge unacceptable behaviour by other employees towards Travellers."
'For me the future is the kids seeing me going to work'
At a warehouse in Galway, old mattresses are deconstructed by hand after collection and recycled.
Bounce Back recycling had three employees when it was established in 2017, it now has 12 workers and all of them, including the owner, are members of the Traveller community.
Linking it back to the Tinsmith, Martin Ward said the business is a chance to reclaim the space of the Traveller Community as the original recyclers of Ireland.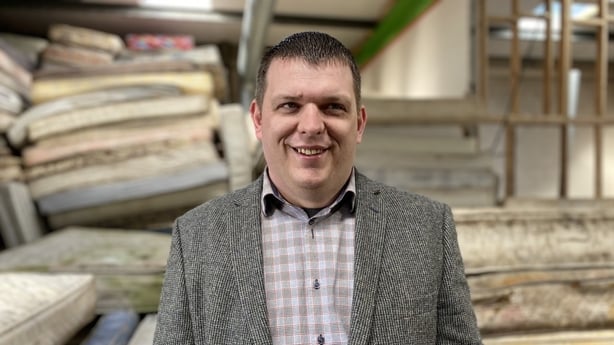 Referring to the latest research on Traveller employment, he said statistics have not changed in so long, something had to be done.
"We took a step back and started to create jobs internally in a way that we could showcase what can be achieved by the Travelling community if they're given an opportunity. We've grown year on year, there's a major work ethic in the Traveller community and the lads feel working with Bounce Back is a safe space".
Mr Ward explained that a safe space is somewhere they can be themselves.
"You know, some of them had gone into jobs having to hide their identity, which is a huge issue. It led to different health problems and mental health problems. So, we're delighted to have the lads working with us".
Keith McDonagh knows what it is like to be out of work.
Ten years ago, he got his Rigid license to become a professional lorry driver and said for years he sent his CVs to various workplaces.
"I think when they see the name McDonagh, it's a very popular Traveller name, so straight away you won't get a chance", he said.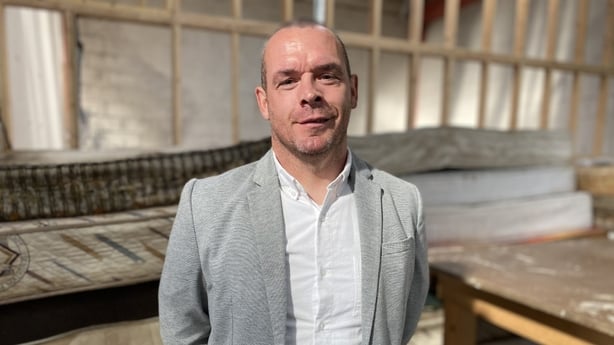 He said he has not looked back since he started working at Bounce Back.
"Working here is brilliant. We all have a bit of craic at the end of the day, and you feel comfortable. We shouldn't have to work with Travellers to feel comfortable, no matter where we go working, we should be comfortable."
Keith McDonagh saw his own father going to work, so he knows the importance of his children seeing him doing the same.
"My Dad was working every day of the week, he got up, he went to work, that's what it's all about and I think for me the future is the kids seeing me going to work", he said.
Richard McDonagh, 27, had also tried to get work elsewhere before securing a job at Bounce Back Recycling.
"I applied for a few different places. The other places, it was kind of hard to even get an interview, when they look at the surname, they think no. But here, it's grand".
Mr Ward said the problem is that so many members of the Traveller community are looking for work and he cannot employ them all.
Ms Quilligan some members of the community cannot get apprenticeships.
"Two years ago, we had two young men drop out of school and walk away from apprenticeships because they could not find anyone to take them on", she said.
Ms Quilligan called on the Government to create opportunities across the country including in government departments and the public sector.