Trinity College Dublin has named Professor Linda Doyle as the first female Provost in its 429-year history.
The Professor of Engineering and The Arts and former Dean of Research was one of three female candidates for the ten-year position.
She will become the 45th provost, or senior academic leader, of the university when she takes over from Dr Patrick Prendergast on 1 August.
Prof Doyle was chosen ahead of Linda Hogan, Professor of Ecumenics and former Vice-Provost, and Jane Ohlmeyer, Professor of Modern History and the university's first Vice-President for Global Relations.
Professor Ohlmeyer also ran for provost in 2011, when she was the only female candidate.
Originally from Cork, Prof Doyle initially studied electrical engineering at UCC, before completing a Masters and PhD in Trinity.
Thank you for placing your trust in me. I am honoured to be Provost-elect @tcddublin. Let's do amazing things during the next decade! #ImagineTrinity pic.twitter.com/400Lm9h6tD

— Linda Doyle (@LindaDoyle) April 10, 2021
She said: "I am exhilarated to take on this role and to be part of this historic development in Trinity's history.
"Trinity is an extraordinary institution filled with exceptionally talented staff and students but I believe we can set our ambitions for it even higher.
"I want Trinity to be the most open, productive, and creative place to teach, learn and to do research. I want Trinity to be a public university that is fearless in its pursuit of a deep-rooted fairness."
Dr Prendergast said: "I'm delighted that there was not one but three excellent candidates for the position of Provost of Trinity and I congratulate Professor Linda Doyle on her successful campaign.
"Trinity will now have its first woman Provost and on behalf of staff, students, and alumni I wish Linda the very best in leading the college at this crucial time in its history."
Congratulations to Professor @LindaDoyle 45th Provost Elect of Trinity College Dublin and the first woman to hold the role in the University's 429-year history. #TCDProvost2021 pic.twitter.com/BnS03z1eDF

— Trinity College Dublin (@tcddublin) April 10, 2021
Minister for Further and Higher Education Simon Harris said: "I want to congratulate Professor Doyle on her election as Provost of Trinity College Dublin … Another glass ceiling has been shattered.
"Among her many impressive achievements, Professor Doyle was the founder Director of the Science Foundation Ireland Research Centre CONNECT, which is a world-leading research centre for future networks and communications.
"This work is vital in making Ireland an island of innovation, linking Government and enterprise in new ways to benefit our economy and society, and I am proud to support it."
Research by Higher Education Authority showed that in 2017 51% of lecturers at third level were female, while only 24% of professor posts were filled by women.
In 2018, in an effort to redress this gender imbalance the then minister for higher education Mary Mitchell O'Connor announced a "senior academic leadership initiative" opening 45 women-only professorships.
No woman had ever held the position of university president of provost at the time. By this October, there will be four.
The first woman to bring an end to that centuries-old tradition of male leadership with Professor Kerstin Mey who was named the University of Limerick's interim president in July 2020.
In December of that year, Professor Maggie Cusack was named president of the newly formed Munster Technological University.
Last month, Professor Eeva Leinonen was named as Professor Philip Nolan's successor as President of Maynooth University. She will take up that position from 1 October 2021.
Trinity College Dublin was established in 1592 by Queen Elizabeth I.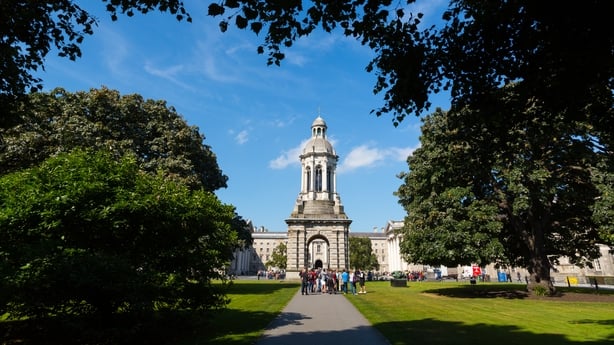 However, it was more than 300 years before women were allowed to attend as students.
The words "over my dead body will women enter this college," were reputedly uttered by former provost George Salmon.
He died in 1904, the same year the first female student entered the university.
Now Trinity College Dublin says women make up the majority of the university's students, lecturers and professors, however the majority of its senior professors are men.