The Department of Health has been notified of ten further deaths associated with Covid-19.
There have also been 507 additional confirmed cases.
There has been a total of 4,576 deaths and 229,306 cases in Ireland.
Nine of the deaths occurred in March, while one date of death remains under investigation.
The median age of those who died was 75 and the age range was 45-88 years.
The number of people in intensive care is up four to 87.
Of the cases notified today, 249 are men and 255 are women.
The median age is 33-years-old, with 70% under 45.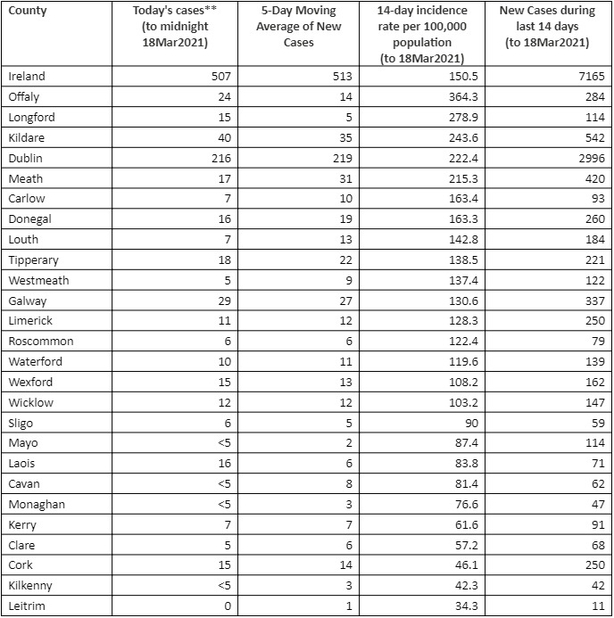 Of the new cases, 216 were in Dublin, 40 were in Kildare, 29 were in Galway, 24 were in Offaly, 18 were in Tipperary, and the remaining 180 cases are spread across 20 other counties.
As of 8am today, 336 Covid-19 patients were hospitalised. There were 43 additional hospitalisations in the past 24 hours.
The 14-day incidence rate per 100,000 population is 150.5, while the seven-day incidence is 73.3. The five-day moving average is 513.
As of Tuesday, 632,359 vaccine doses have been administered, with 463,500 people having received their first dose.
A total of 168,859 people have received their second dose.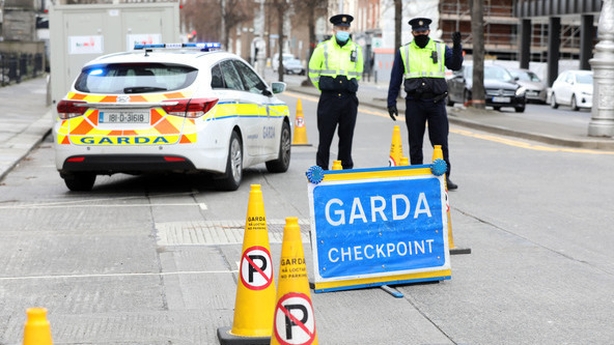 Earlier, gardaí said they have issued more than 15,300 fines to people in breach of Covid-19 regulations to date, worth a total of over €1.9m.
By the end of yesterday, 466 fines of €500 had been issued for organising a house party to date - for a total of €233,000.
There have been 1,842 fines of €150 for attending a house party, for a total of €276,300.
There were 11,072 fines of €100 for non-essential travel, for a total €1,107,200
Gardaí issued 269 fines of €80 for not wearing face coverings, which adds up to €21,520.
Gardaí issued a €100 fine on 262 occasions of non-essential travel by people not ordinarily resident in the state, for a total of €26,200.
People were fined €500 by gardaí for 636 non-essential journeys to airports and ports, worth €318,000.
This brings the total value of these fines to €1,982,220, while more than 700 other fines are currently being processed.
Deputy Commissioner, Policing and Security, Anne Marie McMahon said: "The vast majority of people are compiling with the public health regulations. Thank you and please keep it up.
"Your contribution is appreciated by gardaí throughout the country. We know it is hard and it has meant significant sacrifices, but you are helping to save lives and protect those on the frontline.
"The best way of keeping safe this weekend is to stay home. If you are going out, please stay within your 5km, limit your contacts with others, maintain social distancing, and regularly wash your hands."
We need your consent to load this rte-player contentWe use rte-player to manage extra content that can set cookies on your device and collect data about your activity. Please review their details and accept them to load the content.Manage Preferences

One third of fines have been paid, 3% are processing, 43% are within the 28-day payment period, while court orders have been issued for non-payment of 22% of fines.
Three quarters of the fine recipients are male. More than half (52%) of recipients are aged between 18-25, while a quarter are aged between 26-35.
Gardaí issued 45% of fines on Saturdays and Sundays.
They said they will be continuing nationwide checkpoints and high visibility patrols at public amenities, parks and beauty spots across the country this weekend in support of public health regulations.
Garda checkpoints apply to all roads users including cyclists.
"The public should also be aware that if a driver is found to be in breach of the non-essential travel regulations that not only can the driver be fined, but their adult passengers as well," it said.
Recipients of fines have 28 days to pay or they can request an appeal.
Those who fail to pay within the time will receive a court notice, which may result in conviction, imprisonment or a €1,000 fine.
Travel restrictions do not apply in domestic violence situations or for someone escaping a risk of harm.